Australia Announces Roster for 2015 IFAF World Championships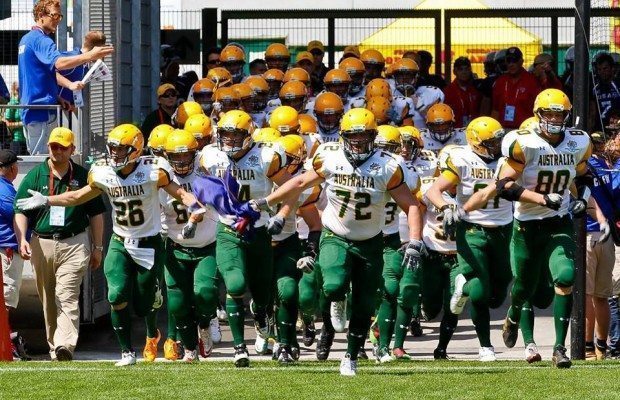 In the very first team meeting at the national selection camp, Team Australia head coach John Leijten stood in front of the 83 hopefuls and told them to in this camp they will work to "qualify for the job of their lives".
When the 2015 IFAF World Championships roster announced back on February 25th, 45 men have.
Following days of speculation and anticipation, the final roster was released early in the morning on the Gridiron Australia Facebook page after the players received personal emails and messages, sparking widespread interest even as far away as potential IFAF World Championship opponents Brazi
Leijten understandably was confident following the week long selection process and the trials it brought. Leijten;
"We have had the hardest time selecting the team. Ever player in camp worked very hard to make the team and as a result we had some really tough decisions to make. We feel very good about our 2015 Outback team."
Offensive Coordinator Paul Manera was succinct in his comments on the squad; "Very happy with the team selected."
AFI spoke with Leitjen who is Dresden preparing the Monarchs for their 2015 GFL season;
"We have a bunch of kids that are untested and inexperienced at this level but that might be good for us. We do have two guys that are with me on the MNRXs. One is a World Championships veteran and in his second year with me in Dresden (Damien Donaldson) the other is in his first year with me. (Isaac Summerfield) Both will have played a bunch of games in my system. We also have around a quarter of the team with 2011 WC experience back with us."
Mirroring their recent dominance in last year's Australian Gridiron League, Queensland had the most players selected (12) with tournament runners-up New South Wales (10) being close behind.
However, the mix between youth and experience may be one of the most important aspects that gels this team together, as 13 players with previous international experience were selected to accompany 32 fresh faces.
Defense
| | | | |
| --- | --- | --- | --- |
| # | Name | Position | State |
| 25 | Heamasi Akauola | N | WA |
| 80 | Bradley Bennett | SLB | WA |
| 52 | Zack Bryers | SLB | ACT |
| 41 | Tyson Burgess | FS | VIC |
| 42 | Marcos Delana | MLB | NSW |
| 22 | Damien Donaldson | SS | WA |
| 76 | Viliami Folau | DT | NSW |
| 92 | Carlisle Jones | AT | SA |
| 2 | Jason Leeon | AT | QLD |
| 19 | Paul Mamotte | FCB | WA |
| 44 | Sam Matautia | DE | QLD |
| 27 | Damien Molloy | FS | QLD |
| 88 | Bryn Nightingale | BCB | WA |
| 24 | Ryan Ottens | WLB | SA |
| 16 | James Pritchard | N | QLD |
| 50 | Samuel Reilly | DE | NSW |
| 91 | Alan Steinohrt | DT | QLD |
| 5 | Andrew Stevens | MLB | SA |
| 21 | Isaac Summerfield | BCB | QLD |
| 47 | Scott Wolfe | SS | VIC |
| 15 | Calvin Young | FCB | QLD |
Offense
| | | | |
| --- | --- | --- | --- |
| # | Name | Position | State |
| 63 | Jason Aslimoski | T | NSW |
| 81 | Mitchell Besse | WR | QLD |
| 60 | Aaron Carbury | G | NSW |
| 11 | Kiernan  Dorney | QB | NSW |
| 73 | Joshua Faure | G | VIC |
| 10 | Conor Foley | RB | NSW |
| 36 | Tyson Garnham | SL | VIC |
| 72 | James Gifford | OT | NSW |
| 26 | Luke Jackson | FB | VIC |
| 54 | Gavin Jones | OT | SA |
| 30 | Eddie Kocwa | K | QLD |
| 37 | Nathan Lansdell | RB | WA |
| 93 | Blake Marklew | WR | WA |
| 31 | Jack Marton | RB | NSW |
| 87 | Matthew McKie | TE | VIC |
| 1 | Grant Mcnaughton | WR | NSW |
| 74 | Domenik Radman | C | ACT |
| 82 | Matthew Riles | WR | QLD |
| 69 | Michael Solomon | G | QLD |
| 3 | Jared Stegman | QB | QLD |
| 18 | Daniel Strickland | SL | WA |
| 86 | Michael Tedmanson | WR | SA |
| 71 | Jonathon Tostevin | G | VIC |
| 64 | Andrew Wright | T | WA |