Austrian Semifinals: Vienna Vikings stage 2nd half comeback to upset the previously unbeaten Prague Black Panthers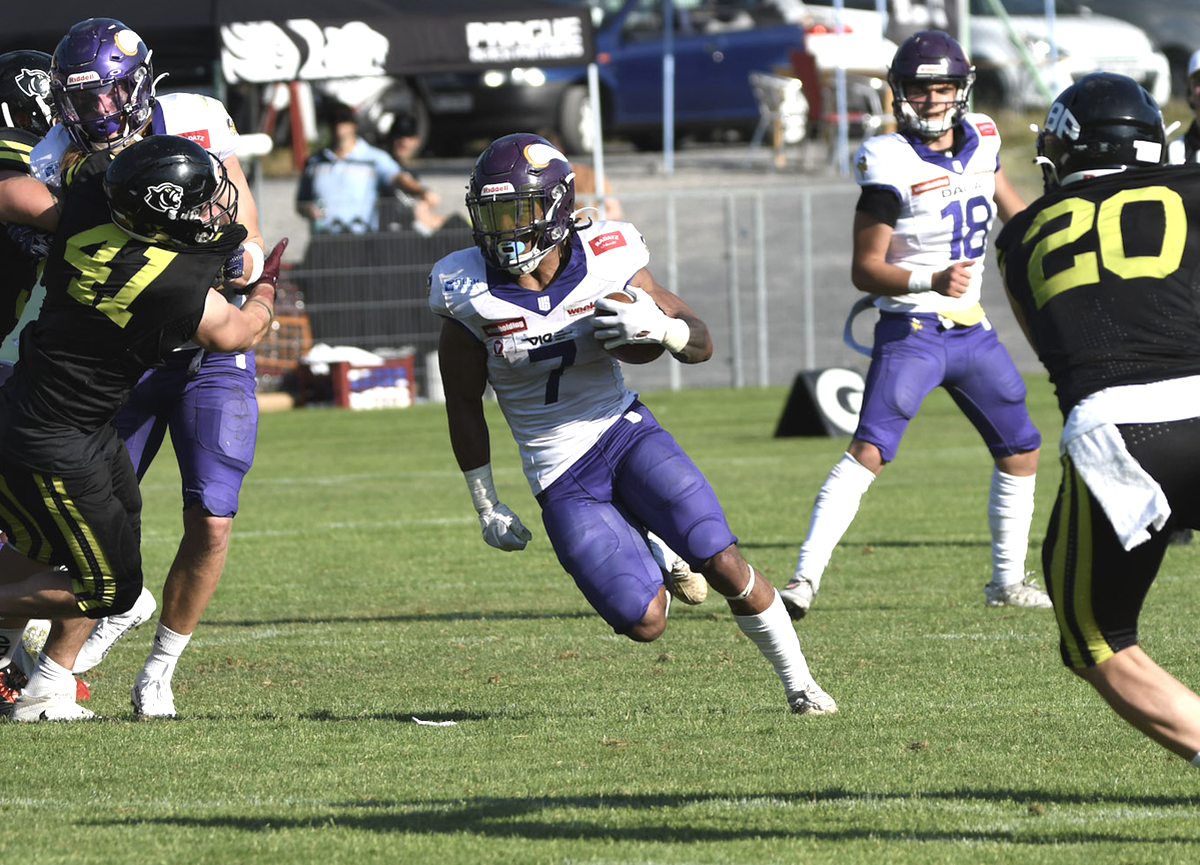 The Austrian Football League semifinals opened with a stunner this past weekend as the Vienna Vikings used a strong second half to defeat the Prague Black Panthers 27-17 to advance to the title game.
Traveling on the road, the Vikings started the game off hot in the first quarter taking a 7-0 lead on their second possession as running back Devontae Jordan found a gap and scampered into the end zone from 14 yards out.
Not only would Vienna hold Prague to a scoreless first period, but they would also add a field goal to give themselves a 10-0 lead to end the quarter.
Starting the second quarter, the Black Panthers finally found some momentum, scoring two unanswered touchdowns to take the lead before halftime.
Both scores came from the arm of Black Panthers quarterback Tyler Jacob Jarnagin who first connected with wide receiver Peter Drake Logan Anderson for a 10-yard score to cut the Vikings lead to 10-7. Then after a strong defensive stand, Prague would get the ball back and Jarnagin threw his second touchdown pass, this time a 52 yarder to Kamil Roba to take a 14-10 lead with two minutes to go in the first half.
Neither team was able to gain momentum starting the second half. Vienna's quarterbacks, Daniel Maurer and Michael Szabo, were both picked off on consecutive possessions, but Prague was only able to reach the Vienna 12 yard line and had to settle for a field goal from the toe of Martin Mandik to increase the lead to 17-10.
The Vikings finally came alive as Szabo marched his team on a nine play, 71 yard drive, capping it with a 22 yard touchdown pass to Jordan to even the score at 17-17.
With the game knotted at 17-17, the Vikings defensive back Elijha Reed picked off Jarnagin on the Black Panthers 39 yard line. Three plays later, Jordan would find daylight yet again as he sped past Prague defenders for his third score of the game, giving Vienna a 24-17 lead.
For the rest of the game Prague had no answer for the Vikings and went scoreless in the fourth period. The Vienna defense held strong the rest of the game and a field goal from Kevin Voznyak with a minute left to make it 27-17 put the nail in the coffin.
Although the Black Panthers reached the Vienna 10 yard line as time ran down, they missed a 27 yard field goal attempt and Vienna began celebrating.
Vienna will be facing off against the Danube Dragons on July 29  in the championship game.