Austria's Mödling Rangers steal All-American Dylan Potts from rivals
The Mödling Rangers, who play in the Austrian Football League, have snagged former USA College Football All-American  quarterback Dylan Potts from arch rivals the Danube Dragons.
This will be the third season in Europe for the 24-year-old playmaker. He spent the 2017 season with the Dragons (4-6) where he led the league in rushing (1,132  yards and 20 TDs) and was fifth in passing throwing for 2,095 yards and 27 TDs. In other words he accounted for 282 of the Dragon's 345 offensive points and led his team into the Austrian Football League semifinals. In 2015, he played 13 games in the German Football League (GFL) for the Stuttgart Scorpions, nine at quarterback. His stats were impressive. Potts threw for 2,038 yards and 17 touchdowns for the Scorpions. In addition, he racked up 1,073 rushing and 14 touchdowns.
In 2016, Potts signed a contract with a team in the fledgling National Gridiron League (NGL), an Australian professional football league. When the league decided to postpone it's inaugural 2017 season Potts was left high and dry and out of football for the season.
The 6'1″, 205 lb native of Sardis, Ohio , began his college career in 2010 as a quarterback for the University of Akron (D-I) before switching to the wide receiver in 2011. Potts was also used as a punt and kick returner. In 2013, he transferred to the West Liberty University (D-II), where he quickly established himself starting 22 games in two years. In 2014, he was recognized as USA College Football All-American at West Liberty
American Football International caught up with Dylan Potts.
American Football International:  You had an outstanding year individually in 2017 with Danube. Why the move to a league rival?
Dylan Potts:  2017 was a great season for myself and the team in Danube. I made the move to sign with the Rangers because I think they have all the pieces together and aligned to have a great season. They run a very professional organization and also have brought in a lot of quality coaches for next season. I think the addition of myself and some other very talented imports that we could have a great season in the Austrian Football League.
AFI: This will be your third season in Europe. You have played in Germany and Austria. Do you have a preference?
Potts: Germany and Austria are both very similar, that's why I think the transition was easy from going to Stuttgart to playing in Vienna last season. I have no preference as in terms of the German culture vs. the Austrian culture, more so I really just enjoy living in the city of Vienna.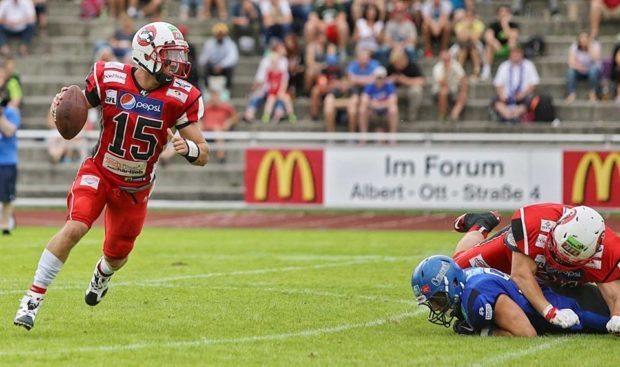 Potts: In 2016 I was signed to go play in the newly formed National Gridiron League in Australia, unfortunately the league folded shortly before the season was supposed to start. I was forced to sit out the 2016 season as it was too late too sign with any European clubs, but it drove me to better myself as a player and get ready for the next season.
AFI: How much traveling have you been able to do and where?
Potts: I have been able to travel all over Europe in my two seasons playing abroad, seeing many different cities and countries. I've been to numerous different countries, but Prague, Barcelona, and Munich stick out to me as some of my favorite places outside of Vienna!
AFI: Have you found a favorite food or meal?
Potts: I'm very open to trying all kinds of new things and new foods, but one that stuck to me when I visited Croatia, I was introduced to cevapcici. I have had it in different countries as well, but that has always been one to stick out to me.
AFI: The life of an import in Europe is different than playing at home. What are your thoughts?
Potts: It's very different living as a foreigner as compared to playing back home here in the United States. Every situation always has its benefits and it's truly been a blessing to continue playing the game abroad. It's a situation unlike any others coming to a country where you know no one, but at the end of the day it's still just football. I've built so many friendships of guys I have had a chance to play with over the years, many whom I still keep in contact with regularly. I believe that Germany and Austria both have the top leagues here in Europe, that's part of the reason I like playing in these two countries. But I'd compare the level in these two countries to the level of college ball.
AFI: You led the Austrian league in rushing and you were 5th in passing. That makes it tough on opposing teams. What do defenses usually do to try to stop you?
Potts: Any time your able to make plays with your feet as a quarterback it makes your offense that much more dangerous. I have seen all kinds of defenses thrown at me to contain me and not let me run. A lot of teams try to run a spy on defense to shadow me and send all kinds of crazy blitzes and stunts to try and catch me off guard.
AFI: What do you bring to the Rangers?
Potts: I get most of my publicity for my ability to run the ball as a quarterback, but I think my next best attribute is being able to throw the ball deep. It puts a lot of stress on defenses when your able to stretch the ball vertically and at the same time run the ball so effectively. I am excited for this upcoming season because we have so many different weapons on offense that if teams just try and key and stop me, I have plenty of other athletes to get the ball too. One thing you can't prepare for as an opposing defense is the element of the broken play and my ability to make something out of nothing.
AFI: What are your expectations for 2018 in a league dominated by two teams?
Potts: My expectations are to play in the Austrian Bowl, anything less than that is a disappointing season. I know what kind of player I am and the talent around myself with my new teammates, with the addition of a great coaching staff assembled, that anything less than making it to the championship is a let down by myself and the organization. I give the Raiders and Vikings all the credit for the success they have been able to sustain year in and year out, but I believe we have all the pieces together to beat those teams as well as any other team in the AFL.
Interested in playing American football overseas?
Register on Europlayers.com.
Europlayers is the largest online database of American football players, teams and coaches.  It is a connector, bringing together and introducing athletes to overseas teams. On the site you can begin researching teams around the world.  Once you create a profile, you become searchable by hundreds of American football clubs around the world.