Best Online Sportsbooks: Sports Betting Sites Ranked for the NFL
Well over 30 states have now legalized sports betting across the length and breadth of the US, meaning that more people than ever are now wagering on the NFL and iconic Super Bowl. In fact, the best online sportsbooks took more than $1.1 billion in wagers ahead of the 2023 Super Bowl, breaking the previous years' total of $947 million. Of course, fans love to wager during the NFL regular season too, with match and futures betting proving particularly popular! But what are the best US sportsbooks for NFL betting and how can you bet on your favorite teams?
List of the Best Online Betting Sites for the United States
It was May 2018 when the US Supreme Court decided to strike down the controversial PAPSA legislation, which had prohibited sports betting at a federal level since 1992. During the subsequent five years, 26 US states have legalized online sports betting, while 34 jurisdictions at least allow punters to wager in-person at licensed casinos. This has enabled several market leading betting sites to launch in multiple states, but what are the best online sportsbooks nationwide? Let's find out!
Arizona Sportsbooks
Arizona officially legalized sports betting on April 15th, 2021, with the initial legislation permitting 20 sportsbooks to operate (17 have been licensed at the time of writing). This number includes BetMGM, which collaborated with Game Sense and the Arizona Cardinals to promote responsible in-stadium betting through 2023. The popular Superbook also launched in December 2021, with the site renowned for its competitive odds and broad sports coverage!
Colorado Sportsbooks
Colorado became the 19th state to legalize sports betting on May 1st, 2020, while there are now 19 top sportsbooks operating in the Centennial State. Colorado also features a betting exchange in the form of Sporttrade, which allows you to execute "lay-to-back" bets and cover more potential outcomes of a particular NFL game. You can bet on multiple markets in Colorado, although player prop bets in collegiate games are currently prohibited.
Illinois Sportsbooks
The state of Illinois officially legalized sports wagering in June 2019, with a small number of the best online betting sites stateside subsequently launching the following March. Currently, there are eight online sportsbooks that have been licensed by the state, including BetMGM, FanDuel and their rivals DraftKings. Player prop bets are also prohibited when wagering on collegiate games, while you can only back the outcome of these matches in-person.
Indiana Sportsbooks
Indiana also legalized sports betting in 2019, with legislation pertaining to pro and college sports passing formally on September 1st. Since then, a total of 11 sportsbooks have been granted licenses to operate in the state, including the popular UK and Ireland brand Betway. Many of the top US sportsbooks allow you to bet on professional and collegiate markets here too, although the state also prohibits the placement of player prop wagers during college games.
Iowa Sportsbooks
Iowa also sought to legalize sports betting in 2019, while the state's citizens wagered more than $165 million on sports including American football in 2022 alone. At the time of writing, 18 of the best online sportsbooks have been licensed to operate in Iowa, including the Australia-based PointsBet (which has bought its own proprietary betting system to residents of the 'Hawkeye State'). Professional and collegiate sports are widely available here too!
Kansas Sportsbooks
Kansas is a relative newcomer to the legal sports betting market, with the state's fully regulated marketplace launching in earnest on July 1st, 2022. While there are only six licensed sportsbooks in the state, this number includes stellar names such as Caesars, FanDuel and BetMGM, while you'll also find ample betting markets pertaining to the 2023 Super Bowl winners the Kansas City Chiefs.
Louisiana Sportsbooks
The southern state of Louisiana launched retail sports betting in October 2021, while mobile wagering was subsequently made lawful the following January. At present, seven of the nation's best online sportsbooks are operating in the Pelican State. These sportsbooks operate in 55 parishes within the Louisiana state boundaries too, while it's also rumored that both Betway and Betfred could launch here in the near-term.
Maryland Sportsbooks
The state of Maryland officially legalized sports betting following the 2020 election, with in-person wagering subsequently launching in Baltimore in December the following year. Several of the top US sportsbooks then launched online in November 2022, including PointsBet, DraftKings and the popular BetRivers. You can now bet online with 12 licensed sportsbooks, with betPARX and Bally Bet among the most recent additions to the market!
Massachusetts Sportsbooks
Massachusetts didn't opt to legalize sports betting until January 31st, 2023, and even then, activity was restricted to just three in-person locations. On March 10th, however, six virtual betting apps launched in the Bay State, while a total of eight leading top sportsbook platforms are now operating lawfully. These include WynnBet, Barstool (soon to become ESPN Bet) and BetMGM, while Fanatics also launched here in 2023.
Michigan Sportsbooks
Michigan formally legalized sports betting in December 2019, as part of comprehensive legislation that also created a regulated iGaming market. The first retail sportsbooks launched successfully in March 2020, before several brands went online to offer a virtual wagering experience the following January. During the first week alone, Michigan took more than $100 million in wagers, while there is now a total of 14 licensed sportsbooks in the state.
Nevada Sportsbooks
Nevada is a true trailblazer in the US sports betting space, as it was the only state that accepted wagers prior to May 2018. In fact, it first legalized sports betting in 1931 as a response to the Great Depression, while online sportsbooks were initially launched in Nevada in 2010. There are now a large number of top sportsbooks operating in the state of Nevada, including Circa Sports, Betfred, William Hill and the iconic BetMGM!
New Jersey Sportsbooks
It was a case bought by New Jersey that ultimately led to the reversal of the PAPSA legislation, with the Garden state subsequently legalizing sports betting on June 14th, 2018. Since then, a total of 16 sportsbooks have earned licensing from the NJ state, including BetMGM (once again), BetRivers, FanDuel, DraftKings and Caesars. Future additions to the marketplace could also include Bally Bet, ESPN Bet and the increasingly popular Fanatics Sportsbook.
New York Sportsbooks
While New York experienced legislative issues when attempting to legalize sports betting, a selection of the best US sportsbooks subsequently went live in the Big Apple in January 2022. Since this time, we've seen eight of the best online betting sites open their virtual doors to NY bettors, including Caesars, FanDuel and the market leader BetRivers. This operator also offers the most competitive NFL betting odds and markets in New York!
Ohio Sportsbooks
Sports betting was legalized in Ohio in December 2021, with the market launching in earnest on January 1st, 2023. Since this time, 20 of the best online sportsbooks in North America have been granted operational licenses, including BetPARX, BetMGM, Fanatics, Hard Rock Bet and DraftKings. The up-and-coming Underdog brand (which is partnered with the Cincinnati Reds) has also earned conditional approval to launch in the state in the future.
Pennsylvania Sportsbooks
Pennsylvania initially moved to legalize sports betting in 2017 and before the Supreme Court struck down PAPSA in May 2018, with the official online launch following in May 2019. The state has also legalized online casino gambling, and you can check out some of the best PA online casinos here. At the time of writing, 12 licenses have been handed out to some of the best online betting sites, including DraftKings, Caesars, FanDuel, BetRivers and Betway. Interestingly, the PA sports betting handle peaked at $726.3 million in September 2023, with this number up 12.5% year-on-year.
Tennessee Sportsbooks
The Tennessee state legislature first approved a comprehensive sports betting bill in the spring of 2019, with this approving wagering via online channels and mobile apps. A selection of the best online sportsbooks subsequently launched on November 1st, 2021, with brands such as Superbook, BetMGM and DraftKings leading the way. You can bet on professional and college sides here, although player prop wagers are completely prohibited during collegiate games.
Virginia Sportsbooks
After a relatively prolonged legislative campaign, in-person and online sports betting finally launched in Virginia in January 2021. This state also prohibits player prop bets on all collegiate games at the time of writing, but it has at least granted licenses to 16 different sportsbooks and betting sites including Betway, Bet365, BetMGM and DraftKings. PointsBet is also licensed in VA, but this brand will soon be replaced by the Fanatics Sportsbook.
West Virginia Sportsbooks
West Virginia was at the forefront of the rush to market following the reversal of PAPSA, becoming the fifth state to legalize sports betting in August 2018. Of the licenses available, 10 have been granted to a selection of the best online betting sites in the US, including BetRivers, Caesars and the universally popular BetMGM. WynnBet also went live in the so-called "Mountain State" on June 22nd, 2023!
How we Choose the Best Online Sports Betting Sites
As you can see, not all of the best online betting sites in the US have been created equal, as some are active in a larger number of states and boast a better selection of features and bonus options. However, we've taken the time to compare, rank and select the very best online sportsbooks, according to key, user-centric criteria such as their available betting markets and wager types, bonus offerings and the range of secure payment methods in play. So, here's our picks for the best NFL and online betting sites in the US marketplace!
BetMGM Sportsbook
BetMGM is the sports betting arm of MGM Resorts, which owns and operates a number of US casino locations. It's also active in 23 US states nationwide, making it one of the best and most prolific online sportsbooks in the whole of North America. It's also renowned for covering a huge selection of sports categories and markets, while it offers a number of unique and innovative features that allow for genuine flexibility when betting online.
Pros
Not only can you bet on a large selection of sports at BetMGM (including niche options like darts and handball), but the operator also offers a huge range of wager types and markets. The novel 'Edit My Bet' feature also enables you to adjust open wagers after they've been placed, whether you want to add further betting lines or change your stake amounts.
Cons
Interestingly, BetMGM's vast range of well over 20 different sports categories (and its subsequent choice of betting markets) can also be overwhelming, while it can be hard to find precisely what you're looking for online. This can prove challenging when looking to place wagers quickly or leverage in-play betting markets.
Our Favorite Element from BetMGM Sportsbook
Undoubtedly, it's the 'Edit My Bet' feature that really stands out at BetMGM, as this allows an elevated level of flexibility and choice that simply isn't available at any of the best online betting sites in the North American market! It's also great for updating your futures and outright bets as new information emerges!
Sports Illustrated Sportsbook
The Sports Illustrated (SI) sportsbook brand took the plunge into US sports betting in 2021, after forming a strategic partnership with the 888Sport brand. Currently, it leads the sports betting market and has become the best online sportsbook in Colorado, while it's also operating with distinction in Michigan and Virginia. The site also offers a decent welcome bonus and highly competitive ongoing promotions and odds boosts for existing players!
Pros
In addition to offering genuinely competitive odds and daily price boosts to customers, SI also covers a wide selection of sports and betting markets. Similarly, it has an easily navigable and highly responsive interface, while we also like the comprehensive educational resources and betting guides that are able to offer customers.
Cons
Aside from its limited availability in the US, the SI Sportsbook often publishes starting odds that are less competitive than some of the other leading online betting sites (notwithstanding their price boosts). For example, if most books have a standard line of around –110 that the Chiefs will beat the Miami Dolphins, Sports Illustrated may price this outcome at between –111 and –115.
Our Favorite Element from Sports Illustrated Sportsbook
While SI only offers minimal team and player statistics for the NFL, it has dedicated an entire section of its site to betting guides and educational resources. Make no mistake; it's one of the best online sportsbooks according to this metric, with a wide range of resources including upcoming game picks, previews and sport-specific wagering guides.
Superbook Sportsbook
While the Superbook Sportsbook isn't necessarily one of the best-known online betting sites in the US, it arguably leads the market in Arizona and Tennessee and also operates in Colorado, Iowa, Maryland, Nevada, New Jersey, Ohio and Virigina. This site certainly operates one of the market leading mobile apps, even though its quality has yet to be reflected through the average ratings on iOS and Android (due largely to the small number of reviews received!).
Pros
In addition to its excellent native apps on iOS and Android, Superbook also delivers some exceptionally priced betting lines and noticeably early odds on specific props and futures markets. There are also unique contests and private betting tournament options, while enable you to engage in friendly competitions and rivalries with your friends and loved ones!
Cons
As a relative newcomer to the US marketplace, Superbook's sports betting offering is still slightly underdeveloped. To this end, the platform has yet to introduce early cash out options (which are highly beneficial when engaging in-play NFL betting markets), while it continues to operate a relatively small selection of banking methods for the time being.
Our Favorite Element from Superbook
We love the contests at Superbook, which add a fun and unique dimension to the typical remote betting experience. It also introduces greater levels of friendly competition among players, while the sportsbook has announced that it will launch a so-called "SuperContest" in the state of Colorado in the near future!
DraftKings Sportsbook
Undoubtedly one of the best online betting sites in the whole of the US, DraftKings started out life as a daily fantasy sports platform in December 2011. However, it has continued to evolve its offering, while its launch in New Jersey in August 2018 made it the first sportsbook to go live anywhere in the US. DraftKings also operates one of the most highly rated native apps on iOS and Android, through which you can engage in an unprecedentedly huge range of in-play and micro betting markets.
Pros
Through a multi-year agreement with the Simplebet platform, DraftKings is able to offer extensive micro betting markets on the MLB, NBA and the NFL, while also live streaming matches through its slick mobile app. Overall, there's an average 2,320 micro betting markets available when wagering in-play on the NFL, while you can often observe the action in real-time to make more informed picks!
Cons
While it can be argued that DraftKings offers minimal promotions when compared to the best online sportsbooks, arguably the biggest issue with the betting site is its odds. Like Sports Illustrated, the odds here are less competitive when compared with market rivals such as FanDuel, while in-play prices can also pale in contrast with ante post alternatives.
Our Favorite Element from DraftKings Sportsbook
It's the range of micro betting markets (including team and player props) that really stands out at DraftKings, especially when they're accessed through the slick, intuitive and best-in-class mobile app. You'll also find the largest selection of micro betting odds when wagering on NFL games, creating multiple opportunities to seek out incremental returns during matches.
Betway Sportsbook
While Betway has been a staple of the on and offline betting markets in the UK for years, it only debuted in the US in April 2021. It initially launched in Colorado, while it's now active in a total of eight states (including Indiana, Iowa, New Jersey, Ohio, Pennsylvania and Virginia). It's also expected to launch shortly in Massachusetts, where natives will be able to enjoy the site's significant sports coverage and variable betting formats.
Pros
Betway arguably offers access to the largest range of sports in the US, with 39 different disciplines covered online. This number includes staples such as American football, basketball, baseball and soccer, alongside niche alternative such as volleyball, netball, pool, trotting and even water polo. This creates a busy calendar and hectic sports betting schedule, and one that unlocks a potentially huge range of markets.
Cons
While Betway is a solid and trustworthy sportsbook that boasts a significant tech stack, its available range of in-play betting markets is a little restrictive when compared to its rivals. Certainly, there's a lack of micro betting markets available here, which means fewer player and team props when wagering in real-time!
Our Favorite Element from Betway Sportsbook
There can be no doubt that Betway's coverage of 39 different sports is its key selling point, as while we all enjoy wagering on competitions such as the NFL, MLB and NBA, fans of more niche disciplines like Australian Rules and Bowls are also catered for here.
Pointsbet Sportsbook
Aussie brand PointsBet is live in 14 US states, including Colorado, Illinois, Indiana and Iowa. Interestingly, the operator is poised to sell its North American business to Fanatics Betting and Gaming for a reported $225 million. Not only is this one of the best online sportsbooks in the states, but it also boasts a truly unique betting system, and one that can deliver increased potential returns for seasoned bettors with a genuine appetite for risk!
Pros
While this operator's 'PointsBetting' system presents ante post and in-play wager types in the traditional way, these will pay out based on the accuracy of your bet and in relation to the final outcome. Available on fixed-odds markets, the system ensures that you can recoup a percentage of your stake in instances where your wager loses by a narrow margin. Of course, you can also lose more if your wager proves to be significantly wrong, which is why the betting system favors skilled and knowledgeable punters.
Cons
Of course, the PointsBetting system increases the potential risk and scale of loss when wagering online, and this is something to consider before signing up with the site. PointsBet also offers a limited live streaming platform, so there's minimal opportunity to watch the action when placing in-play bets.
Our Favorite Element from Pointsbet Sportsbook
For all the risk associated with the PointsBetting system, this is a standout feature that really sets the operator apart from its US rivals. It's also a system that can actively benefit skilled, experienced and high rolling sports betting enthusiasts, especially those who like to wager on high profile competitions such as the NFL and Super Bowl.
BetRivers Sportsbook
While BetRivers isn't active in a huge number of US states, it's usually among the first to market when it does go live. It was the first sportsbook to launch in Illinois in June 2020, for example, while it also led the rush to market in Colorado when the state went live on May 1st. 2020. The site is also well known for its generous early cash-out feature, while it features a superb range of sports categories and associated betting markets.
Pros
Aside from the sites' betting market range and cash out options, it's the BetRivers 'iRush Rewards' program that really sets it apart as one of the best online sportsbooks . This rewards you with points in exchange for real money wagers, which can subsequently be redeemed and exchanged for bespoke awards such as bonus store discounts and lucrative special offers. These include gifts and hotel stays at corporeal BetRivers locations stateside.
Cons
As we've already touched on, BetRivers isn't active in a large number of US states, while the native app software is occasionally a little cumbersome on Android. This can occasionally make it a little harder to navigate in real-time and potentially complicate in-play betting.
Our Favorite Element from BetRivers Sportsbook
The iRush Rewards program enables you to earn both loyalty and 'Bonus Store' points, the latter of which can be redeemed for a large selection of prizes including free wheel spins and bonus conversions. Points are accumulated depending on your betting activity per 30-day period, so you can earn prizes that are completely proportionate to your betting volume and frequency!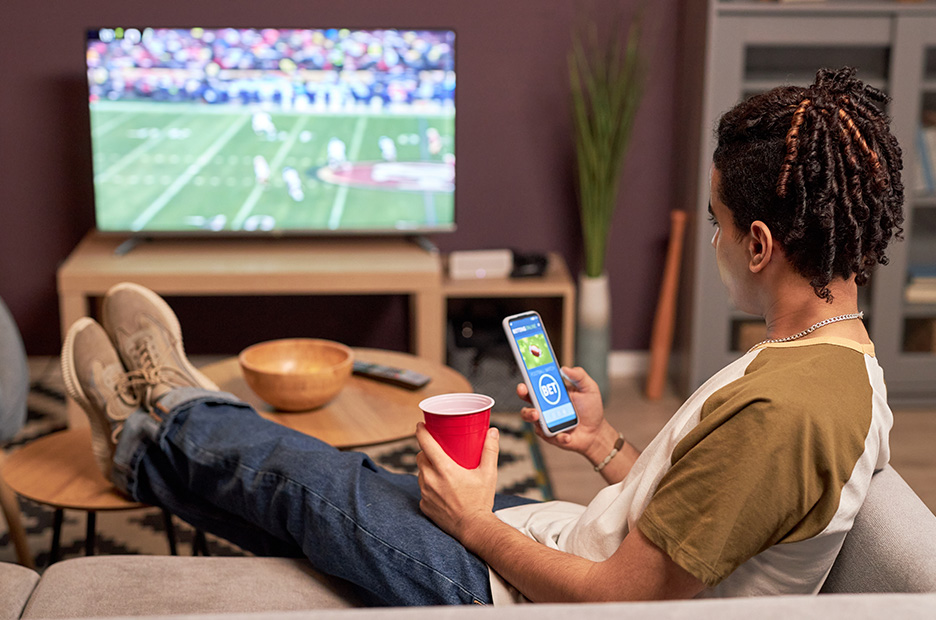 Best Betting Odds to Play With
Ultimately, identifying the best online sportsbooks in your chosen state can unlock an optimal wagering experience, especially when you compare operators across a broad selection of metrics. Most importantly, this ensures that you can access ante post and in-play markets pertaining to your favorite sports categories and tools, while also uncovering the most competitive odds. The latter point is particularly important, as competitive odds (and those that are enhanced by daily price boosts) enables you to win more in relation to your stake amount and get the most bang for your buck overall!
Types of Online Sportsbook Bets
Another key consideration is the range of NFL wagers offered by sportsbooks, which can vary from one operator to another and include everything from win markets to extensive team and player props. We'll explore these markets in a little more detail below, so that you can understand which wagers best suit your strategy and underlying appetite for risk!
Moneyline
Moneyline betting is the most straightforward type of NFL wagering, as it simply asks you to pick the winner of a single match. Since overtime was introduced in 1974, just 27 regular season NFL matches (less than 1%) have ended in a tie too, so this is also an incredibly popular and even money betting market that has just two realistic outcomes.
Halftime Betting
Halftime betting is similar to moneyline wagering, in that you'll predict which side will be leading at half-time in a specific game. Often, you can combine half-time and moneyline picks in a single wager, usually at extended and more appealing odds.
Points Total
Totals wagering is often presented as an over/under market, in which a sportsbook will lay out designated betting lines pertaining to specific game outcomes (such as the number of points scored cumulatively). You'll then wager on whether the actual total points tally will be over or under your preferred betting line, while you can use knowledge and performance stats to make the most informed selections here.
Props
You can access team or player prop bets at most of the best sportsbooks in the US, especially when wagering on NFL games. These markets relate to individual or collective performances in matches, such as top points scorer or the number of field goals kicked. Prop markets are typically synonymous with in-play betting, while you'll also find an especially large selection of so-called "micro bets" at sportsbooks like DraftKings.
Point Spread
Points spread betting may also be referred to as handicapping, and unlike moneyline wagering, it requires you predict the winning margin in an NFL game. More specifically, the spread will pick one team as a favorite and their opponents as the underdog, before setting lines and deficits that subtract from the former's points total. So, if you back the Titans to beat the Jaguars with a point spread of –7, you're betting on them to win by eight clear points or more.
Parlays
The example of backing half and full-time winners in a single wager is an example of a parlay, which combines two or more match outcomes in a single wager. This enables you to stake money at enhanced odds, although such bets are naturally harder to win than regular wagers. Some sportsbooks offer both same and multi-game parlays, enabling you to build mega bets based on your knowledge of the competing teams and ability to analyze team (or player) data.
Futures
Futures or outright bets are focused on long-term NFL outcomes, such as the winner of the Amercian Football Conference (AFC) during the regular season and the eventual Super Bowl victors. Early futures betting can often unlock the most competitive prices, while the odds are naturally longer here due to the number of potential winners.
What to Consider When Registering in an Online Betting Site
No NFL betting guide would be complete without also advising you how to identify the best online betting sites in the US, as this can have a direct impact on the bonuses, odds and wider wagering experience that you enjoy. But what are the key considerations when choosing your preferred operator and registering with an online sportsbook?
Payout Time
Typically, payout times will vary from one banking method to another, with popular options such as PayPal (and similar ewallets) often completing transactions within 24 hours. Withdrawals processed using bank transfer can take a little longer and up to five working days, while average payout times are also impacted by internal procedures and the real-time demand faced by operators.
Live Betting
We've already touched on live betting, which is becoming increasingly popular and accessible in all US states where sports wagering has been legalized. Obviously, some sportsbooks offer access to a much broader range of in-play betting markets than others, with DraftKings enabling customers to place more than 2,000 micro wagers during the typical NFL game. Through this site and FanDuel, you can also access a particularly wide range of same-game parlays and player props in real-time!
Available Payment Methods
You'll find that each US sportsbooks offers variable banking methods, although most will feature staples such as Visa debit card, Mastercard, bank transfer and Skrill. So, it's important to compare the available payment options to ensure that you can deposit and withdraw using your preferred methods, while checking to see that transactions are secured using 128-bit SSL encryption online.
Best Sportsbooks Promotions & Betting Bonus Offers
We also compare sportsbooks according to their current welcome offers, which can vary in terms of structure and monetary value. The best promotions typically feature matched deposit offers (of 100% or more) or free bet offers, the latter of which will also require you to wager a qualifying amount at minimum odds to participate. When comparing offers at different sportsbooks, just remember to review each bonus's unique terms and conditions, including any associated wagering requirements. These requirements will be expressed as a multiplier of the bonus value and dictate how much you'll have to play through before withdrawing any of your winnings.
Best Sports Betting Apps
Most of the best US online sportsbooks now operate native apps on iOS and Android, while you can find average ratings and user reviews on the Apple and Google Play Stores. Interestingly, the DraftKings app has respective ratings of 4.8/5 and 4.7/5 on iOS and Android respectively, while this software is slick, responsively designed and home to an exceptional array of both in-play betting markets and live streaming options. The DraftKings app is also intuitive and easy to navigate, and this is another key consideration when choosing which software to download on your smartphone!
Online Security & Licensing
Each US state will have its own regulatory bodies that issue licenses to operators, while most brands active stateside will also boast licensing credentials from world renowned authorities such as the UK Gambling Commission and the Malta Gaming Authority (depending on where else they operate). Reputable sportsbooks should also deploy 128-bit SSL encryption as a minimum standard, as this helps to secure financial transactions and your most personal datasets. We ensure that our recommended sportsbooks are licensed to operate in specific states and capable of offering a safe and secure experience when betting online.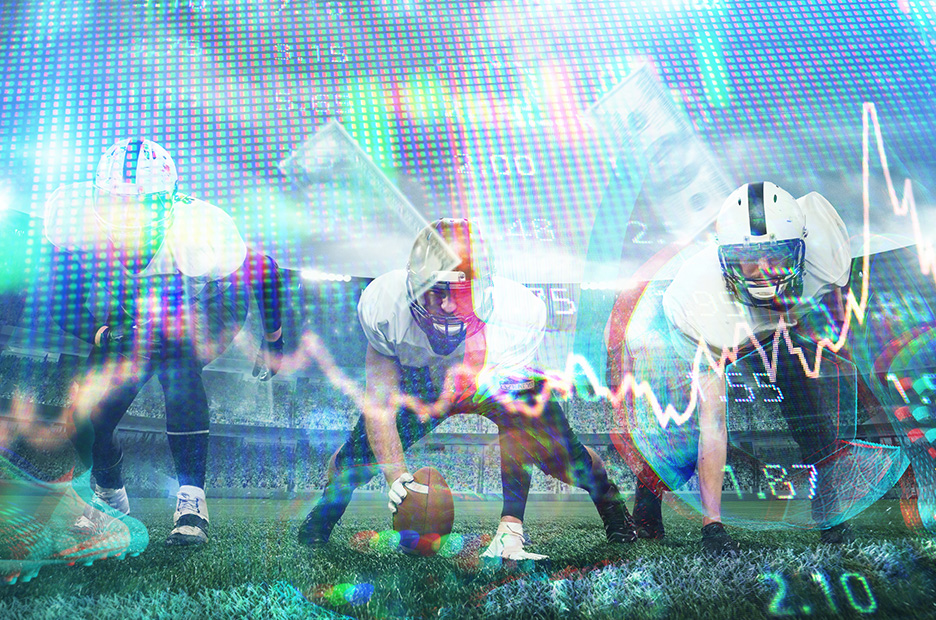 The Best Sports Betting Sites for NFL Fans
Obviously, some sportsbooks offer access to more ante post and in-play NFL betting markets than others, while it's important to note that market leaders DraftKings, Fan Duel and Caesars are contracted as the official partners of the National Football League. NFL franchises like the Chicago Bears also have bespoke sponsorship agreements with PointsBet, enabling the operator to offer specific odds boosts and promotions on the team's matches. So, if you're a fan of a particular side, it's worth reviewing individual partnerships to see where you can access the best and most competitive odds!
How to Bet on Your Favorite Sports Team?
Certainly, comparing average odds and team affiliations should be your first step when looking to wager on your favorite sports or NFL team! But what other things are required when you want to bet on your beloved NFL franchise? Here's a step-by-step guide to help you get started!
US States with Legal Online Sportsbooks
At the time of writing, 38 US states permit sports betting in one form or another, while 26 jurisdictions (listed below) all allow wagering online or through a smartphone. States such as North Carolina, Maine and Vermont are also expected to launch an online sports betting vertical in 2024, while many others also have legislation that is currently being discussed or debated in their respective senates. Some saw remote betting bills defeated in 2022 too, including California, Georgia and Missouri.
Arizona
Arkansas
Colorado
Connecticut
Illinois
Indiana
Iowa
Kansas
Kentucky
Louisiana
Maryland
Massachusetts
Michigan
Nevada
New Hampshire
New Jersey
New York
Ohio
Oregon
Pennsylvania
Rhode Island
Tennessee
Virginia
Washington D.C.
West Virginia
Wyoming
State Taxation of Winnings
While it's often stated that gambling winnings under $600 aren't taxable, current US law dictates that you must report all income garnered through sports betting on your tax return. You must also declare all instances in which you win more than 300x your initial stake, while it's interesting to note that each state taxes winnings at different rates and thresholds. Online levies can vary between 6.75% in Nevada to a whopping 51% in New York, but you can find the full list of tax rates here .
Frequently Asked Questions
So, there you have it, our comprehensive guide to NFL betting and the best online sportsbooks in the US! At this stage, all that's left is to answer some of your most frequently asked questions!
Where Can I Bet on the NFL?
There are now 26 states that allow you to place online sports bets in the US, with more marketplaces set to launch in 2024. Each of these offer access to NFL betting mar you must be located within the relevant states boundaries to wager!
What's the Best NFL Betting Site?
Ultimately, this is a choice that's personal to you, and you must select a reputable and licensed sportsbook based on your key criteria and priorities as a bettor. Just remember that some sportsbooks have strategic partnerships with local NFL teams, potentially unlocking enhanced odds when betting on your favorite side!
What are the Most Popular NFL Bets?
Like most sports, moneyline and futures betting (on events such as the Super Bowl) is incredibly popular in the NFL and American football. Player and team props are also increasingly common iterations of in-play betting, with operators like DraftKings offering a particularly large selection of wagers in this regard.
What is Parlay Betting?
Parlay betting (which combines two or more selections in a single wager) is another popular NFL betting market, and one that enables you to predict same and multi-game outcomes simultaneously!
Will I Pay Tax on My Winnings?
Each state applies its own rules in terms of how much tax you'll pay and the threshold at which levies are applied, but broadly speaking, you will have to pay a percentage of your winnings to the IRS. Be sure to check each state's guidelines in full to understand your responsibilities!
Conclusion – Our Picks for the Best Online Sportsbook
Each of the online sportsbooks referenced in this guide are reputable, licensed and trustworthy, combining 128-bit SSL encryption and a secure range of payment methods with exceptional NFL coverage and a huge range of associated betting markets. Each state also has its own unique offering and market leading sportsbooks, although DraftKings and FanDuel are arguably the most active and boast the largest sports betting handles in most states. Still, we'd recommend seeing what each state has to offer in full before choosing which online betting site is best for you!
FOOTER DISCLAIMER
All free offers, promotions, and bonuses listed are subject to the terms and individual wagering requirements of their respective operators. In most cases, offers, promotions, and bonuses apply for new customers only. All listed amounts of offers, promotions, and bonuses describe the maximum possible amount. The actual amount depends on the size of the individual deposit. The user may be required to make a deposit multiple times in order to receive the advertised amount. Please check the operator's website for full T&Cs.
You must be 21+ to play. Please check the laws of the place you reside and inform yourself if it is legal to participate in casino games.
Please gamble responsibly. Bet with your head, not over it. If you or someone you know has a gambling problem and wants help, call 1-800 GAMBLER