BIG WILLIE JEFFERSON LOOMS OVER ALOUETTES' O-LINE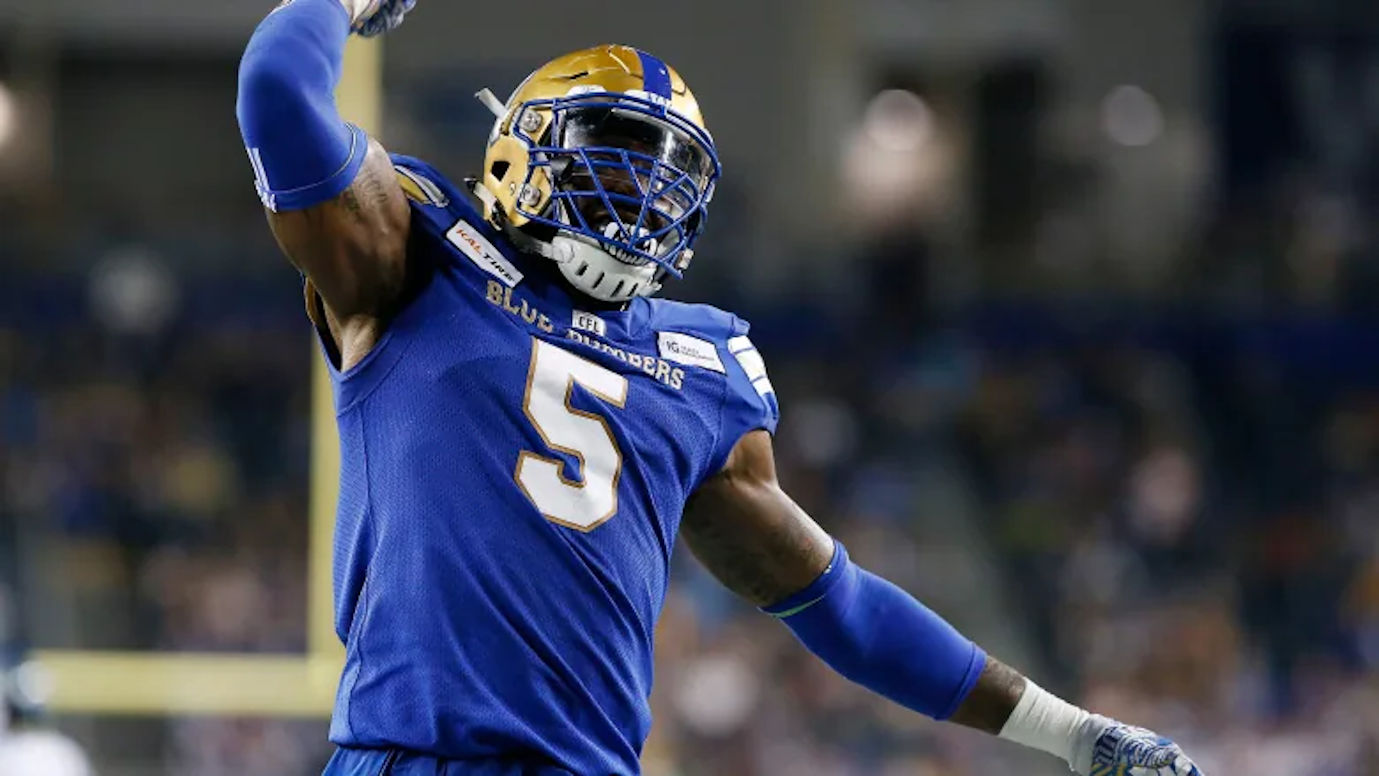 By Chris O'Leary
HAMILTON — If you've ever asked yourself who would win in a battle between a pterodactyl and a T-Rex, you only have to wait until Sunday to find out.
Willie Jefferson of the Winnipeg Blue Bombers is listed as a six-foot-seven, 245-pound defensive lineman with a wingspan that stretches from Manitoba to Ontario. On Sunday he'll be tasked with getting past an offensive line that features long-time veteran Kristian Matte, who's well aware of the challenge in front of him.
"That's one of those things that you're asking the wrong guy. I'm like a T-Rex," said Matte jokingly to reporters on Friday about how to deal with Jefferson's length. "That's a little difficult at times, but again, it's really the technique. You have to take a good kick set, you have to know that he's long, he's rangy, he can have really good lateral movement.

"It's really trusting yourself to get to your spot. And when you have help, know where it's coming from. Be ready to shoot your hands, punch them, use your head, your hands, whatever you need to and stay in front of him so he can't get to the quarterback."
Jefferson totalled 11 sacks over 17 regular season games, adding two more in the Western Final win over the BC Lions and finishing in second place with 70 total pressures behind only Mathieu Betts. It's not only getting to the quarterback that makes the Bombers pass rusher such a dangerous weapon, as he also led the league in passes batted at the line of scrimmage with 11.
Alouettes' head coach Jason Maas knows that when it comes to a former Most Oustanding Defensive Player and five-time CFL All-Star like Jefferson you have to prepare for the unexpected.
"He's somewhat unpredictable," Maas told reporters. "There are some things that he's going to do, you've got to play to those tendencies. But he's fully capable of doing other things. He is long and he's athletic and he's a great football player. I mean, he's a Hall of Famer in my mind."
Winnipeg finished the game against the Lions with nine total sacks on its way to shutting down an explosive BC offence to capture the West. Montreal meanwhile allowed seven sacks against the Toronto Argonauts in the Eastern Final and finished second-to-last in sacks allowed during the regular season with 61.
Matte, however, has allowed a pressure in only 3.1 per cent of his snaps according to Pro Football Focus, fourth best among all offensive lineman with at least 100 snaps in 2023. The veteran knows it isn't a matter of stopping Jefferson as much as it is limiting his opportunities for game-changing plays.
"He's a pro and he's gonna have some plays, we're gonna have some plays," added the offensive lineman. "We want to have more than he does."
Maas also believes they have the right group of men for the task.
"He's gonna go up against guys that can get the job done. It's just a matter of us getting it done more than he does."
The bestial battle between Alouettes and Blue Bombers takes place on Sunday, Nov. 19, at Tim Hortons Field in the 110th Grey Cup.