CANADA: Football Ontario – Women's U18 Tackle – Historic Inaugural Game
The 2022 Ontario Women's U18 Tackle League, Ontario's first minor league tackle football league for young women, kicks off Saturday, October 1 as the U18 Cumberland Panthers will play host to the U18 York Region Lions at Millennium Park Stadium in Ottawa.
This is an historic event for Women's U18 tackle football in Ontario. And it is one of many more games to come.
The Cumberland Panthers Football Club is one of Canada's largest minor football clubs, with over 700 participants in 2022. The club fields teams in multiple leagues, both within the city of Ottawa and throughout Ontario. The Cumberland Panthers play within the NCAFA, OSFL and now the OFFL. Mostly these are traditional programs for boys from age 5 through 19, but also include boys and girls flag programs, cheerleading, and now, Girls/Women's Tackle.
In spring 2022, the Cumberland Panthers launched the Girls/Women's Tackle program, with three teams (U13/U16/U19) that practiced only. This fall, the Cumberland Panthers have placed a U18 team in the new OFFL Women's Tackle division, which also includes the U18 York Region Lions and the U18 London WOLFPAAC. In spring 2023, full division will be added in the OSFL with up to 12 different teams.
Head Coach, Mark Ouellet of U18 Cumberland Panthers optimistically commented:
"We are absolutely interested in collaborating with other programs, perhaps in other countries."
The new OFFL division is a trial for 2022 and is the first of its kind in Ontario. There isn't a real schedule per se, but rather a series of ad hoc games. The schedule changes from week to week.
Football Ontario Unveils the 2023 Team Ontario Women's U18 Tackle Coaching Staff
This upcoming game is the first of this new U18 Women's Tackle division within the OFFL, though the OFFL has run boys' programs previously.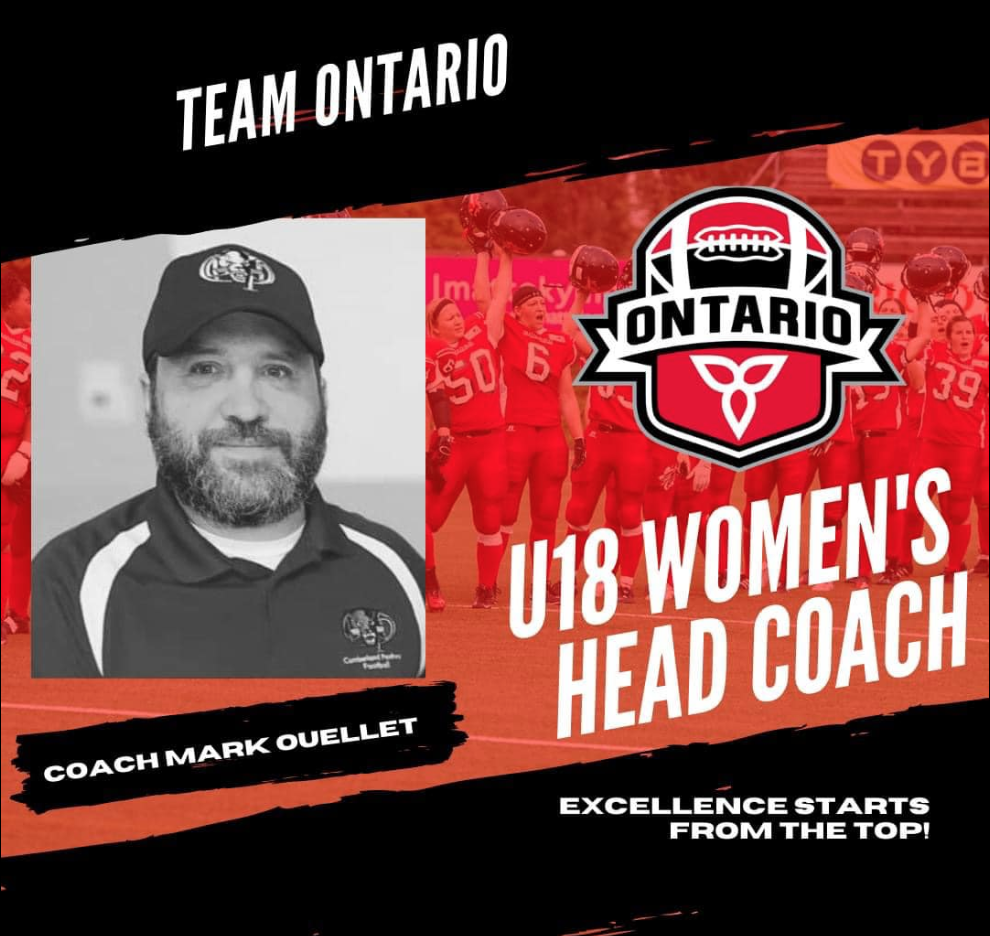 Credentials of Mark Ouellet
Head Coach – Cumberland Panthers U18 Women's Tackle (OFFL)
Head Coach – Cumberland Panthers U16 Girls Tackle Training
Director, Girls' and Women's Programs – Cumberland Panthers Football Club
Director, Girls' and Women's Tackle – National Capital Amateur Football Association
Head Coach – Team Ontario U18 Women's Tackle Program
View Cumberland Panthers Football Club Website
View York Region Football -U18 Women's Tackle (Ages 15, 16, 17) (Website for Staff, Contact and Practice/Game Calendar Information)
Scott Knight,President of WOLFPAAC
"In April of 2022, on the heels of a successfully run 4-week program at Centrefield sports, programming that received multiple media outlet coverage, Women's football came to London in a real and welcomed way. Building off the successful LJM framework and name recognition, in advance of hosting the 2022 Ontario Flag Football Provincials, this momentum carried forward to a large contingent of girls joining and succeeding in our Spring Flag program.

"There is a clear need and appetite in London for "Girls-Only" football.

"Jay Kenemy's vision was of a separate but equal club structure to support both Girls/Women's Flag and Girls/Women's Tackle Football and when he asked me to lead this segment for him, I eagerly agreed and while we all miss Jay, his spirit lives on through the creation of WOLFPAAC. With my daughter's planned and current involvement, I am committed to bring both avenues of play to London's female athletes.

"I do believe that the Girls program must run under its own banner in order to build and maintain distinct separation from Boys Football. We need to develop new Leaders and Volunteers for this program; additionally focused on female Coaches, Coordinators, Support staff, Referees and FANS!"
View the WOLFPAAC Team Website
View WOLFPAAC – World Of Ladies Football, Premier Amateur Athletes Combine Facebook Private Group
Millennium Park Address Ferme Chrétien, Russell, 100 Millennium Blvd, Orléans, Ontario, K4A 4X3