Edmonton Elks break seven year drought at Roughriders' Mosaic Field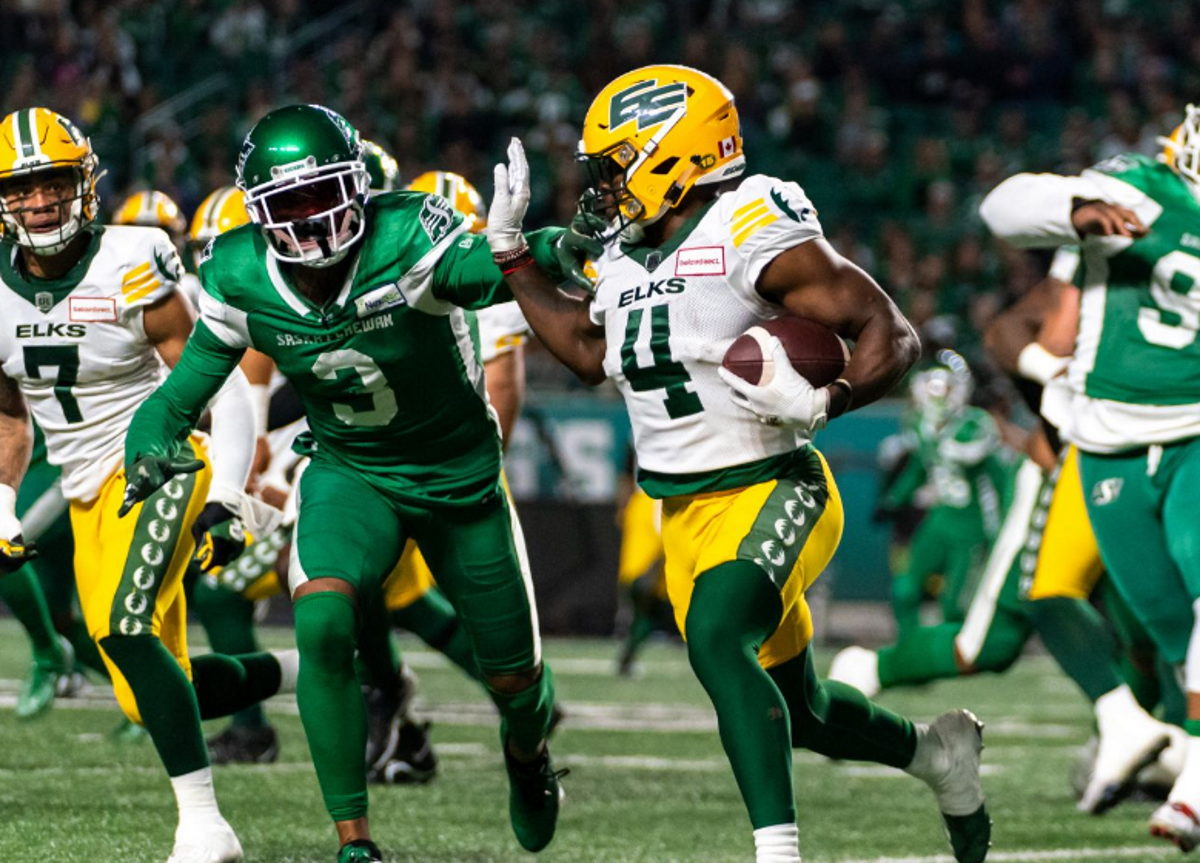 REGINA — The Edmonton Elks won their first game in Mosaic Stadium since 2015 as they took down the Saskatchewan Roughriders 26-24 on Friday night.
In a back-and-forth affair that saw both teams hold the lead for extended periods, Sergio Castillo hit a 47-yard field goal with under a minute to play, giving the Elks the win.
Taylor Cornelius led the charge for Edmonton as he finished with 237 yards and a touchdown while adding a career high 93 yards and a major on the ground.
Edmonton running back Kevin Brown continued his strong season as he ran for his first career 100-yard game, finishing with 109 yards on the night and the Elks' defence finished the game with eight sacks.
For Saskatchewan, Cody Fajardo led the way, throwing for 230 yards and two touchdowns, while Shaq Evans scored his first touchdown of the season, adding 54 yards in the effort.
RELATED
» Box Score: Elks, Roughriders by the numbers
» Through the Lens: Edmonton at Saskatchewan
» Watch: Fajardo finds Shaq Evans for early touchdown
Saskatchewan opened the scoring as Brett Lauther hit a 22-yard field goal after a lengthy drive that included two first down receptions by Justin McInnis.
After a quick two and out by Edmonton, the Riders responded quickly as Fajardo found Evans on third down for a 51-yard score. Evans led the team with 54 yards on the night.
The Elks would cut into the early lead after a 56-yard run by Taylor Cornelius — who signed a two year extension this week — that would set them up for a Sergio Castillo field goal making it 10-3 for Saskatchewan.
Cornelius was able to punch in a one-yard score to tie the game after an eight play, 92-yard drive that included big plays by Kevin Brown and Derel Walker to set the Elks up on the goal line.
After a two and out by Saskatchewan, Cornelius took advantage right away as he connected with Dillon Mitchell for a 77-yard score, giving the Elks their first lead of the night.
Brett Lauther would add a 39-yard field goal with under two minutes eft to cut the Elks lead to 17-13 before the half.
In the third quarter, Sergio Castillo pushed the Elks lead back to seven  at 20-13 as he hit a 13-yard chip shot.
Later in the frame, former Guelph Gryphon A.J. Allen blocked an Edmonton punt, giving the Riders a short field to work with. However, a stop by defensive back Ed Gainey and a second Lauther miss on the night would leave Saskatchewan with just one point.
While the Roughriders were looking to even the game, Jake Ceresna got home for the Elks' seventh team sack to that point, forcing Saskatchewan to settle for another field goal.
Saskatchewan would retake the lead at 24-23 with just over a minute remaining as Brayden Lenius scored a seven-yard touchdown after a successful two-minute drill.
Cornelius would not go quietly however, as he and Derel Walker would connect on three passes that set up Castillo's game winning 47-yard field goal with just 28 seconds remaining.
Elks' defensive lineman Kony Ealy would end Saskatchewan's hopes with the team's eighth sack on the game, sending the Elks' sideline into gleeful celebration. It was a much different emotion in the rest of Mosaic Stadium.
Both the Elks and the Riders go from this game into a bye week.