Egyptian National Football League Heads Into Playoffs
As the ENFL regular season comes to an end, the stage is set for the playoffs where the top four teams in the Egyptian National Football League will go head to head with the two winners facing each other for the second league title in Egyptian Bowl II on April 29.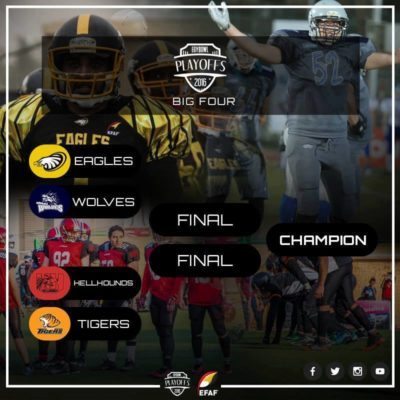 GUC Eagles vs Cairo Wolves
The Eagles ended the season at 5-0 with their last match being a 20-7 win over the Wolves. They have been successful in their title defense so far, yet some of their games came down to the wire if it wasn't for their sensational wide receiver Seif Sweilam and running back Youssef Salman.
As for the Wolves, they've had their ups and downs this season. Currently with a record of 2-3, they look to snap the Eagles undefeated streak in their second clash in two weeks. They have proven that they can take on any team in the league with most of their games ending in a one-possession difference.
They've delivered on both sides of the field especially Moaz Sabah, who plays both quarterback and safety. Moaz is currently sixth in the league in rushing yards and second in interceptions proving his value in both positions.
Cairo Hell Hounds vs MSA Tigers
The second place Hell Hounds defeated the Tigers in their season debut 21-0 and since then the Tigers have looked like a different team. They've won three of their following four games and lost to the Eagles in a super-close game.
Their quarterback, Ahmed Hesham stepped up big time, currently second in the league in both passing yards and touchdowns. On the other hand, the Hounds continued to show their depth throughout the season, trying out several new faces and giving all three of their quarterbacks some playing time.
Their starting quarterback Mohamed Helmy looked a bit shaky during his last couple of games, whereas their defense continued to dominate the league, finishing the season with the fewest points allowed out of all six teams.
The games take place on the April 22.