ELF: 2023 Milano Seamen – A Complete Roster Breakdown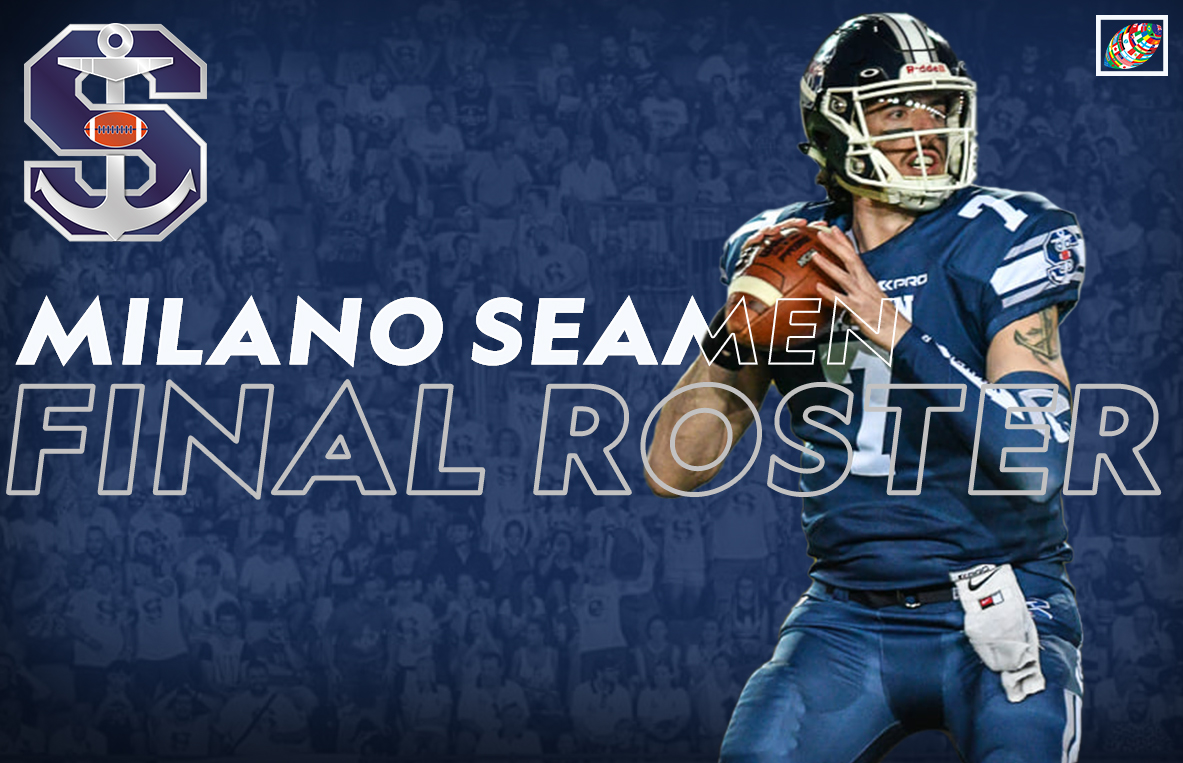 The Milano Seamen have finalized their roster ahead of the 2023 European League of Football season. 
Milano makes the jump this year from the Italian Football League to the ELF, but there is still a lot of continuity on their roster from years past.  That includes quarterback Luke Zahradka, an American who has been with the team for several years.  Having an established signal caller like Zahradka clearly gives the Seamen an advantage heading into 2023.  The Seamen also brought in former Hamburg Sea Devil Jean Constant to be a top pass-catching threat, as he has been one of the most prolific receivers in the brief history of the ELF.  Ali Khalifa and Modesta Pooda will share carries in the running game.
On defense, a pair of American imports in Dejvion Steward and Marquise Manning will patrol the secondary, along with Italian standout Bismark Yeboah.  Perhaps their most famous player is Giorgio Tavecchio, a kicker who played college football at Cal and spent parts of six seasons in the NFL.
Overall, this is a well-rounded roster filled with talented and passionate Italian players who have a good amount of experience competing with and against each other.  We shall see how the team performs in their ELF debut season.
Quarterbacks
Luke Zahradka – USA

Nicholas Dalmasso – Italy
Running Backs
Ali Khalife – Germany

Modeste Pooda – Italy

Luca Assemian Balotelli – Italy

Cristiano Mancini – Italy
Wide Receivers
Jean Constant – USA

Andrea Fiammenghi – Italy

Ismail Lamamra – Italy

Lorenzo Bassi – Italy

Andrea Serra – Italy

Tasmir Seck – Italy

Gianluca Santagostino – Italy

Juan Flores-Calderon – Spain

Marian Cebotaro – Italy
Tight Ends
Daniel Marshall – UK

Leonardo Franchi – Italy
Offensive Line
Francesco Vilinzi – Italy

Lorenzo Cesana – Italy

Harry Sayer – UK

Marco Colombo – Italy

Lewis Thomas – UK

Francesco Runco – Germany

Edoardo Andrea Sandonati – Italy

Thomas Fileccia – Italy
Defensive Line
Igor Timotijevic – Italy

Xhelian Molla – Italy

Domenico Carroli – Italy

Simone Perego – Italy

Giacomo Insom – Italy

Francesco Rivelli – Italy

Samuele Cavallini – Italy

Marco Taddia – Italy

Claudio Nicola – Italy
Linebackers
Kevin Khay – Italy

Nicolo Fonti – Italy

Ivan Fonti – Italy

Diego Rinaldi – Italy

Flavio Piccinni – Italy

Tiberio Calbucci – Italy

Edoardo Gallo – Italy

Andrea Zini – Italy
Defensive Backs
Saad Ali – Italy

Dejvion Steward – USA

Tommaso Calegari – Italy

Lorenzo Gioco – Italy

Marquise Manning – USA

Christian Sottura – Italy

Bismark Yeboah – Italy

Lorenzo Paglicci – Italy
Special Teams
Matteo Felli – Italy

Giorgio Tavecchio – Italy