ELF: All Star/All American WR Jéan Constant moves to the Milano Seamen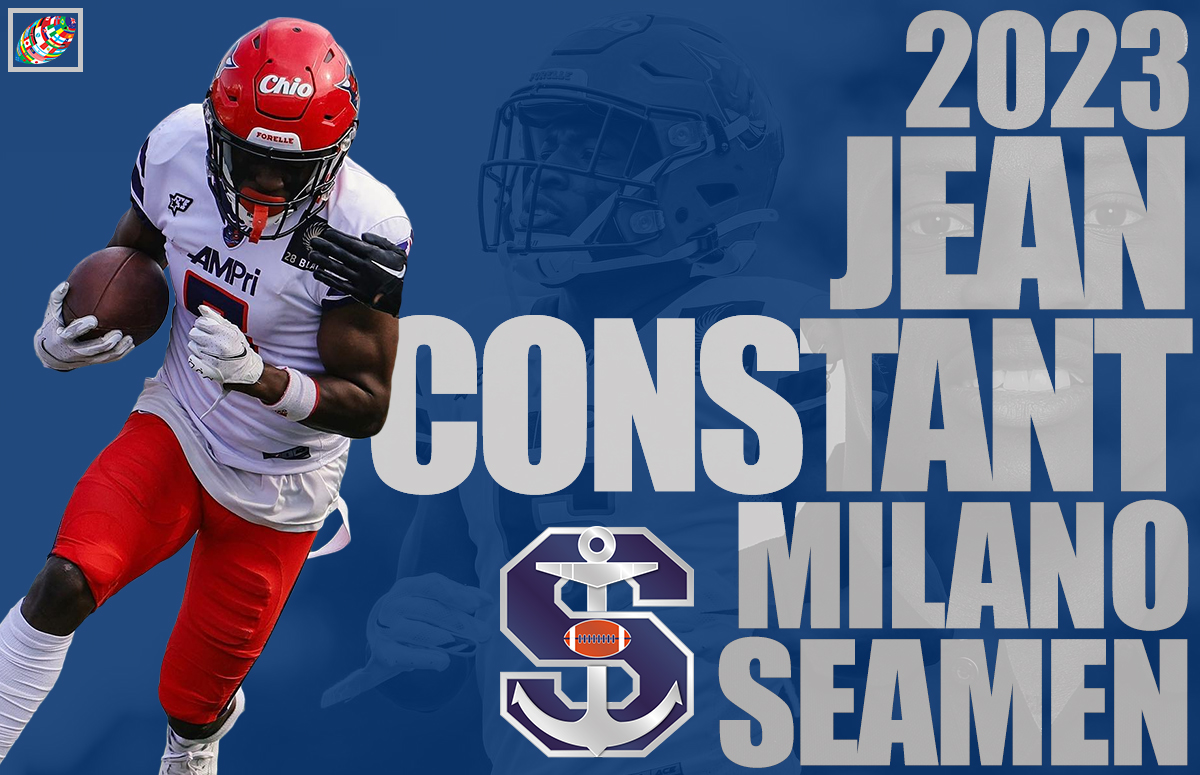 The Milano Seamen of the European League of Football have signed ELF All-Star Jéan Constant. The speedy pass catcher and return mad was one of the league's most dymanic weapons the past two seasons. Now accomplished playmaker joins the ELF's Italian Franchise in Milan. Constant on choosing to join the Milano Seamen:
"My journey in the European League of Football has been unimaginably great. From the inaugural season in 2021 to last year's championship run. I plan to bring my past experiences to Milan's already built winning culture to help them establish a profound present in the European League of Football for years to come. My goal is to add value the best way I can and that's through leadership and playmaking."
The 5'9″, 180-pound receiver spent last season with the league runner-up Hamburg Sea Devils, amassing 1,314 yards total and eight touchdowns. The speedy receiver made 66 catches for 963 yards and seven touchdowns in the Sea Devils run-heavy offense. Constant also rushed for 91 yards, and 260 had return yards.
This guy 😮‍💨 @Jeanconstant_2 #CatchTheWave #HSD pic.twitter.com/2Q9hiPtAOh

— Hamburg Sea Devils (@SeaDevilsHH) August 21, 2022
In 2021, Constant led the ELF with 75 catches for 1,074 yards and eight touchdowns while playing for the Barcelona Dragons. In addition to being the league's top pass catcher, Constant's speed played a huge factor on special teams as the former NCAA All-American return man added 1,165 return yards. Overall, speed demon racked up nine scores, 2,246 all-purpose yards, and a Week 6 MVP award for his 242 yard and three-touchdown performance against the Berlin Thunder.
Haven't even scratch the surface yet

To all the Barcelona Dragons faithful fans thank you for making this dream come true see you sooner than later

Our greatest moments from the Dragons 2021 season recreated by my great friend @Popi1k_ https://t.co/pdQly4dwhW pic.twitter.com/b7nkfT3hP0

— Jéan Constant (@Jeanconstant_2) September 9, 2021
The 25-year-old native of Delray Beach, Florida spent the first three years of his collegiate career (2016-18) at Bryant (NCAA Div. I, FCS) where he was named to multiple All American teams after the 2017 and 2018 seasons including the Walter Camp, Phil Steele and STATS All American Teams. He finished his career with the Bulldogs with 1,336 career receiving yards on 107 receptions while recording 1,694 return yards, reaching the end zone 23 times. Playing for the Stony Brook Seawolves (NCAA Div. I FCS) in 2019, he appeared in nine games with seven starts, amassing 919 all-purpose yards. He had 28 catches for 439 yards and five touchdowns while returning 18 kickoffs ad 18 kick returns for 338 yards and 13 punts for 146 yards. He had a touchdown catch in five straight games.
ICYMI: Jean Constant took one to the crib yesterday against Wagner. #HeGone #PlayFAST pic.twitter.com/cAtd3CfBr9

— Bryant Football (@BryantUFootball) October 29, 2017
Constant's move from Hamburg to Milan is the latest move in a busy off-season for the ELF. The speedster joins an offense led by veteran quarterback Luke Zahradka. Constant and Zahradka hope to create a special connection as the Milano Seamen look to shake up the ELF as an expansion franchise.
Watch Constant's 2022 ELF highlights here: