Friday Night Football A Blowout In Portugal
The Portuguese season resumed after the Christmas break with a pair of lopsided wins as the Lisbon Devils and Cascais Crusaders dominated. The third game was much closer with the Algarve Sharks eking out a tight win over the Porto Mutts.
Friday Night Lights in Lisbon
Lisboa Devils 70 – Lisboa Navigators 6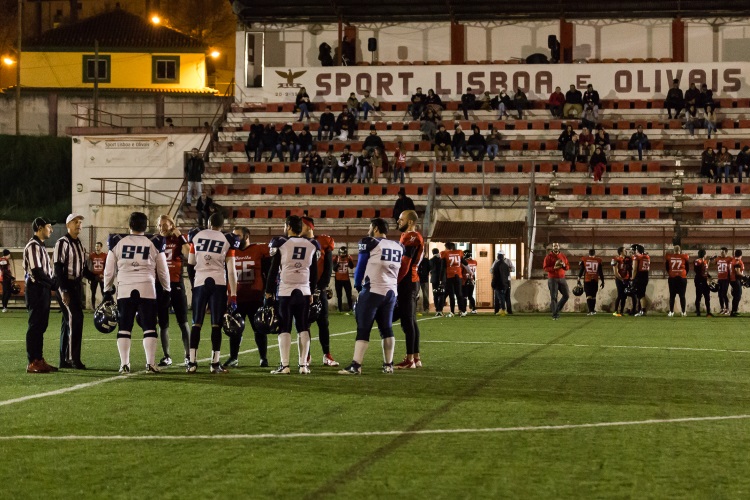 The Friday Night Lights Game between the Navigators and Devils ended up in a blowout win for the Devils who trounced the once proud Navigators 70-6.
The Devils offense scored five rushing touchdowns with Willian La'Prado scoring three times, Joey Bradley once and Jeronimo Sebastião adding another one. Collin Franklin and Pedro Flores both caught touchdown passes from Bradley. On special teams, David Silva returned a punt for a touchdown and on defensive back Filipe Conceição had a "pick six".
The Navigators scored their lone touchdown on on a pass from Yousef Hassan to Nélson Fidalgo. The Devils remain undefeated with the win while the Navigators are close to being out of playoff contention.
Algarve Sharks 14 – Porto Mutts 13
The Porto Mutts and Algarve Sharks clashed in Algarve in a highly anticipated game. The Sharks opened strong and scored back to back touchdown with Nicholas Slater returning a fumble and on the following offensive drive the Sharks scored on a pass by John Holloway to Preston Bailey. Guilherme Vieites added two points on a two-point conversion.
The second and third quarters turned into tough defensive battles without any scoring but the final quarter offered up a thriller.
The Mutts scored first on a pass from João "Train" Marques to Gonçalo Zeller and then added one extra point by Hélio Reis. After that it was João "Train" Marques who had a "pick six". The Mutts elected to go for two points in a bold move for the win but the Sharks defense was able to stop them and hold on for the 14-13 victory.
Cascais Crusaders 72 – Algarve Pirates 12
In Cascais the Crusaders hosted the Pirates and the game was all in favor of the home team. The final result was 72-12 with the Crusaders getting back to back wins.
Juzz Tiny was outstanding scoring five rushing touchdowns for the Crusaders. Duarte Antunes added two more on the ground and João Jesus caught three touchdown passes from quarterback Manuel Farano. On the defensive side, João Miranda also scored a touchdown.
For the Pirates the touchdowns were scored by João Marreiros on two passes from Alexandre Ascenção. The Pirates still look for their first win of the season. "