Fujitsu QB Ready To Shine in X Bowl After Being Thrust Into Starting Role
By Ken Marantz
Tsubasa Takagi might seem to have been preparing for this moment for four years.
In reality however, the dream began way back in first grade, when he started playing flag football for a team coached by his father.
Takagi was a quarterback from day one, and save for his junior high school years when there was no football team to play for, that has been his position every day since. It's the main position of leadership in the sport, and the one that can most affect a team's fate.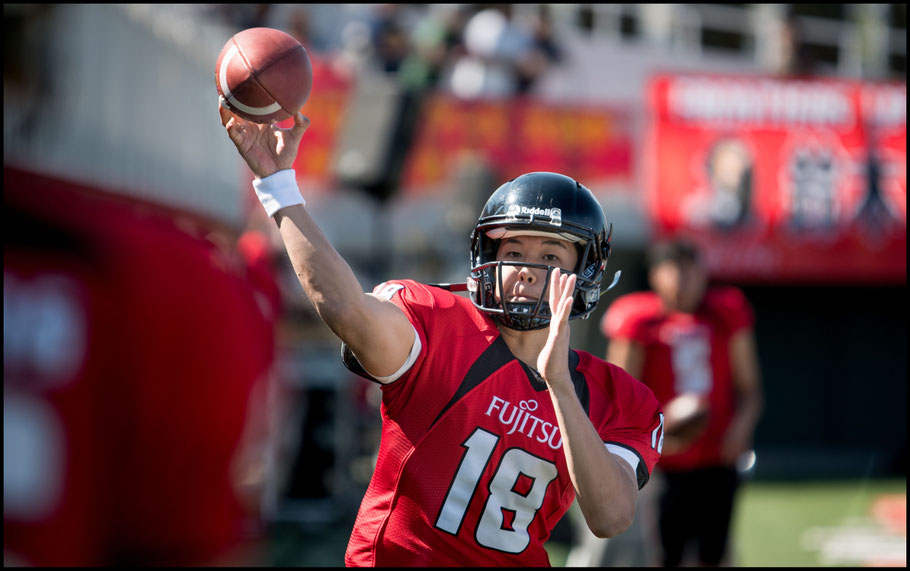 In a classic tale of a back-up player getting his shot at glory, the Fujitsu Frontiers will put their fate into Takagi's hands as they bid for a record-tying fourth straight XLeague championship on Monday night at Tokyo Dome.
Takagi will be the starter against the Panasonic Impulse in the Japan X Bowl, and he is as surprised as anyone to find himself in this situation.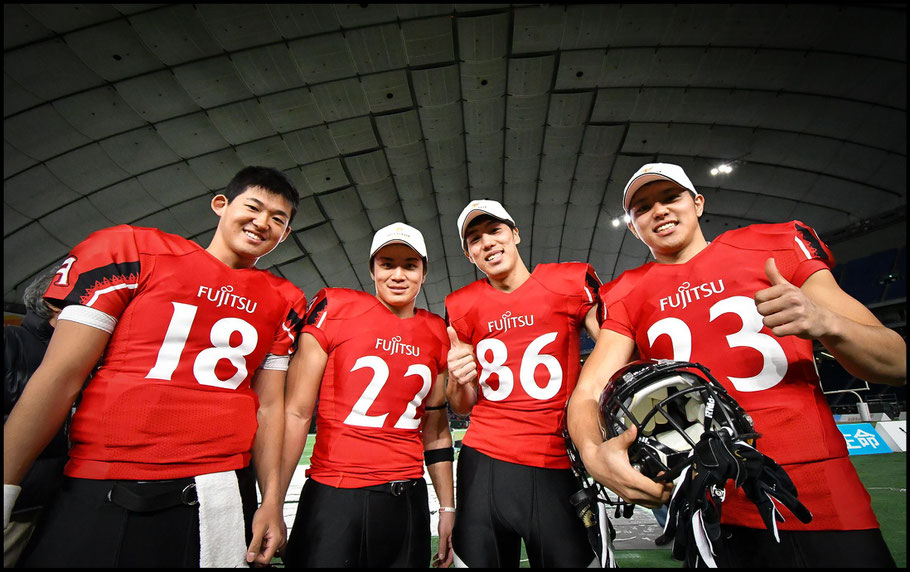 "I've been getting ready for four years, but [I didn't think it would happen] this time," the 27-year-old Takagi said in a recent interview following practice at Fujitsu's ground in Kawasaki. "It's a surprise for me, too. But if it happens, I should get ready. Now I have confidence. I was surprised that injury happened."
The injury that stunned Takagi and the rest of the Japanese football world was an  Achilles tear that ended the season of Fujitsu's American starting quarterback Michael Birdsong – a man who, in his first season in Japan, had led the Frontiers to their third straight league title.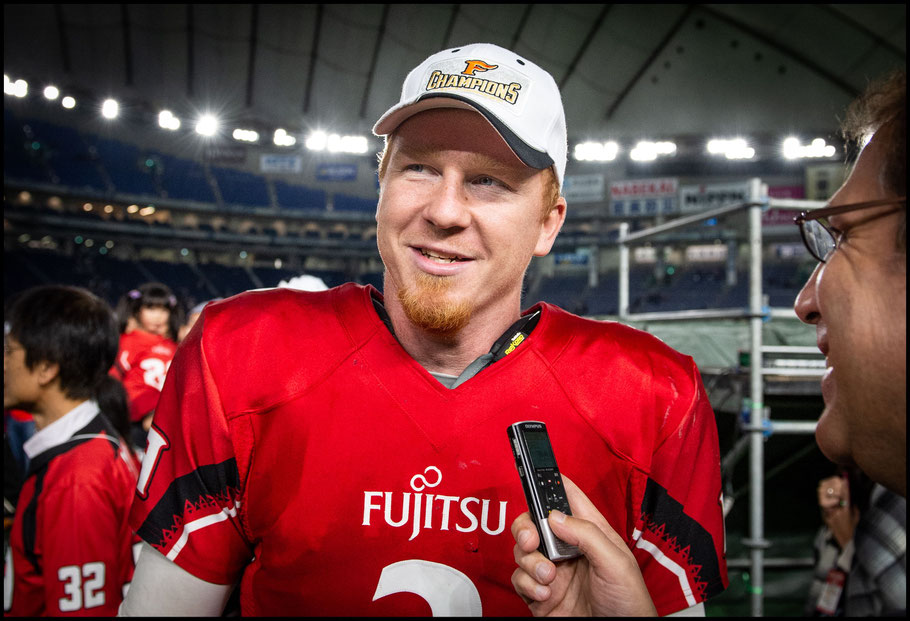 That has suddenly thrust Takagi into the spotlight, but given the tutoring he has received since joining Fujitsu in 2016, the consensus is that he is ready for the challenge.
"He's the most ready you can be," Birdsong says. "As a backup, you always have to be. He's been the starter for a month and he's more than ready."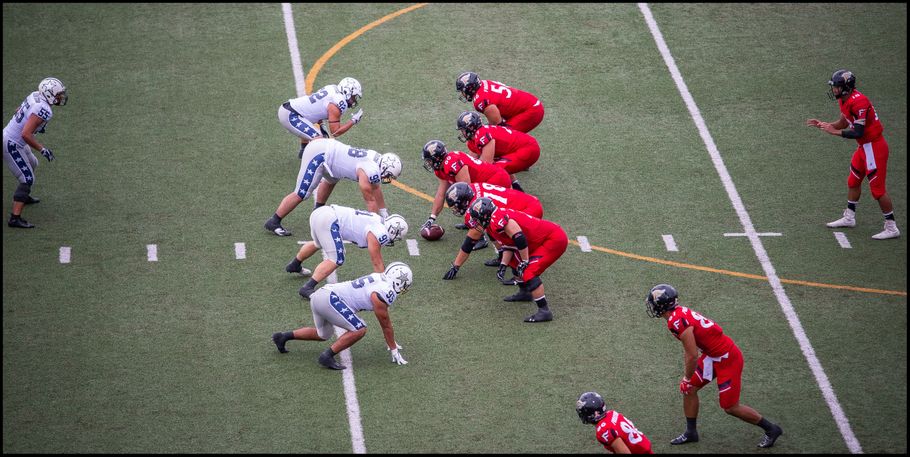 Fujitsu's dominance allowed Takagi to see action in six of the seven regular-season games, and he made his mark with his accuracy. His 70.6 percent completion rate (48 of 68) and overall QBR were both the highest in the league, and he threw for nine touchdowns and 648 yards. Of his three interceptions, two came against Obic when he suddenly filling in for Birdsong.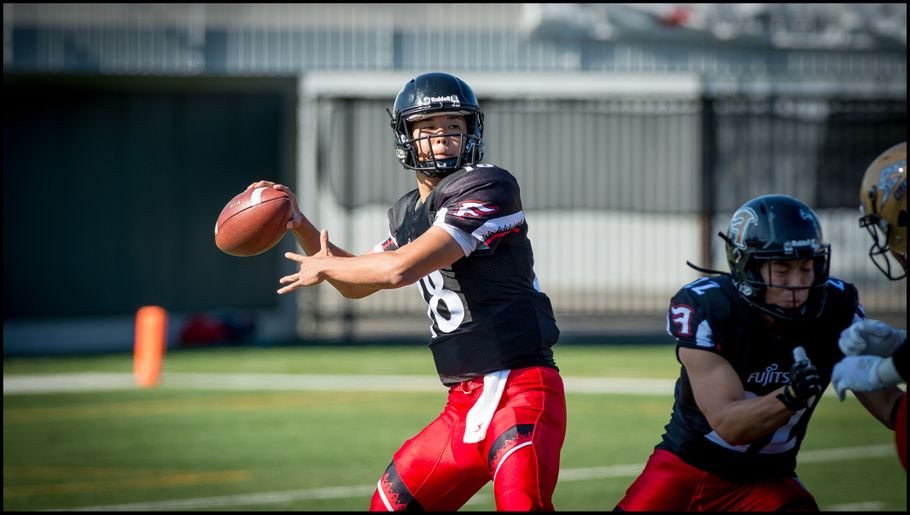 The American tore his left Achilles tendon as he threw a touchdown pass midway through the second quarter in the regular-season finale against the Seagulls on November 17. Before Takagi came out at the start of the next drive, Birdsong offered encouragement. "He said to me, 'This is your season.' That's what I thought, too," said Takagi, who, while not particularly shining, did enough to help the Frontiers emerge with a 16-14 win to finish the season with a 7-0 record.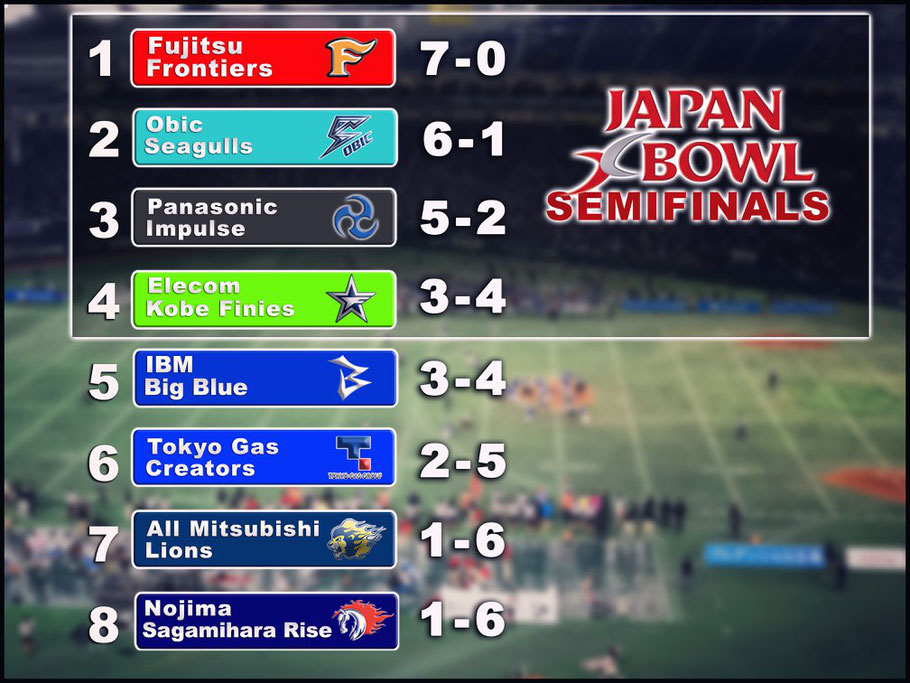 "Mentally, I was not so nervous," said Takagi, who was 9 of 14 for 71 yards but had two passes picked off by safety Bronson Beatty. "But I was thinking too much, so I couldn't play well. I had confidence, but was just thinking too much."
That victory – preserved when Fujitsu blocked a game-ending field goal attempt – gave the Frontiers the top seed in the postseason and a semifinal matchup with an Elecom Finies team coming in with a losing record. Had the Frontiers lost the game they would have been forced to travel to Osaka for a final four showdown with powerhouse Panasonic Impulse.
Fujitsu had beaten Elecom 27-10 in Week five, but Takagi didn't play in that game.
In the semifinal he couldn't afford any mistakes if he were to help Fujitsu continue its quest for a fourth straight title – one which would tie Obic's consecutive championship record.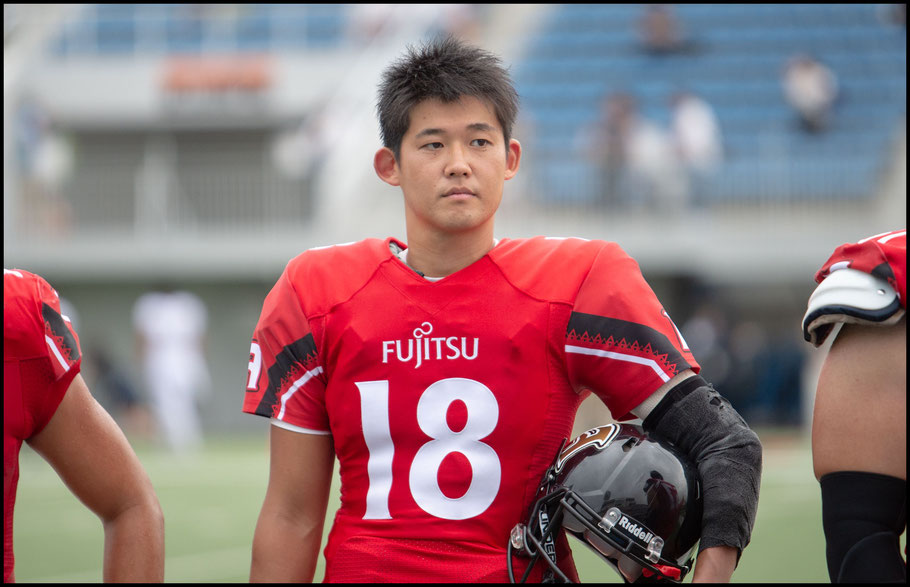 Takagi, who played at Keio University and speaks fluent English, said the historic aspect did not factor into his preparation. "I'm not thinking about the four-peat, because I'm a new starting quarterback," he said. "The past three years I didn't play. I just focused on one play, one game, and do what I can do."
He said he felt nervous, but that the feeling of excitement was stronger. "That two weeks, my heart was like 'boom-boom, boom-boom' every day," he said.
In the end Takagi gave the Finies' defense heart palpitations as he threw four touchdown passes in a 31-13 rout, including a playbook-perfect 7-yard fade pass to Clark Nakamura for a TD on the third play of the game. That was set up by first-year running back Samajie Grant's 70-yard run on the opening play. Takagi finished the game 12 of 20 for 122 yards.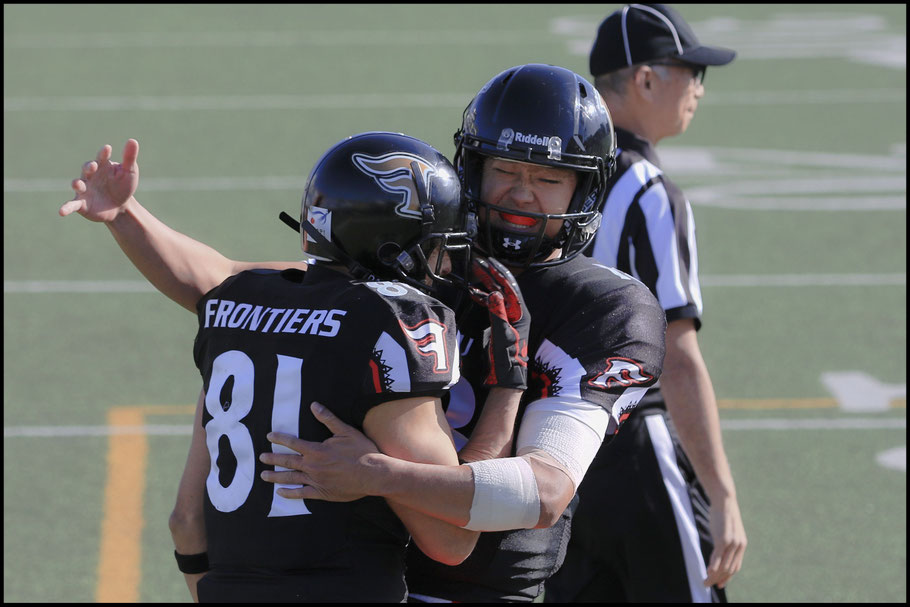 A strapping 185 cm and 88 kgs, he also has the ability to scramble, although more often than not he looks for a receiver, rather than turn it upfield, something that Birdsong is more apt to do.
"I have confidence in passing more than running," Takagi said. "But sometimes I have to scramble and then break the gain. Because in this league, maybe scrambling and running is one of the biggest points. As a quarterback, to lead the team to the championship, I have to use any way, passing or running."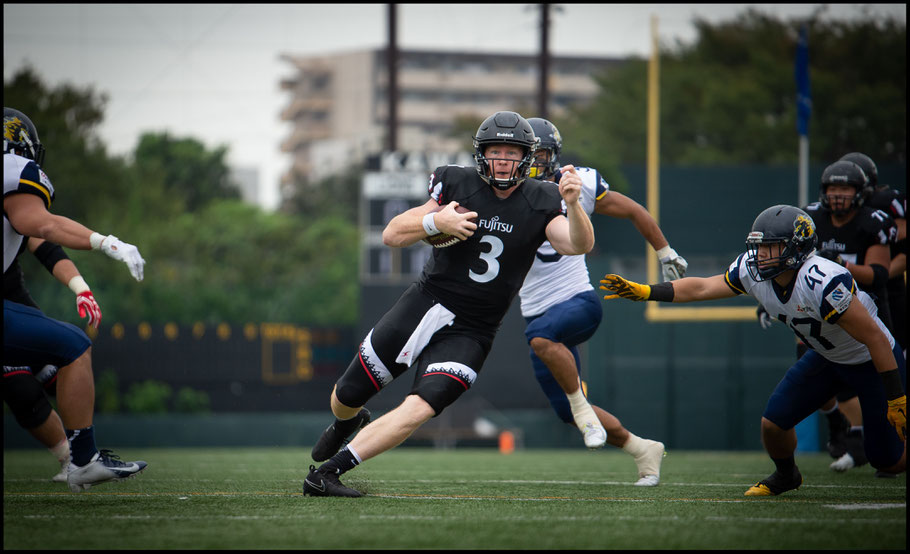 Takagi's footwork has not gone unnoticed.
"[We'll] try to get to him as much as possible," Panasonic's All X-League defensive end David Motu said at a pre-game press conference. "At the same time, he's really good. He's from Keio, and he's a smart guy. He's very elusive as well, when he wants to run. I saw him run against Elecom a couple of times and he did good. So you just never know. It's the final, so he's going to bring his A-game, so we have to do the same."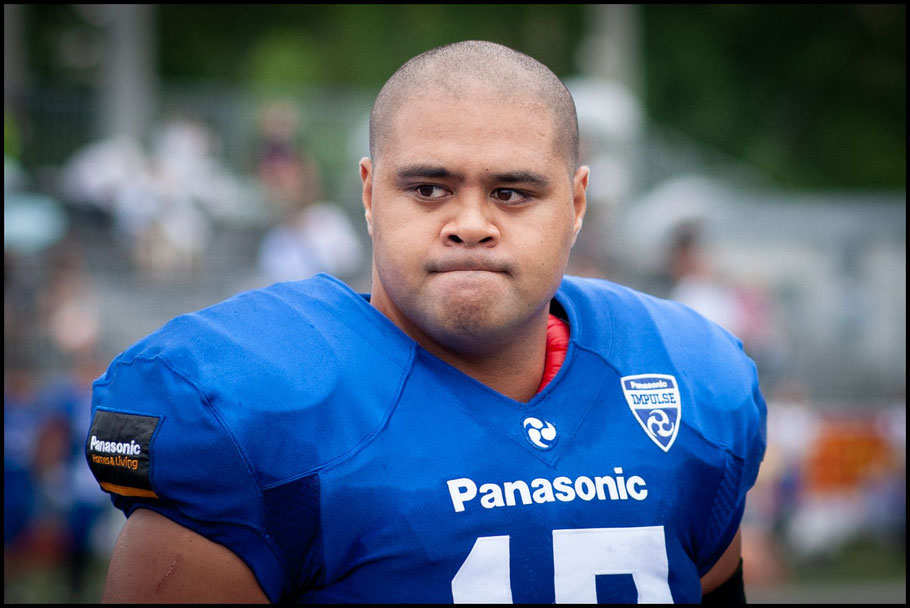 ---
---
At Keio, Takagi led the Unicorns to third place in the Kanto League first division and was named to the All-Kanto team in his senior year in 2014, when he completed 155 of 212 passes (73.1%) for 1819 yards and 16 touchdowns.
During his college days, he played with such future XLeague stars as Obic running back Taku Lee, Nojima Sagamihara Rise wide receiver Yuhei Yagi and Lixil Deers linebacker Akira Ando.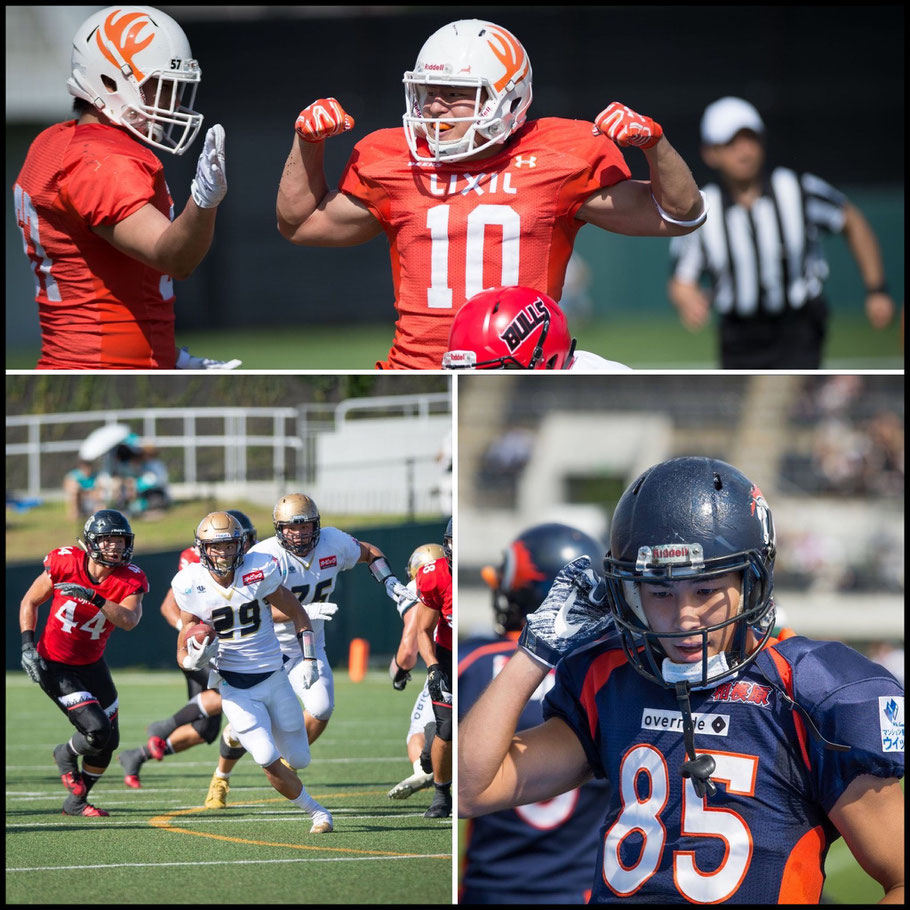 That Takagi has not stood out in the semipro league like his classmates is due more to the career path he chose than any lack of ability. After graduating from Keio, he joined an Obic side which had won the last of its four straight titles in 2013. The Seagulls had been recruiting him since his sophomore year, and the "strongest team recruited me, so I go," he said.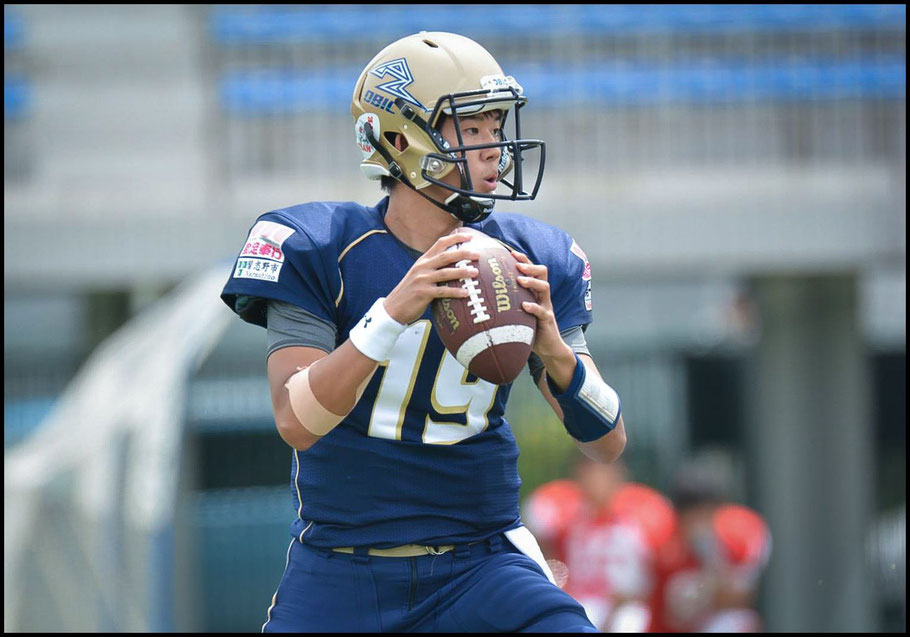 At that time, UCLA's Kevin Craft had already been in the league for two years (with IBM) and shown the value of American quarterbacks. Fujitsu followed suit in 2014 with Colby Cameron, and he would lead the Frontiers to three titles in four seasons.
Obic however was sticking with veteran Shun Sugawara, and Takagi was brought in as the QB of the future.
The Chiba based side changed tack though, and got an American quarterback of its own the following year (UCLA's Jerry Neuheisel), but by then Takagi was already gone.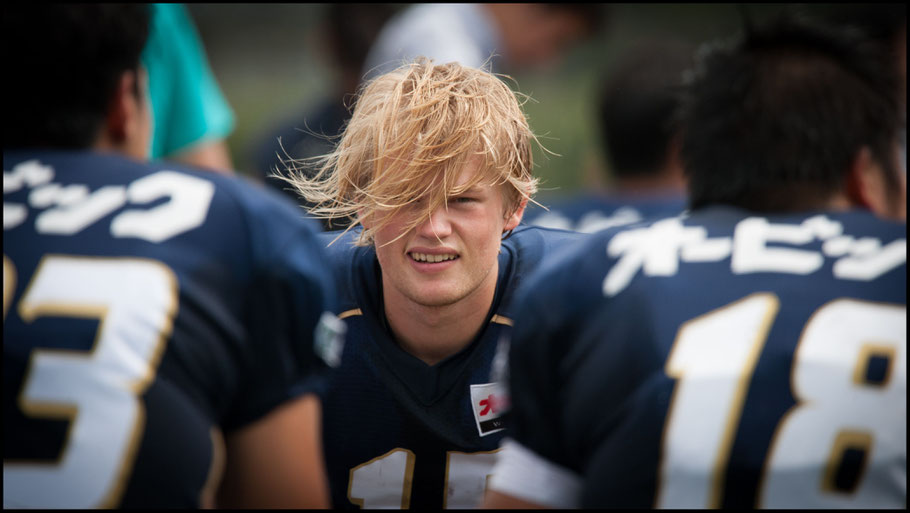 "I was a banker and I played for Obic," said Takagi, who was working for UFJ-Mitsubishi Bank. "But in the bank, after three years, I had to move to a different area in Japan. If I go to Osaka or Hokkaido or Kyushu, I cannot play for Obic.

"After that first season ended, the head coach told me they were going to recruit an American quarterback. I thought, my dream is to beat the American quarterback and be No. 1 quarterback, but working for bank, in two years, I would have to move. So I could not play for Obic for a long time."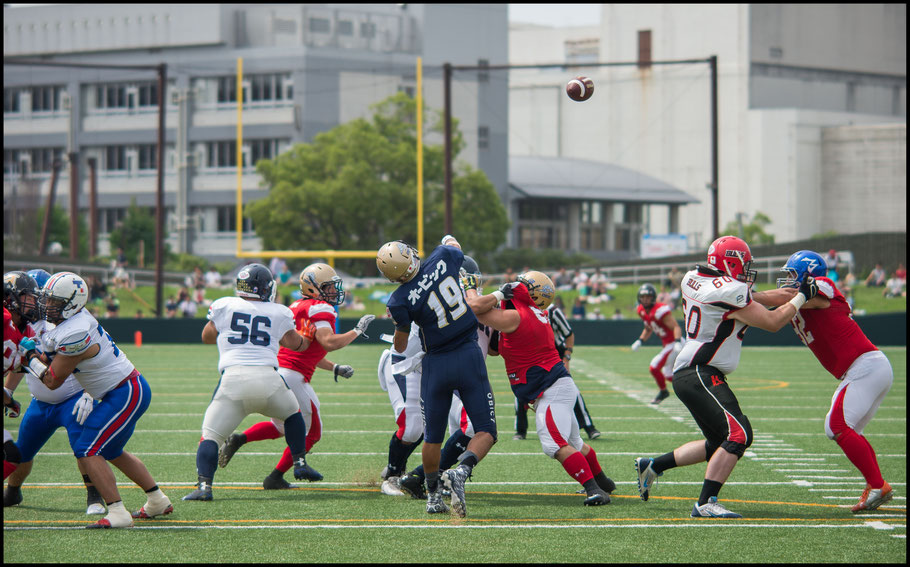 Takagi could have gone to one of the weaker teams in the league and become an instant starter. But for him, the goal has always been to become the best quarterback possible. And if that meant sitting on the bench as he learned from others with more skills and experience, than that was worth the sacrifice.
Following the Rice Bowl in January 2016, he met with then-Fujitsu head coach Satoshi Fujita (now the team's senior advisor) and the two discussed his joining the Frontiers, who were coming off a heartbreaking 24-21 loss in the Japan X Bowl the previous month to Panasonic.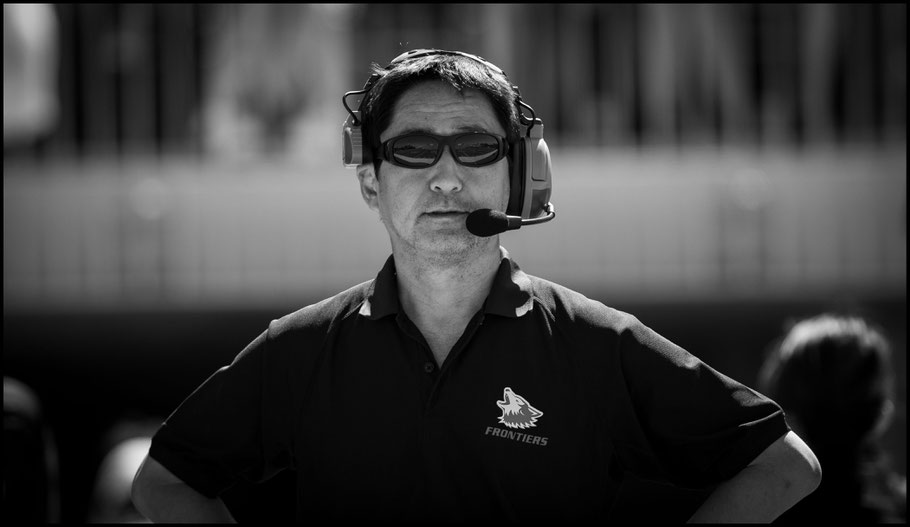 There was one aspect of Fujitsu, a corporate team in which all of the players work for the company or an affiliate, that definitely appealed to him.
"The biggest point for this team is that we can practice on Wednesday, Saturday and Sunday," he said. "But club teams, maybe [only] Saturday and Sunday. So I had to work Monday through Friday, and then only two days of practice. That means, I thought, I cannot overcome the American quarterback because of practice time. I need the time. You only have one life."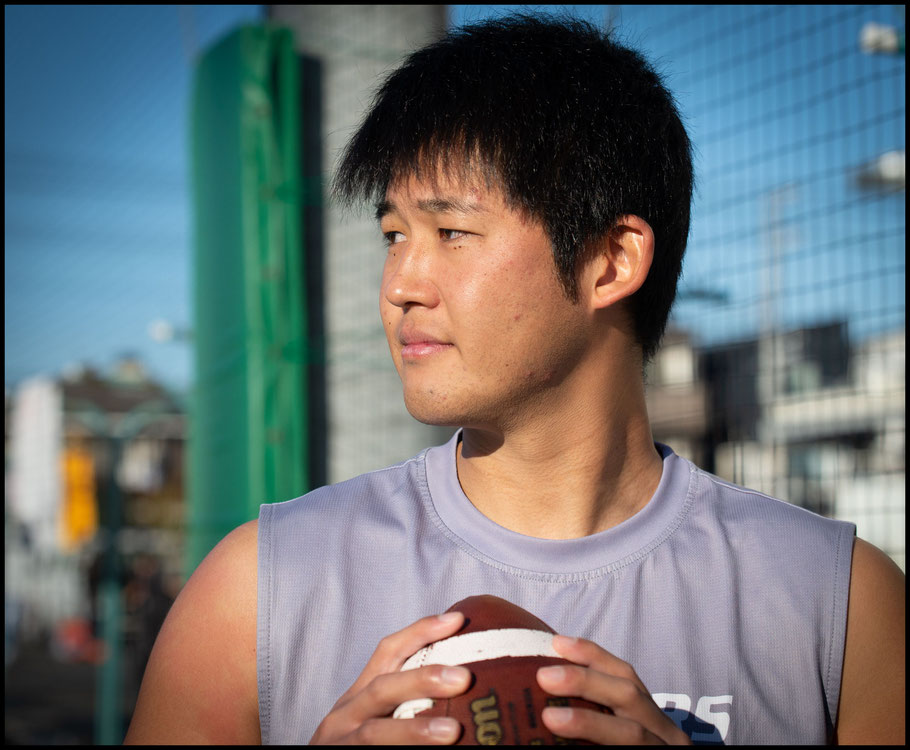 So he took his place on the depth chart, watching and learning from Cameron the former Louisiana Tech star (who is now coaching on the college level in the United States.) He also was mentored by Keiya Hiramoto -someone who had his own moment of fame in the 2014 Japan X Bowl.
Cameron suffered a shoulder injury just before halftime in that game and Hiramoto came in and finished off a 44-10 victory over IBM that gave Fujitsu its first-ever league title.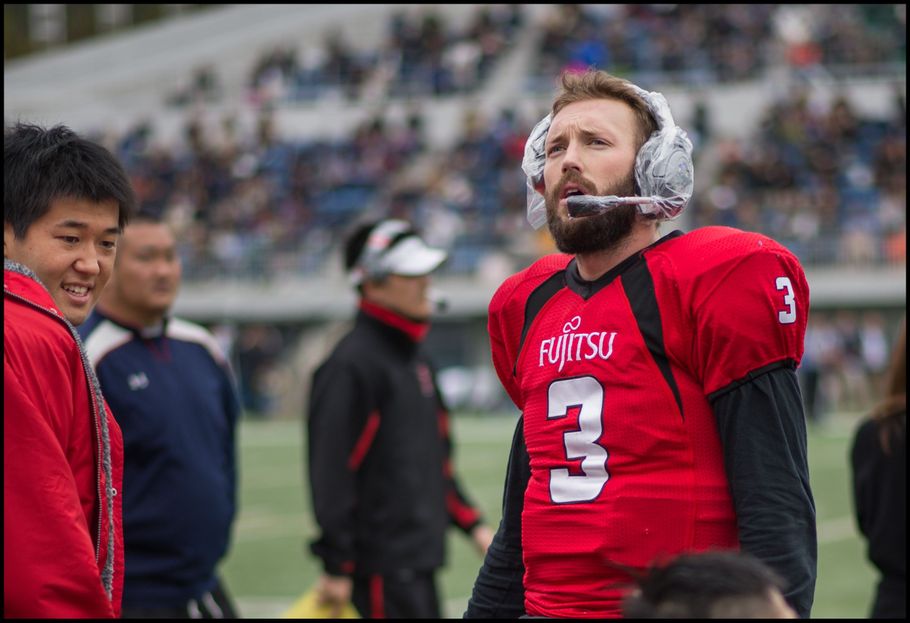 And in 2018, Greg Gregory joined the Fujitsu staff as quarterbacks coach, having most recently served in that position and as offensive coordinator at Texas Southern University.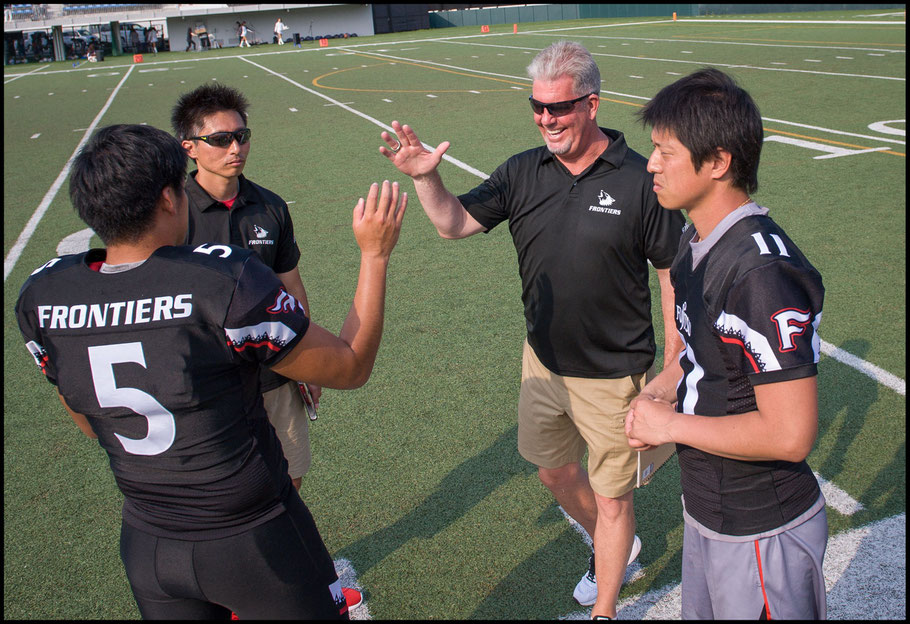 "In those four years, I learned from Colby Cameron, then Michael Birdsong, and coach Greg, and Hiramoto-san," Takagi said. "I learned a lot from them. From Colby, I learned how to read the defense, and fundamental steps, and timing pass, throwing mechanics.  That's my strongpoint, I think."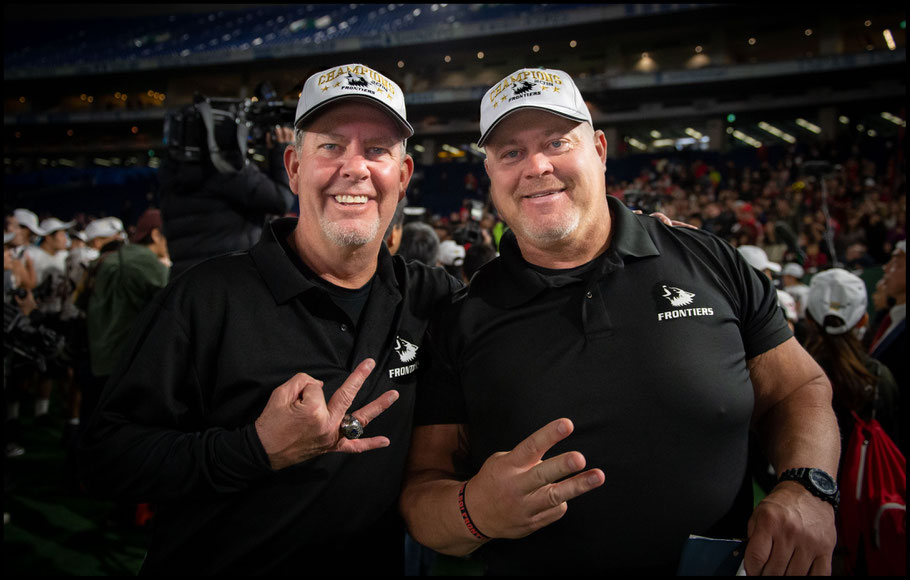 Cornerback Al Rilwan Adeyemi, who has been an All X-League selection in all seven of his years in Japan, said he has seen the progress that Takagi has made over the years.
"Takagi's had the opportunity of sitting behind very good quarterbacks, and coaches," Adeyemi said. "Going back from now to when he came, he's had the opportunity to learn from coach Greg, and to sit behind Bird and learn from Bird, and then sit behind Colby and learn from Colby. So he's really had the time and the opportunity to really hone his skills and be where he is today.

"I think he'll be ready because he's been groomed to be ready. All of our quarterbacks have been."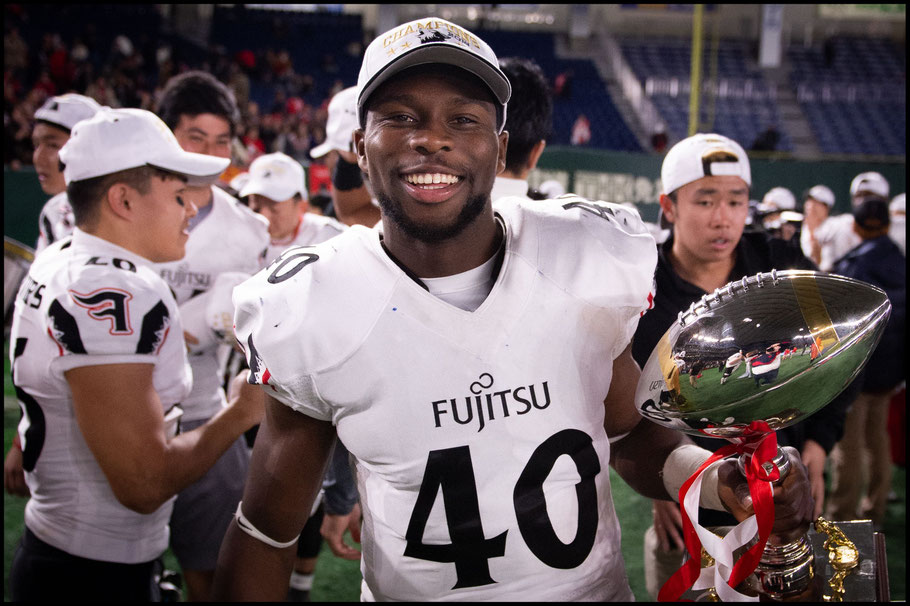 ---
A Different Type of Football 
---
Takagi's father played safety and quarterback at Keio, so it was not that unusual for him to be introduced to the sport as such a young age. Meanwhile, he rode the "Keio escalator" all the way up to the university, starting with the affiliated elementary school and then attending the junior and senior high schools.
While he was in junior high school, there was no football team for him to play on, so he switched to soccer. When he was 13, his father's job took the family to Houston, where Tsubasa played on the West Briar Middle School team.
A midfielder, he was good enough to be make the Texas Select team. And when he returned to Japan, he continued playing. But after rejections from both FC Tokyo and Kawasaki Frontale when he tried out for their youth teams, he returned to American football.
Now, years later, he is starting the biggest game of his life. Fujitsu head coach Yo Yamamoto knows he has to play the cards he has been dealt, but has faith that Takagi can come up a winner.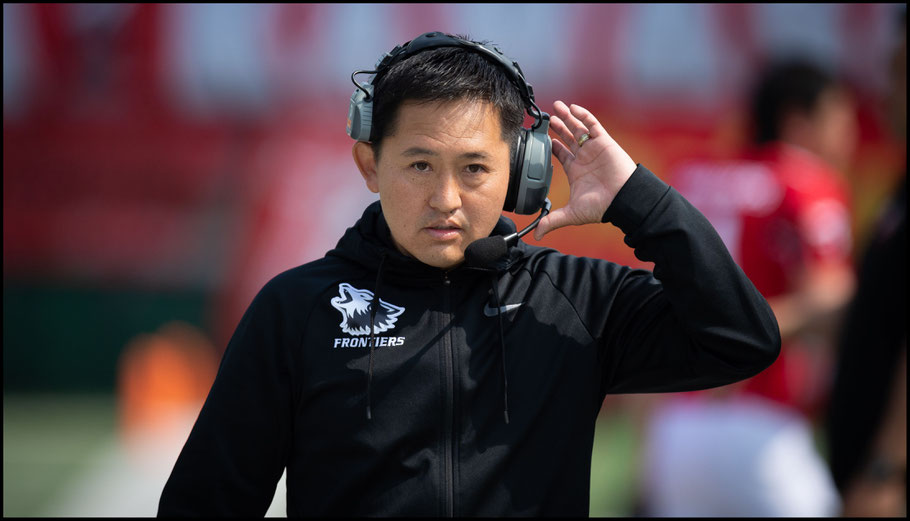 "From the spring, it was our intention to use Birdsong at quarterback, while also working to raise the level of the team as a whole," Yamamoto said. "In the situation, [Takagi] had to come in during the Obic game, and got a rare start against Elecom.
"In terms of the team, and as a backup quarterback, he is aware of the level of performance we need from him. We had some anxiety as we had to make small changes to the game plan, but he has played with confidence."
Getting by Elecom was one thing; Panasonic presents a whole different level of problems for a determined but inexperienced quarterback. The Impulse will also be fired up to avenge a 45-27 loss in the second week of the season as well as equal Obic's record of eight championships.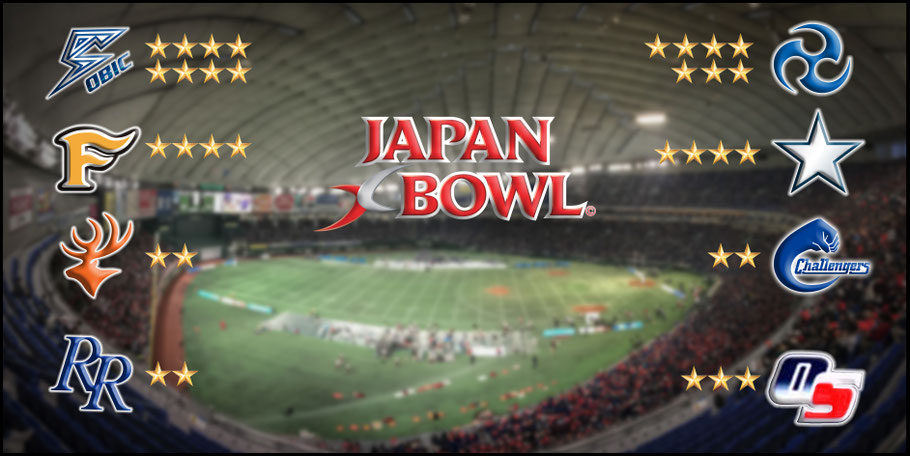 "I'm very confident in our abilities and what we can do," Motu said. "But at the same time, we have to respect them, and really prepare for this game. This two weeks, preparation is everything when it comes to championship games. And just believing in the system, and we all believe it."
For Takagi, the preparation time has been in terms of years. It's time to show what he has learned.
---