Germany: Stats leaders remain unthreatened
With the German Football League regular season winding down and playoffs looming the offensive stats leaders have remained constant in recent weeks.
After 13 rounds of play in the 16 week GFL season, the leaders in the three key offensive categories, passing, rushing and receiving yardage have remained the same for the past three weeks. Chris McClendon of the Bruanschweig New Yorker Lions has a secure  rushing lead. Marburg Mercenries quarterback Jake Sullivan tops the GFL in overall yardage and average yards per game. Munich Cowboys WR Jaylen Zachery has held onto his receiving yardage lead.
What's notable is that the two unbeaten teams in the league – the Schwäbisch Hall Unicorns and Braunschweig New Yorker Lions – are not dominating the offensive stats.
The Marburg Mercenaries  now top the list with three players while the Hildesheim Invaders, Dresden Monarchs and Stuttgart Scorpions all have two each. Behind them with one player are the Schwäbisch Hall Unicorns, Allgäu Comets, Braunschweig New Yorker Lions, Potsdam Royals and Munich Cowboys.Teams without any players include the Cologne Crocodiles, Ingolstadt Dukes, Kiel Baltic Hurricanes, Kirchdorf Wildcats, Berlin Rebels, Dusseldorf Panther, and, surprisingly, the Frankfurt Universe.
Passing
Marburg Mercenaries QB Jake Sullivan has thrown for 4,037 yards in 12 games to continue on top of the passing leaderboard after completing 26 of 31 passes for 358 yards for a 52-0 rout of the Munich Cowboys last week. Schwäbisch Hall Unicorns QB Jadrian Clark remains 2nd with 3,033 yards and a league-best 39 TDs while Zach Greenlee of the Dresden Monarchs has jumped up to 3rd with 2,923 yards. Casey Therriault from the Hildesheim Invaders has slipped to 4th with 2,922 and Stuttgart Scorpions QB Michel Eubank has 2,893 yards passing in 12 games and is 5th.
Rushing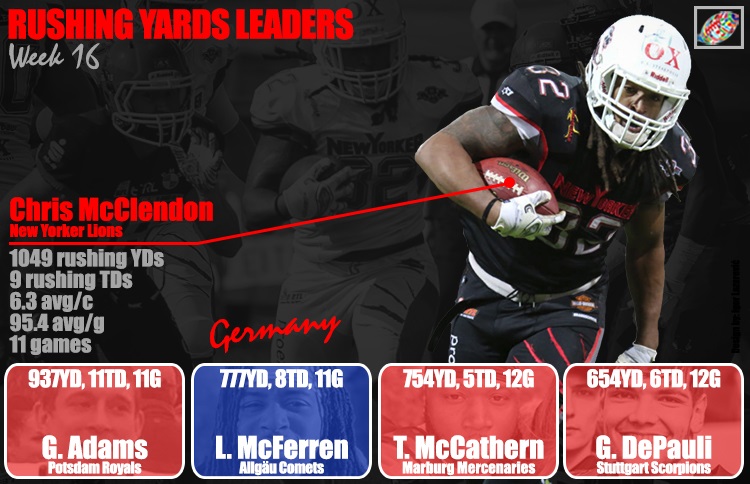 Chris McClendon of the Braunschweig New Yorker Lions rushed for 135 yards in his team's 37-0 win over Hildesheim and boosted his league-leading total to 1,049 yards. Gennadiy Adams of the Potsdam Royals remains 2nd with his 937 yards and league-leading 11 rushing TDs.  Comets running back Lennies McFerren holds onto 3rd with 777 yards while Marburg Mercenaries RB Triston McCathern is the 4th leading rusher in the GFL with 754 yards. Stuttgart Scorpions RB Giacomo De Pauli has continues in 5th with 654 yards.
Receiving
Despite being not catching a pass last weekend, Jaylen Zachery of the Munich Cowboys remains the leading receiver in the GFL and has hauled in 1,446 yards in 12 games while Kevonn Mabon of the Dresden Monarchs is creeping closer but is still 2nd with 1,348.  Hildesheim Invaders WR Nathaniel Morris is still the 3rd leading receiver in the GFL with 1,055 yards and 10 TDs. Unicorns receiver, Nate Robitaille has held onto 4th and has 1,053 yards and 14 TDs. Marburg Mercenaries WR Hendrik Schwarz caught 6 passes for 140 yards and 2 TDs to up his total to 1,047 yards and 14 TDs, placing him 5th.
Graphics: Igor Lazarevic