Germany's Kiel Baltic Hurricanes hire Dan Disch as head coach
The Kiel Baltic Hurricanes have signed their former head coach, Dan Disch, as their new head coach for 2018.
Disch had originally assumed the post of head coach of the Hurricanes in 2016 but had to return to the United States prior to the season due to family issues. His defensive coordinator Marcus Herford stepped up and served as head coach for two seasons before leaving. Disch was the defensive coordinator for Kiel in 2015.
Disch takes over a Hurricanes team that has made the playoffs every year since 2007, reaching the German Bowl three times and winning it in 2010. Last year, Kiel advanced to the semifinals, losing to the eventual champions the Schwabisch Hall Unicorns.
Hurricanes president Gunnar Peter:
"We are proud to bring Dan Disch back to Kiel. Dan brings a lot of experience at the highest level. His ability to make the best use of our players' strengths is remarkable and it is always a treat for me to see how rigorously each practice is prepared and executed. Coach Disch also gives our players the necessary security and experience to survive in big games."
For the past two years, Disch has been working as the secondary coach at the University of Southern Mississippi, and coached against his alma mater, Florida State on December 27 in the Independence Bowl.
Prior to his first year in Kiel, he spent three years as a defensive coordinator at the University of North Carolina. In 2011, he was a defensive coordinator at Southern Miss, and before that he coached the linebackers at the University of Illinois for six years. His first college stint was in 2004 at the University of Florida, where he coached the defensive backs. Previously, Disch, who played at Florida State and is from Jacksonville, Florida, coached 22 years in high school, 16 of them as head coach of Ed White High School.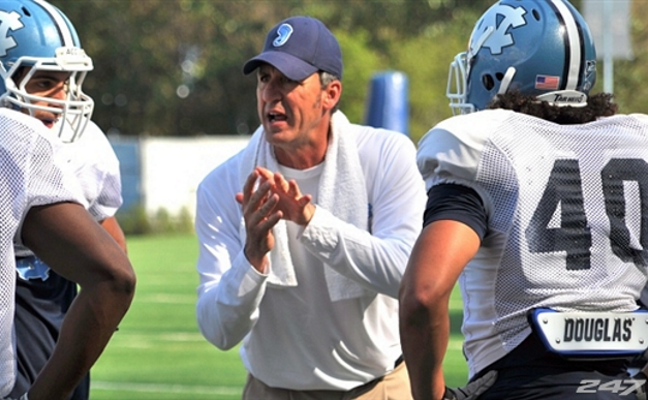 2018 – Kiel Baltic Hurricanes Head Coach
2016-17 – Southern Miss Defensive Backs Coach
2015 – Kiel Baltic Hurricanes Defensive Coordinator
2012-2014 – North Carolina Defensive Coordinator / Secondary / Cornerbacks Coach
2011 – Southern Miss Defensive Coordinator / Safeties Coach
2010 – Illinois Inside Linebackers
2007-09 – Illinois Co-Defensive Coordinator / Outside Linebackers
2005-06 – Illinois Special Team Coordinator / Outside Linebackers
2004 – Florida Secondary Coach
1988-2003 – Ed White School High School Coach (school's all-time winningest coach)
1986-87 – Terry Parker High School Assistant Coach
1981-84 – Forrest High School Assistant Coach