German Football League's first female HC Nadine Nurasyid setting a standard of excellence with undefeated Munich Cowboys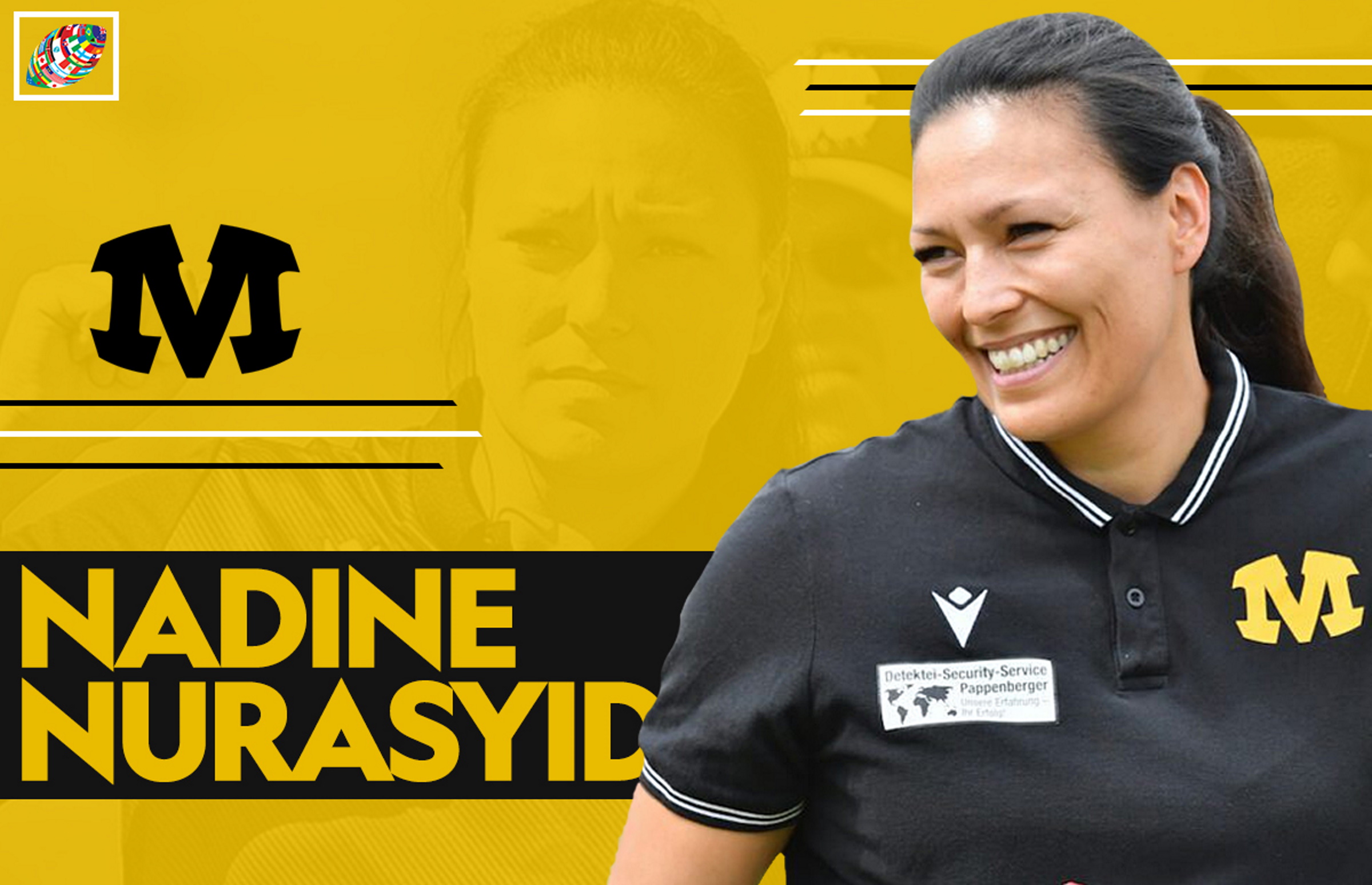 For years, Nadine Nurasyid got used to people calling her by the wrong job title.
As one of the few female American football coaches in Europe, she'd arrive at fields across Germany with a game-plan in hand, only to be mistaken for the team's physio or asked to help organize post-game activities.
"I remember when we were in Saarland, two young boys came over and asked if we wanted to have burgers after the game," Nuraysid recalls with a laugh.

"I said, 'I can't help you guys, you need to ask our team managers.' They were like, 'I thought you were the team manager' and I said, 'No, I'm the defensive coordinator.' Their jaws both dropped, they looked at each other, looked at me again, didn't say a word and just turned around and walked off."
Nobody is mistaking her for a team manager anymore.
The first female head coach in the history of the German Football League arrives at games these days with a reputation that precedes her and a team fearsome enough to match. Nurasyid's Munich Cowboys are 5-0 at the mid-way point of the GFL season, one of just three undefeated teams remaining, and her defense leads the country in both points and yards allowed.
That success has come in Nurasyid's first season in charge with a young coaching staff around her and without the resources to spend big on EU imports like other top level clubs. The head coach, of course, credits her players but there is more to it than that. Nurasyid has brought something special to Munich, a command of the sidelines and fervent pursuit for perfection that only the best coaches can pull off without pushback.
"It's tough for the players because I know they need appreciation as well but sometimes they must think, 'I just can't be good enough for her,' Nurasyid says. "I always tell them it's not personal, but now that the second half of the season has come we're not underdogs anymore. We need to step it up."
A similar drive has fueled many legends of the game but for Nurasyid, it comes from a unique place of insecurity. She is acutely aware of her own limitations, knowing full well that she wasn't born into the sports like so many others in her profession. Her football journey has been a whirlwind and her meteoric rise has sometimes been met with envy and resentment from more established coaches. Nurasyid has sometimes wondered herself if she was qualified for the roles she's held.
Rather than shrink from the spotlight, her response has been to work harder and leave no doubt she belongs. Now she's reaping the rewards, though still unwilling to be satisfied.
"This is the first time I've actually earned money with football. Everything I've done before was pro bono," Nurasyid says. "I was working as a sports director for the Cowboys, 35 hours a week in addition to my full-time job and being a position coach in the GFL."
Nurasyid's journey into American football began late in life. Her boyfriend was a player and when the pair moved back to Munich after several years away, he joined the Cowboys. Whenever she would go to watch him play, the women's team would take a break from selling calendars and hit the recruiting trail. Eventually, they wore her down.
"I was 27 years old. I had no clue about football. Why should I start an impact sport at my age? There was no way," Nurasyid remembers with a grin. "But for whatever reason, I tried it out and I fell in love with it right away."
She felt instantly comfortable on the football field, a sport perfectly designed for her body type and athleticism that she never knew was an option. She excelled as a defensive back and tight end, eventually making the German national team in both tackle and flag disciplines, but soon her playing days were over.
Forced to move away from Munich due to work, Nurasyid was left without a team but wanted to stay involved. On a whim, she reached out to the Straubing Spiders, then playing in the GFL2, and asked if they could use a helping hand from a trained kinesiologist and former player. The response was better than she could have expected and suddenly Nurasyid found herself on the sideline as a position coach, instructing grown men how to play a game she'd only begun to learn herself.
In the most hyper-masculine of sports, there was no guarantee that players would respond well to their first female coach, but things came together much more easily than most might expect. Nurasyid's relentless work ethic was clear for all to see and effort, above all else, will earn you respect in football.
"With my background as a sport scientist, I would say I have a good coach's eye. I understand movement. That's why I was where I was as a position coach," Nurasyid explains.

"I did not have that many resources back then in Germany so I watched every YouTube video I could find like 500 times, I read every article about the linebacker position and I read every book I could find. That's how I started off and it worked quite well. As soon as the players saw that, first of all, I was doing everything I could to make them better and that I found the right coaching points, then it was quite easy."
It wasn't long before more responsibilities were being thrust onto her plate and in 2018, Nurasyid served as the Spiders' defensive coordinator. Their scheme was a mismash of a dozen different concepts, the construction of a young coach unsure of her unit's identity and a far cry from what's now in place in Munich. Nevertheless, Straubing would go on to finish fourth in total defense.
"Now when I look back at all my notes and my playbook from 2018, I think, 'You won games with that? That is crazy!'" she laughs.
Nurasyid returned to Munich the next season, becoming the first female position coach in the history of Germany's top league. For the next four years, she did her job quietly while taking on additional administrative responsibilities in the organization. Her first love was always coaching, however, and when Cowboys' head coach Garren Holley — who Nurasyid credits as an important mentor — departed the team mid-way through last season, the question of his succession was raised. All the coaches banded together to finish the year by committee, but Munich would eventually need someone in charge.
All options were explored, but eventually Nurasyid rose to the top of the pool of candidates. When the board began to show interest, she grappled with whether to take the job. At 36 years old, how could she run a whole team of top level athletes?
"It took me weeks to really accept it because I know I'm inexperienced. I didn't know if I could be successful and I didn't know if I was ready for it now," Nurasyid remembers. "I kind of had the feeling that I needed to wait a couple more years but on the other hand, when the door opens, sometimes you just need to walk through it."
In the end, two things eased her worries enough to accept the job. The first was the insistence of her boyfriend, but the most important element was the ringing endorsement of a number of Cowboys players. Nurasyid wasn't being hired for the sake of making history, she was the team's choice as leader.
"I know that a couple players reached out to the board that they wanted to have me as head coach and some of the players also told me that I needed to do it. They said, 'You worked for it so hard and we want to have you as head coach.' That gave me the confidence in the end to say, 'Okay, I'm gonna do that,'" she says.

"With the players, it just fell into place. Sometimes they say I was the head coach already last year or at least it felt like that."
All Munich has done since is win, proving the organization made the right call. Nurasyid is careful to warn that much more football needs to be played this year, but the early results couldn't be more promising.
In a sport once entirely dominated by men, Nurasyid is one of a growing number of women all around the world proving that they belong. With European women having already made the jump to the NFL and the North American college ranks before, one can only wonder how far Nurasyid's success might take her but she's keeping her feet rooted firmly to the ground. Surely coaching overseas would be a bridge too far for someone so young and inexperienced, she deflects. Maybe in a decade she'll be qualified.
Then again, that was much the same way she thought about the head coaching job she currently holds.
"I didn't even allow myself to think about being a head coach one day. Even though it was kind of a dream, I never said it out loud," she admits. "But it happened."
By her very nature, Nurasyid may never consider herself fully qualified for any opportunity that comes her way. By her standard of excellence, there isn't a coach in the world who is.