Global players making their presence felt as CFL enters final third of the season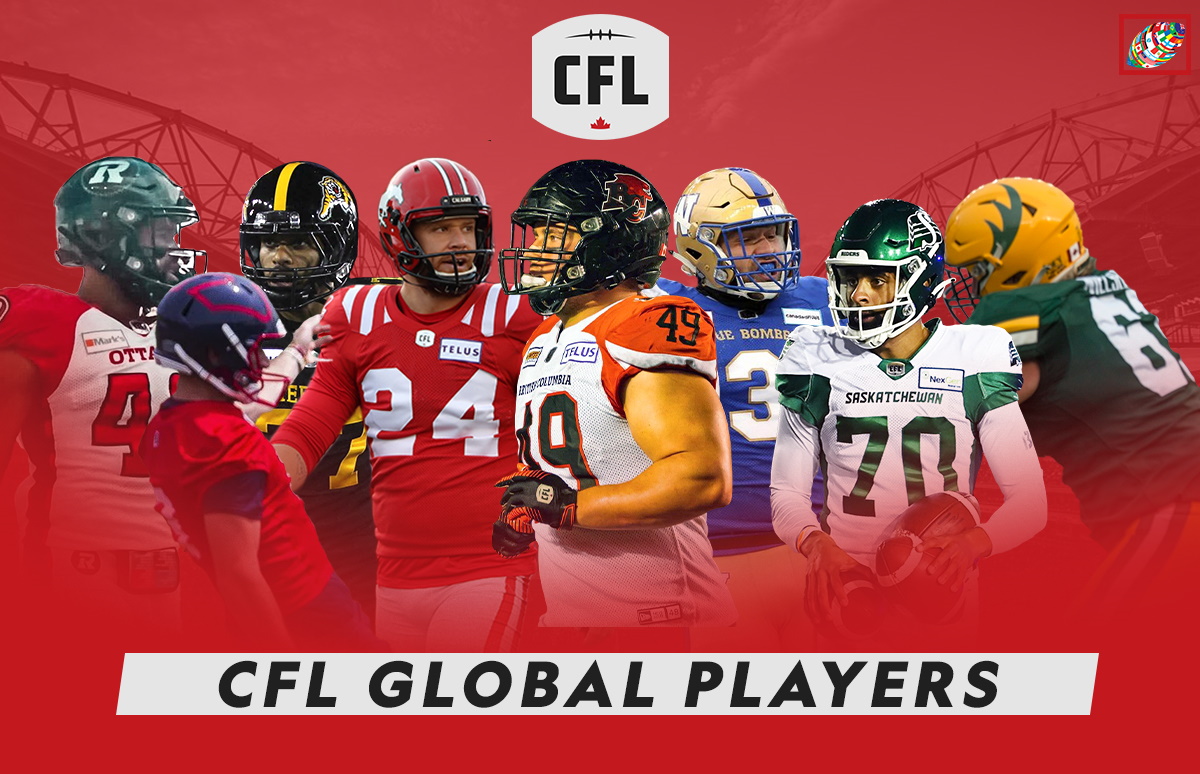 The Canadian Football League season is entering its final third and as the playoff picture comes into focus, so too are international athletes with the brightest futures in pro football.
For the third straight season, all nine CFL teams have been required to dress one Global player — someone from outside Canada or the United States — for every game, with many opting to play a second. In fact, CFL history has already been made in 2022, as the league-leading Winnipeg Blue Bombers became the first team in the history of the program to dress three Global players in a single contest.
In total, 22 Global athletes representing 12 different countries have seen live game action this season. Here they are all, listed from the smallest to the biggest impact on their team.
Jose Maltos, K, Ottawa Redblacks (Mexico) — The 31-year-old kicker Jose Maltos finally dressed for his first CFL game in Week 13, though he was unfortunately not allowed to kick anything.
Simeon Okonta-Wariso, DE, Toronto Argonauts (United Kingdom) — A late scratch elsewhere in the lineup earned Okonta-Wariso his first chance to taste CFL action in Week 8 but he did not get on the stat sheet.
Anthony Mahoungou, REC, Ottawa Redblacks (France) — A former star receiver at Purdue, Mahoungou finally dressed for his first CFL game in Week 14. He was not thrown a pass and did not record a statistic.
Tomoya Machino, OL, Winnipeg Blue Bombers (Japan) — The pride of Kyoto University got his first chance to dress for a CFL game in Week 12, suiting up as a seventh offensive lineman.
Edris Jean-Alphonse, DB, Ottawa Redblacks (France) — The speedy rookie from Laval suited up in Week 12 but didn't make it onto the box score.
Ryan Meskell, K, Edmonton Elks (Australia) — Meskell dressed for Edmonton in Week 9 as a third kicker after fellow Global Steven Nielsen went down with illness. He kicked off four times, averaging 57.5 yards per.
Souleymane Karamoko, DB, Winnipeg Blue Bombers (Cote d'Ivoire/France) — A former standout for the Canadian university powerhouse Laval Rouge et Or, Karamoko suited up for the Bombers in Week 2 and recorded one special teams tackle.
Kevin Kaya, REC, Montreal Alouettes (France) — With his former university head coach for the Montreal Carabins now on the sidelines with the Alouettes, Kaya has dressed twice this season but has yet to get on the stat sheet.
Chris Mulumba, DT, Hamilton Tiger-Cats (Finland) — Hamilton hasn't been afraid to turn to Mulumba when they are in need of an extra defensive lineman, dressing him twice. The Colorado product has yet to get on the stat sheet this season but has seen the field.
Bailey Devine-Scott, DB, Calgary Stampeders (Australia) — Calgary's final selection in the 2022 Global Draft pinch hit for the team in their first two games of the season and the Western New England product held his own, recording two special teams tackles.
James Smith, P, Free Agent (Australia) — In an interesting bit of team management, the Roughriders essentially rented Smith to Calgary for the first three games of the season in exchange for a Global draft pick. He performed well, posting a 36.1-yard net average and 44.2 yards gross, but is now currently a free agent after short stint back on Saskatchewan's practice squad.
Tigie Sankoh, DB, Toronto Argonauts (United Kingdom) — A former NFL international player pathway program participant with the Cleveland Browns, Sankoh has dressed in five games this year for the Argos but was hurt for much of the middle portion of the season. He returned to the fold last week, recording his first special teams tackle of 2022.
Tyron Vrede, LB, Ottawa Redblacks (Netherlands) — Ottawa's punishing Dutchman dressed for the first nine games of the season and recorded three special teams tackles. However, he suffered a shoulder injury in Week 11 and is currently on the six-game injured list, which is the CFL's version of IR.
Steven Nielsen, OL, Edmonton Elks (Denmark) — Edmonton's top pick from the 2021 Global Draft is still their primary Global, as the Eastern Michigan product has suited up for 12 games so far as the team's sixth offensive lineman. Nielsen has yet to make a start in 2022 but continues to play an impactful depth role and has gotten the team out of several games.
Valentin Gnahoua, DE, Hamilton Tiger-Cats (France) — One of just three Global players in their third CFL season, Gnahoua has played 12 games for the Ticats as a core special teamer. He has notched four tackles in the process, all of which have come in the last five games, tying a career-high.
Kaare Vedvik, P, Saskatchewan Roughriders (Norway) — Vedvik has been more than capable of filling the enormous shoes left by former Super Bowl champion Jon Ryan in Regina, averaging 37.6 yards net and 46.2 yards gross through 13 games this season.
Thiadric Hansen, DE, Winnipeg Blue Bombers (Germany) — The face of the Global program joined the Bombers in Week 3 following a contract dispute and picked off right where he left off, recording nine special teams tackles in 10 games. While his rotational time on defence has increased, his production hasn't taken off and he has just three defensive tackles so far in 2022. Hansen is currently on the short-term injured list with tweak to his Achilles.
Cody Grace, P, Calgary Stampeders (Australia) — Since returning from an early season injury, last year's West Division All-Star has been back in fine form. In nine games punting, he has averaged 39.2 net yards per kick and 47.2 gross, adding three kick singles.
John Haggerty, P, Toronto Argonauts (Australia) — A sensational addition to Toronto's kicking game this season, Haggerty is currently tied for the CFL lead with a gross average of 48.8 yards per punt. Through 12 games, he's also averaging 37.9 yards net, while having hit four punt singles.
Joseph Zema, P, Montreal Alouettes (Australia) — 12 games into his second season, Zema continues to quietly be one of the league's best punters. He has an impressive gross average of 48.4 yards per punt and a net of 38.5, while notching three singles.
Les Maruo, LB, Winnipeg Blue Bombers (Japan) — Winnipeg's first round Global pick last year has seen his role explode in year two, seeing rotational reps on defence in every game. In 12 games, the UTSA product has 11 defensive tackles and two more on special team, while also notching his first career sack in Week 7.
Tibo Debaillie, DT, B.C. Lions (Belgium) — Until recently, Debaillie was the only Global under contract with the Lions organization and he's made the most of his opportunity. The valuable rotational pass rusher has seen action in 11 games, making 12 defensive tackles and notching three sacks while playing key minutes.