Hamburg Sea Devils sign American QB Preston Haire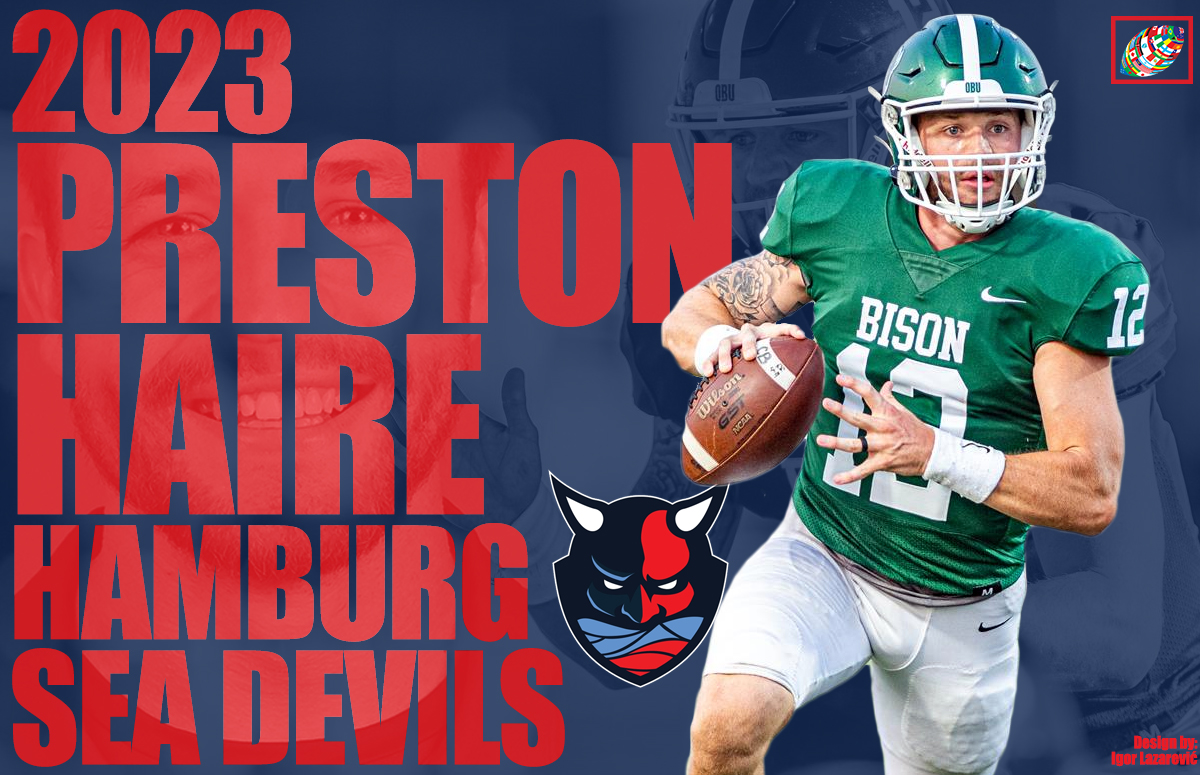 The Hamburg Sea Devils have announced that they have signed American quarterback Preston Haire for the 2023 European League of Football season.
Originally from Trophy Club, Texas, Haire starred for Oklahoma Baptist University (NCAA, Div. II). He was a four-year starter for the Bison, from his freshman season in 2017 to his senior season in 2021.  A prolific passer, he broke several school records, including those for career offensive yards, passing yards, passing touchdowns, and total touchdowns.  He also set school records for passing touchdowns in a single season and completion percentage in a single season.  His prowess in college earned him several honors, as he was named the offensive player of the year of the Great American Conference in both 2019 and 2021.  Following his last collegiate season, he earned an invitation to the New Orleans' Saints minicamp, becoming the first player from Oklahoma Baptist to do so.
The Hamburg Sea Devils have signed 2x GAC Offensive Player of the Year & 2x D2 All-American QB Preston Haire

The 6'0 dual threat passer put up huge numbers at Oklahoma Baptist (NCAA D2) and was in NFL rookie mini camp with the New Orleans Saints #ELF #hamburgseadevils pic.twitter.com/8GVhDYtGtx

— American Football International (@AFIReview) December 20, 2022
At 6'0" and 205 pounds, this upcoming season will be Haire's first in Europe.  He joins a team in Hamburg that has been one of the best in the ELF throughout the league's two-year history.  The Sea Devils made the ELF championship game in each of the league's first two seasons, but lost both times, including a 27-15 defeat this past season at the hands of the Vienna Vikings.  While Hamburg boasted an outstanding running game and defense last year, their passing game was a weakness all season, as it ranked 11th out of 12 teams in passing yards and perhaps cost them a chance to win the title.  As such, the Sea Devils are hoping that the signing of Haire will strengthen their aerial attack and help them win that championship that they have been so close to achieving.
The Sea Devils believe that Haire is the guy that can lead them to success.  Offensive coordinator Brett Morgan is definitely happy with the signing:
"Preston Haire has been an outstanding quarterback and leader at every level he's been.  He checked every box with exceptional production, athletic testing, background reports and psychological profile.  The film backs it up with a player who can beat you with his arm, legs, and head.  He was in an NFL camp for a reason and has the skill level to be an elite QB in our league."