IBM Big Blue keeps dropping in Japan XLeague Power Rankings after Week 5
Week Five for the Japan XLeague Power Rankings. You know the drill. Read about your team. Snort derisively. Go on social media and complain. Couple of great games this past week but also matchups no one wants at this stage of the season. Anyway not a whole lot of movement as a result but we get the feeling that's gonna change after week six. This is the business end of the year. As a great Fujitsu DB once said. "It's not where you are at the start that counts. It's where you are at the end". Well regardless of where you are at either stage, just remember we'll be right behind you saying you should be somewhere else.
Rank 1
Panasonic Impulse

Panasonic are who we thought they were. If you want to crown them, then crown their oshiri. You'd only be doing the same thing we did preseason and we look like geniuses now. Sure they could have lost to Fujitsu or Obic had a couple of plays gone differently, but they didn't and that's what football is. A game of inches. This is the best all-round team in the XLeague right now. They've taken down both JXB teams from last year in consecutive games and the only question is….would they beat the Cleveland Browns?
Rank 2
Nojima Sagamihara Rise

Let's be honest. No one wants to see Nojima playing a team like Black Eagles in week five. The got the win in the rain and avoided injury which was priority number one. Devin Gardner now has a ridiculous 22 TDs in basically four games worth of play. Remember though Obic did shut out Nojima so they aren't invulnerable. The Rise will take their top-ranked offense and match it up against Panasonic's top-ranked defense in a fascinating showdown in Yokohama next weekend.
Rank 3
Fujitsu Frontiers

Fujitsu are probably a better all round team than the Rise but unfortunately like Nojima, their week five clash was against a lower team rather than the head to head matchup that would have been more exciting. They'll get a good test in week six when they take on Obic for the first time since last year's Japan X Bowl. They'll need to win to make sure of a top two seeding so the game should be a good one.
Rank 4
Obic Seagulls

Obic lost, but IBM's fall bumps them up a notch, and besides they pushed Panasonic all the way in terrible conditions. That marks the second straight year the teams met in monsoon-like weather. A win over Fujitsu coupled with Impulse beating Rise would catapult them up to the second seed. There isn't much between the two teams and even though we have Frontiers ranked higher an Obic win wouldn't be surprising.
Rank 5
Lixil Deers

2017 Lixil decided they were better off being 2016 Lixil, so like last years team they phoned it in until the last three minutes and then started playing. It worked again and they stunned IBM with three late TDs, in the process sealing their place in the playoffs and condemning Silver Star to the Super Nine wooden spoon. Their final game against Finies is a big one with the loser having to play a wildcard game and the winner getting the bye into the quarter finals.
Rank 6
IBM Big Blue

Heading into round three IBM were #1. Three games later they are #6. It's a big drop. Injuries are obviously holding the offense back and they haven't looked like the same team the past two weeks. Still though it seemed as if they had done enough to get the win against Lixil until the game went into Deers Time©. It's looking right now like they'll be the 4th or 5th seed and probably facing either Obic or Nojima in the quarterfinals but there are many other possible permutations. Their final regular season opponent has avoiding the wildcard game as the reward for winning next week so they'll be motivated. Are Big Blue vulnerable or will they dig deep and fight through adversity? They've done it before.
Rank 7
Elecom Kobe Finies

The Finies are the real dark horse of this season. They followed up their heartbreaking overtime loss to IBM with a bounce back thrashing of Silver Star. The Lixil game will be a true benchmark of their abilities. We have no doubt they'll be able to match up with Deers on defense but the big question mark is over their ability to score against the better teams. If they can keep the game tight anything could happen. Surprise semi-finalists? If we had to make one long shot prediction that'd be it.
Rank 8
Asahi Soft Drinks Challengers

This is definitely the week with the least movement among teams in the the upper half. Challengers put in a fighting effort against Fujitsu but ultimately they were overmatched. An IBM side that hasn't been playing the way it did the first three weeks offers them a (slim) chance to get a win against a fellow Super Nine side for the first time this season. Even if they lose though they'll be in the wildcard round and as QB Alex Niznak said, this team needs all the game time it can get as they build towards the future.
Rank 9
All Mitsubishi Lions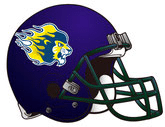 The Lions shut out Tokyo Gas to prove us totally off the mark about the Creators definitely being the better team. It's a novel feeling being wrong but obviously not one we need to get used to given the depth of football knowledge here at Inside Sport: Japan House. Anyway the Lions are on to the wildcard, well after they play Silver Star first. Seems set up for them to win what with all Asahi Beer's troubles, but we don't see it happening, and we are never wrong.
Rank 10
Asahi Beer Silver Star

All that early season promise came to nothing and Silver Star are the Super Nine team eliminated from this year's playoffs. We're putting them below the Lions as All Mitsubishi had a strong win against Tokyo Gas and Silver Star weren't even close against Finies. We'll see the true relative strength of the teams when they face each other in the regular season finale. Lions will move on to the playoffs regardless of the result, as they are already assured of being one of the top two in the Battle Nine.
Rank 11
Nagoya Cyclones

Cyclones in prime position for a wildcard slot. Who saw that at the start of the season, never mind when they were 0-2. Of course two games against HawkEye and two more against As One means they have one of the easiest schedules in the league. The week six matchup against Minerva is the first time they'll face a Kanto based team all year. Win that and it's playoffs baby!
Rank 12
Tokyo Gas Creators

Creators started the season well but have now been shut out in three straight games. The level of the opposition is the reason we are keeping them this high but if they fall to Pirates in week six that will here too.
Rank 13
As One Black Eagles

Given Nojima's relative strength we're not going to drop Black Eagles for losing by only 43 points. The loss to HawkEye in week four probably killed their playoff hopes. Unfortunately for As One they had to face Panasonic as well as Rise. There is definitely a disparity in the schedules among teams in the Battle Nine, which is unfair but then again so is life.
Rank 14
Fuji Xerox Minerva AFC

Minerva don't get a win in X1 for seven years and then they go and win two on the trot. Looked like they had allowed Bulls back into it but snatched victory away with a fantastic 34 yard TD catch and run with time almost up. Cyclones in the last game means they might even make it three in a row. Heady days indeed.
Rank 15
Meiji Yasuda Penta Ocean Pirates

We've heard through the grapevine about the extenuating circumstances behind Pirates loss to Minerva last week and they certainly paint it in a different light. The win over the Eagles saw a much more focused team but really Meiji Yasuda should have been playing to solidify top Battle Nine playoff spot this weekend.
Rank 16
Metropolitan Police Eagles

Eagles got shut out by the Pirates. That's a game they may have felt was winnable. Certainly will feel that way this weekend heading into a matchup with the 0-5 Bulls. A win keeps them out of the bottom two.
Rank 17
Club Hawkeye

Back to Earth for HawkEye after their first ever X1 win in week four. The 13-23 loss to Cyclones is a one point improvement on their defeat to the same side in week three. The encouraging thing for HawkEye is that there isn't much separating the teams and Nagoya look like they are playoff bound. That'll give them something to build on for next season.
Rank 18
Bulls Football Club

You gotta feel for the Bulls. Brave fightback and they tied it up late, only to see Minerva score a 34 yard TD with six seconds left. Elation turned to despair in the blink of an eye. Second straight crushing loss. They'll get one last shot at it next week when they face the Eagles.