IFAF 2019 U19 European Championships offensive leaders after Day 2
With Day 2 of the IFAF 2019 U19 European Championships behind us, a look at the offensive stats leaders offers a totally different picture with several new names appearing in each category.
The leaders have changed on each list.
Austrian QB Yannik Gruner has proven to be the most consistent of all quarterbacks while Spain's starting RB Miguel Quince had an outstanding day against Italy. Wide receiver Noah Toure from Austria had a huge day and now tops the receiving list after Day 2.
Passing
Yannik Gruner from Austria has taken over top spot after Day 2 and has now thrown for 365 yards in two games. Italy's Davide Rossi has moved up into second with 331 yards while Swedish quarterback Viktor Ekberg dropped down into third with 310 yards. David De Diego of Team Spain had n excellent day throwing the ball in the win over Italy and now has 251 yards. Raymond Myhrer from Norway remains fifth on the list with 214 yards passing.
Rushing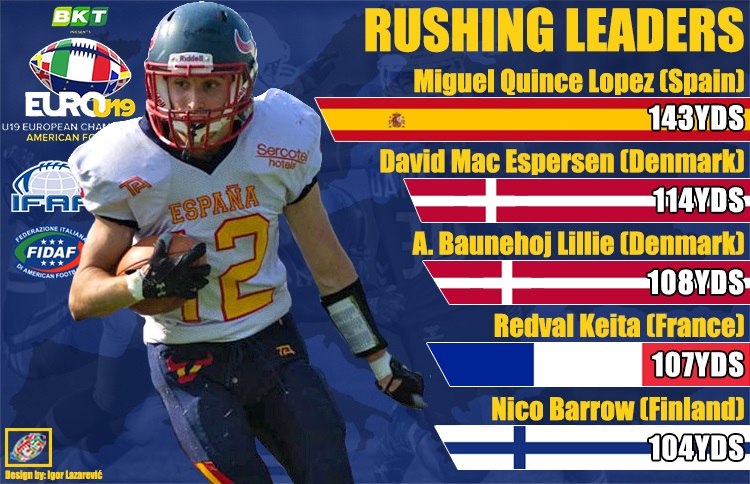 A surprise newcomer to the list entering in first spot after Day 2 is Spain's Miguel Quince who rushed for 80 yards in his team's win over Italy giving him a tournament best 143. Team Denmark running back David Mac Espersen dropped to 2nd with 114 yards while his teammate August Lillie remained third with 108 yards. Redval Keita from France slid down to 4th and now has 107 yards while Finland's Nico Barrow had a big day running with the ball against Norway and has 104 yards, good for fifth.
Receiving
Austria's Noah Toure had a monster day catching the ball in his team's rout of Denmark with 5 catches for 150 yards and jumps up into 1st place on the list. Swedish WR Victor Wikstrom slid to 2nd and now has 153 yards while Adalberto Rinaldi from Italy had 101 yards receiving against Spain and moves up into 3rd. Sweden's Alexander Nesci climbed from 5th to 4th with 133 yards while Spanish receiver, Matias Castagno entered the list in 5th with 109 yards.
Graphics: Igor Lazarevic