IFAF WWC: Mexico shuts out Germany to take 5th place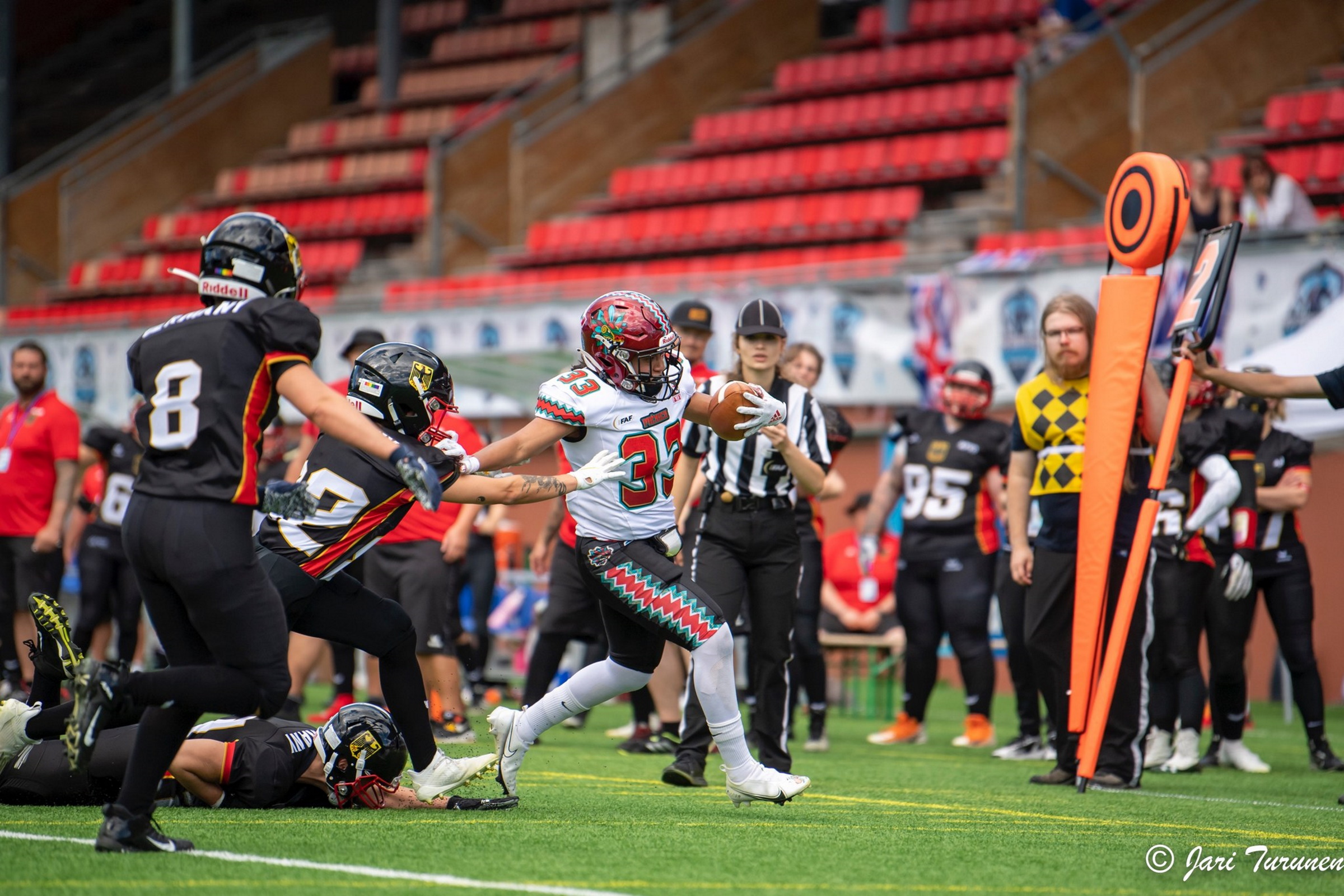 After being forced to forfeit their opening game of the 2022 IFAF Women's World Championship due to circumstances beyond their control which automatically relegated them to the consolation round, Team Mexico overcame their disappointment by beating Germany 28-0 on the final day of the tournament to finish fifth.
The Mexicans had defeated Team Australia in the first game of the loser's bracket.
Mexico's victory over Team Germany added further weight to the major "what if" question of the 2022 WWC. Their convincing wins over Australia and Germany suggests that, had their home federation been able to get them to Finland in time for their first game, they would likely have been playing for a medal, and quite possibly a gold at that.
Germany had been aiming to finish fifth or sixth in their return to international competition, but their offense was never able to get on track during the WWC.
Mexican wide receiver Marlene Gutierrez opened the scoring by catching a Paulina Diaz pass from 15 yards out with 6:00 left in the first quarter. Diaz then threw to Ana Maria Barbosa for the two-point conversion to make it 8-0 for Mexico. Germany's defense managed to slow the Mexicans down, shutting them out of the end zone for the rest of the half.
The Mexicans quickly changed that in the third quarter when running back Andrea Romero scored next on a 37 yard run after only just over a minute. Karla Granados added the two-point conversion, and Mexico took a 16-0 lead. Then with just one second left in the third, Thania Garcia caught a six yard touchdown pass from Mexico's first game MVP Maria Cruz. The conversion attempt failed, leaving the score 22-0 going into the final period.
The Mexican offense found the end zone again, with less than a minute to go in the game as Diana Cardenas caught an 11 yard touchdown pass from Mexico's third quarterback, Rania Guzman to close out the scoring.
Mexico outgained Germany by a wide margin racking up 347 total yards of offense. Romero returned to her 2017 form by rushing for 136 yards on 14 carries and one touchdown. She also caught two passes for 23 yards, and even completed a seven yard pass. Yadria Loredo carried five times for 31 yards, and Guzman ran for 38 yards on three carries, and completed the only pass she threw, that one for a touchdown. Diaz completed 11 of 19 passes for 94 yards and a score while Cruz went 8 for 13 for 51 yards and a touchdown. Barbosa also completed one pass.
Deyna Suarez led the Team Mexico tacklers with 3.5, including 2 for losses. 22 Mexican players had tackles, and 9 had tackles for losses. Dafne Villalobos broke up 2 passes. Daniela Zamudio, Paoloa Reyna, and Cinthia Olivares each broke up 1 pass.
Germany was held to a measly 72 yards of offense. Team Germany's quarterback, Mona Stevens, threw for just 47 yards on 8 for 19 passing, and she carried the ball eight times for nine yards. Annalena Welter managed another six yards on four carries. Wide receiver Lisa Vogt caught five passes for 14 yards. Jule Hollerbaum caught another four for 29 yards. Gina de Gavarelli added two for 21, and Dana Rebar caught one for 3 yards.
For Team Germany, Susanne Erdmann had 8.5 tackles, including 4.5 tackles for losses, and 2.5 sacks. Alissa Oehmke and Anna-Lena Kronenberg also had sacks. Erdman and Oehmke also broke up passes, as did Karen Weiß, Laura-Elisa Biele, and Carina Liebenthal.
Erdmann earned Game MVP honors for Germany, and Romero won the award for Mexico.
In the first match of the day in the parallel battle between North America and Europe, the new world took the first victory.
Mexican HC Jovanni Carrillo looked toward the future:
"We are already thinking about our next preparation, and we will go back to the place we should take, after Canada. We of course wanted to be in the first places, but the circumstances didn't help. We are happy to have won these two games that we got to play."
His German counterpart HC Tom Balkow also had high hopes moving forward:
"We restarted, kind of, our women's program. I think that this tournament will kick off the development in Germany again. We're excited. We already have plans for the next camps. We've spoken to other countries about games, and all that, so we want to keep this thing going and see what the next years will bring."