Ireland: Weekly Round-up: South Dublin Panthers stun Cork Admirals while Westmeath Minotaurs slay previously unbeaten Wexford Eagles
The South Dublin Panthers were surprise winners over SBC South leaders the Cork Admirals on Sunday afternoon in front of a big crowd in the East Village Bowl at the CIT Stadium.
The Panthers came into the game with a 1-4 record and had lost their previous game, ironically to the same opponents 14-0, but came away with a superb 20-9 victory.
Young Panthers running-back Ben Arulogun was superb on the day, scoring two rushing touchdowns, while wide-receiver Sean Goldrick also scored a rushed for a touchdown. Kicker Eoghan Gately added two extra points to finish the scoring. For the Admirals, quarterback Stephen Hayes ran in for a touchdown while their defence came up with a safety.
While the Panthers can't make the playoffs this year their Head Coach Stephen McDonnell was delighted to come away with the big win:
"Obviously we're very happy to get the win. That's the first time the Admirals have been beaten at home in over a year. It's a very tough away trip for anyone and that makes the win all the sweeter. They are clearly a very good side and you can see that from their results, their performances and the way they conduct themselves on and off the field.

Their quarterback (Hayes) is very good and I was very happy with how our defence played against him. We were able to get pressure on him and flush him from the pocket a bit and we were there to capitalise on that pressure and turn the ball over. That's the first time this season he didn't have a touchdown pass so I think it shows the level our defenders were playing at.

Statistically they have the best defence in the league so to be able to come out and score three touchdowns on them, after we've struggled so much on offence this year, was very pleasing."
McDonnell also said the fact they had no game for 5 weeks played a big part in the win:
"We were a bit fortunate in the scheduling that we had a nice break before this game and we were able to work really hard on turning the offence around. I think it's a credit to our athletes how much they bought in to that the last number of weeks. Some guys moved position and they had to learn things from a new perspective, which in itself is a challenge, but then to be able to convert that into a great performance too was particularly satisfying.

The leadership shown by our senior guys, for me as a coach, was great to see. I think when you're as young and as inexperienced as we are that leadership is key. We have great experience in guys like Ian Cahill and Niall Burke, who lead with the actions not just their words, you see the effect that has when 5 starting offence and 5 of the starting defence are in their first or second year. Some of those young guys really had great days, Ben Arulogun at running back particularly, Colin Kelly and Ciaran Jones at the inside line-backer spots, plus a special mention for Eoghan Gately who was just off the plane back from Dubai and stepped up at the last minute to kick for us and was great. All those guys in their first year having really good day is great to see."
"It's tough when results don't go your way early in the season and the resilience shown by this squad has been really impressive. Cork are a class outfit, fully deserving of their place at the top of the division and as I said to Coach Lomasney before the game that I hope they do go on to win. However, I am proud of our guys making them wait another week for it."
In the other SBC clash over the weekend the Belfast Trojans were made work extremely hard by the Louth Mavericks before finally taking the win by 37 points to 20 in Dundalk, a game that was re-fixed from the previous weekend due to ambulance issues.
Having taken a 29-0 lead approaching the end of the third quarter, with two touchdowns apiece from Neil Graham and Jake Warry, the Mavericks came back strongly late on to make a match of it.
A deep pass from the Mavericks found an open receiver who peeled away for serious yards after the catch to find the end zone.
The Trojans then found the end zone again through Carlos Salgado but failed with a 2 point attempt. Then on an attempted trick kick-off they handed the ball to a Mavericks player who happily ran unopposed through to the Trojans endzone. They again found the end-zone with another long pass late on, but finally ran out of steam in extremely warm conditions.
Belfast Trojans Head Coach Mark McGrath spoke to us after the game:
"We had a very solid 1st half, although we made more mistakes than I'd like. In the second half I felt we lost focus and continued making mistakes but did enough to ensure the win. He was very complimentary to the Mavericks after a fine performance, "I was very impressed by the Louth Mavericks attitude, especially given their numbers and the weather."
As for players who impressed for the Trojans on the day McGrath said:
"On the Offensive side of the ball our Tight End Neil Graham had a strong outing and our other stand out player on Offense was our full back Jake Warry. On Defense our captain, line-backer Conor O'Neill has just come back from a torn calf injury and made his presence felt on the snaps he was in."
In IAFL 1 the biggest game of the day took place in the Garden City GAA Pitch in Gorey as the unbeaten Wexford Eagles hosted the much improved Westmeath Minotaurs.
After a big win over the Warriors previously, the Minotaurs continued playing the running game that gave then much success in Galway, and came away with a superb 20 points to 6 win.
Dermot Corroon again came up big in Wexford scoring two rushing touchdowns. Dean Core also reeled in an 80 yard touchdown. Jack Lynch popped up with an interception and Dean Core, again, also recovered a fumble. The win also secured the Minotaurs a first ever winning season as a club.
Wexford Eagles Head Coach Kevin Klatt whilst disappointed, had no excuses saying,
"Of course, we're very disappointed with the result, but it was no fluke. The Minotaurs came down with a game plan and stuck to it from the first whistle to the last. They deserve full credit for that victory, and I'm not going to make any excuses. The biggest worry for us now going forward would be the loss of a couple of key players. We have to assess their injuries this week and get ready for the semi-final in four weeks' time."
Klatt was also focusing on the positives following the defeat:
"One of the positives was the performance of Tommy Martin, who stepped in at running back for the first time this year. He put in an amazing effort, and will undoubtedly be part of our game plan going forward. Apart from that, we had a lot of guys who had to step into positions with which they are either unfamiliar or at the very least haven't had to play this season. Credit to all of them for stepping up. The bottom line is, we got out-played and out-coached yesterday, and we wish Westmeath well for the remainder of their season."
His opposite number, Westmeath Minotaurs Head Coach Conor Brennan was understandably delighted to come away with the victory:
"We're all understandably delighted with the win and the indeed the performance. Wexford are an excellent team in flying form so to go into their backyard and come away with the win is a massive feat. "All credit to the lads as they played brilliantly. The players were full of confidence coming into the game and it's amazing what a bit of belief does for the individual. The game showed that you don't have to have a large panel of players if you have 15-20 guys who believe in what you're trying to do and are willing to sacrifice themselves for the sake of the team."
Brennan also had some words for his running-back:
"A special mention must go to running back Niall Corcoran who shouldered the load all day at running back without any backup. Dermot Corroon also had a great game running in two touchdowns and converting several first downs on the ground. Defensively Darren Sammon had a huge game playing hurt. The lads up front on the defensive line stood up when it mattered most and Jay Bruton and Niall King in the kicking and punting game were excellent too. Jay converted two extra points."
He continued:
"Finally Dean Core scored his second touchdown in as many games with a fantastic catch and run which gave everyone a huge boost and was the platform we used to go on and see the game out despite huge pressure from the Eagles late on."
Looking ahead Brennan said:
"We look forward now to Saturday's meeting with Cill Dara. We have a very good rivalry going; their Head Coach Ken Farrell is a great coach and has been a major help to me in my first year as Head Coach and he'll have his lads ready to play and ready to go for the win. After that we'll take a break and then refocus for the playoffs!"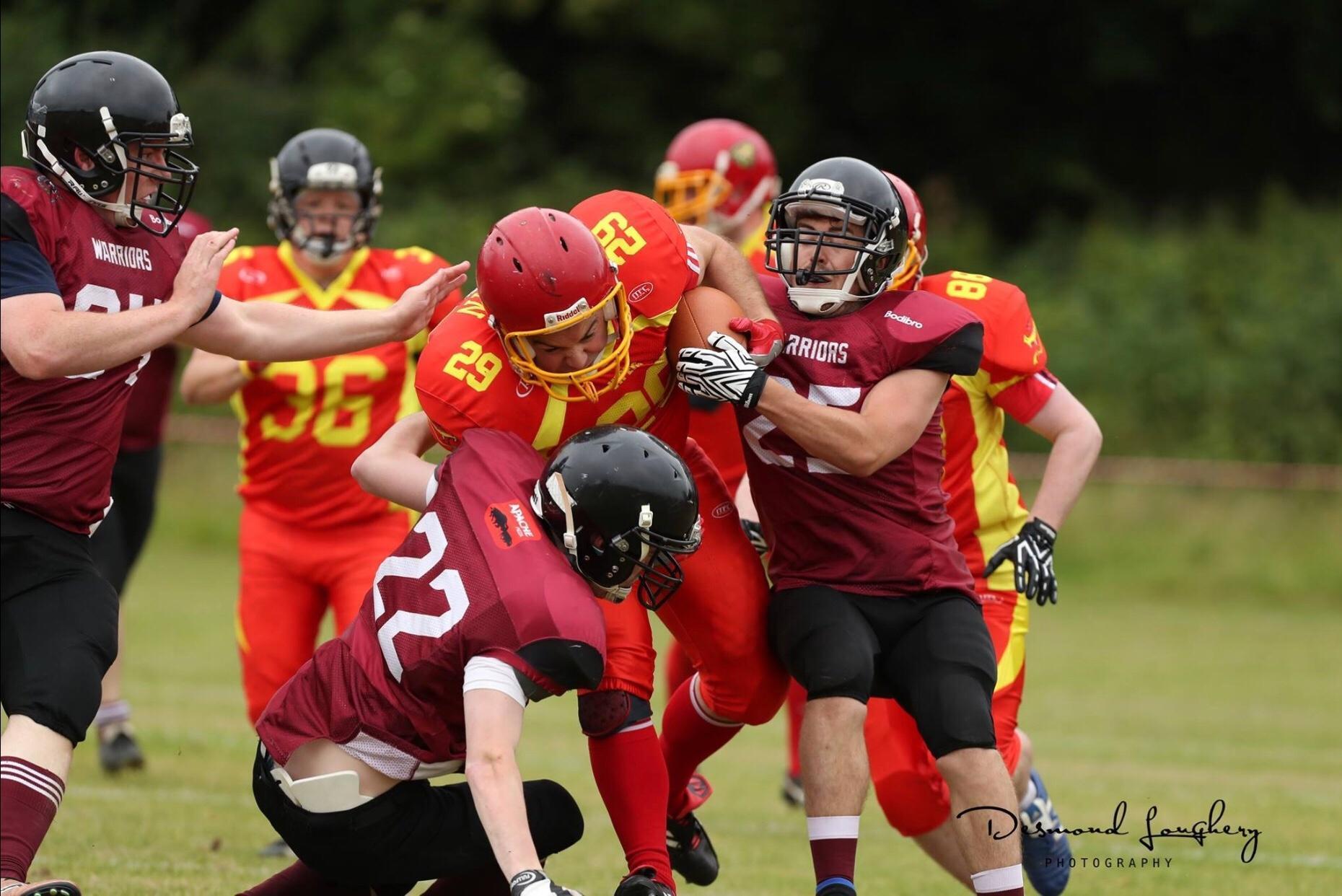 The Donegal/Derry Vipers were big 53-6 winners over the Galway Warriors in Limavady, to move to 6-1 for the season. Quarterback Danny Mullan had three rushing and one passing touchdown in a stellar performance. Tight-end Derm Brown had two rushing and one receiving touchdowns for his first scores of the season.
The Vipers Head Coach Pauric Rose said after the game:
"Delighted with the win and a great performance by the guys in all three phases of the game. I thought we established the run game from the off through a solid performance from our Offensive-line.. "Defence was excellent in the run game with big tackles made by Dave Currie and Paddy Maguire. Peter Farrell and Paul O'Donnell kept great pressure on the Warriors all day getting into their backfield time and again. Fair play to Galway for coming all the way up. Things just didn't go their way on the day."
On their season overall Rose told us:
"Happy with the season so far, the defeat in our second game against the Eagles has given us a real focus on what we are looking to do this season. Looking ahead there's another big game with the Antrim Jets in Letterkenny, which everyone is looking forward to, and we'll be determined to keep up our winning form going into the play-offs."
The game between the NI Razorbacks and the West Dublin Rhinos was unfortunately called off at half-time due to shortage of players with the scoreline at 22-0 in favour of the Rhinos. They picked up a lot of injuries to their players during the first-half and didn't have the numbers.
Rhinos Head Coach Barry Bolton said:
"We went north on Sunday to pick up a win and we came home with it. "On the second play from scrimmage captain Adam Skelly tipped a pass and pulled it down himself for the interception before taking it into the end-zone for 6 points. We then had two offensive scores, one from quarterback Ethan Foster on the ground and one from Jonny Northcutt too. "After two unsuccessful PAT's kicker Paul Hosford nailed an absolute beauty of a 45 yard field goal to take us to 22-0 going into the half."

It was at that stage the Razorbacks coaching staff had to make probably the toughest decision in football, when due to mounting injuries they informed us they could not complete the game. I have to give them my respect for that because it's certainly not an easy thing to do."

We've now got all our eyes set on the play-off fixture against the Minotaurs on the 22nd July. They've just beaten Wexford and home field advantage is now in their hands with one game left to play but wherever it is we'll be ready for it."
In the final game of the weekend the Cill Dara Crusaders were 21 points to 8 winners over the North Dublin Pirates.
Photos: Bob Given, Terry McCann & Desmond Loughery