Italy surprises Team Norway to finish 7th in IFAF 2019 U19 European Championships
Team Italy, looking sharp and crisp, controlled the play for much of the game, beating Norway 37-20 in the battle for seventh spot in the IFAF 2019 U19 Eropean Championships
The story of this game was the transformation of team Italy from a team that looked sluggish in a surprising loss to Spain rebounding, looking sharp and crisp in their playcalling and execution.
Italian quarterback Davide Rossi was outstanding completing 12 of 29 passes fo 275 yards and one touchdown with Adalberto Rinaldi as his leading receiver hauling in six passes for 104 yards. But it was Italy's running game that helped at key points in this game. Running back Tommaso Tenconi ran for 28  yards, Alessandro Brovelli, a tight end who also ran the ball had 22 yards, Andrea Consanzi had 22 and Rossi ran for 12 yards and two touchdowns.
For Norway, the offense ran in fits and starts never really getting into a rhythm until the final drive of the game. Raymond Myhrer could  not find his receivers again on a consistent basis so it was down to the running backs with Andre Busch rushing for 77 yards an two touchdowns. The chemistry between Myhrer and his receivers seemed to return late in the game but it was too little too late. LM Nilsen scored  a late touchdown on a six yard pass from Myhrer to make the score more respectable.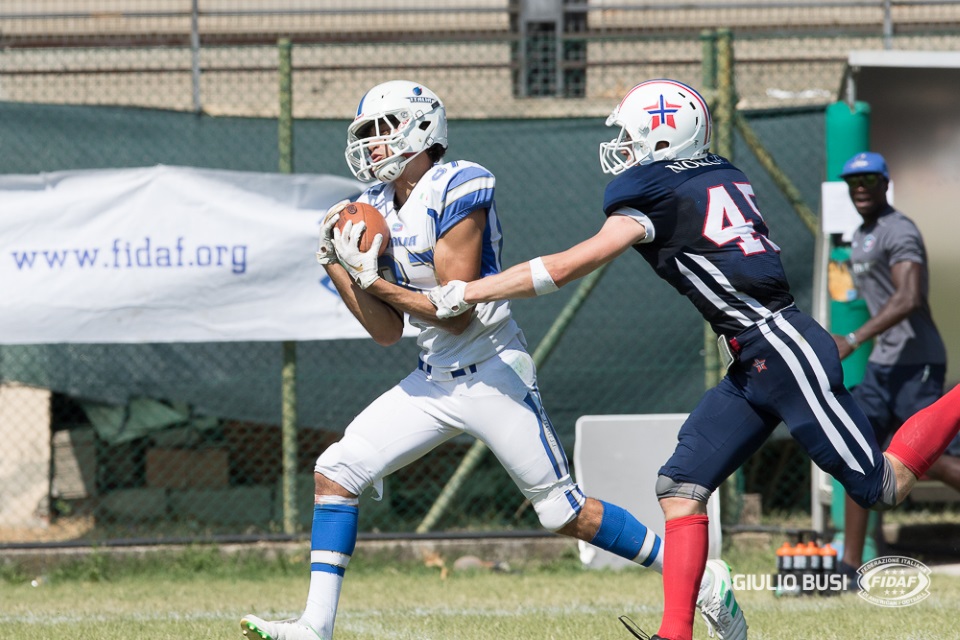 Italy dominated the time of possession by almost double until the last Norwegian drive which ate up four minutes.
Italy jumped out to a 20-0 halftime lead on touchdowns from Andrea Allegretti, Rossi and Andrea Constanzi on a 17 yard slant. Meanwhile, Norway drove down to Italy's two yard line on their first possession but came away empty handed.Things went downhill from there for the Norwegians. They could not advance past their own 30 yard line after that.
Norway opened the second half by recovering a Rinaldi fumble ad mid field and capitalizing, marching the ball down to the three yard line. Busch punched the ball in and narrowed the lead to 20-7
Two series later, Italy scored again on a Tenconi one yard run to increase the lead to 27-7.
Norway answered after Kasper Dysterud returned the kickoff 51 yards giving Norway the ball on Italy's 28 yard line. Busch broke for a 27 yard score and the score was now 27-13.
That's when Italy found another gear with Rossi capping a 58 yard drive with a touchdown run upping the score to 34-13. Salsa kicked a 39 yard field goal and Italy held  a 37-13 lead.
Norway closed the gap on their last drive, but Italy finished seventh in the tournament.