Japan's X-League underway with new format
Japan's top American football league, the X League, is underway and has changed its format for the 2016 season. The goal of the move was to help improve competitiveness during the regular season and avoid the lopsided scores which plagued the league in previous years.
The 18 team league is still be aligned into three divisions of six teams each, with the East and Central Divisions comprising teams from the Kanto region of the island of  Honshu, which includes Greater Tokyo. Teams from the East and Central include last year's finalists, the Fujitsu Frontiers, plus perennial contenders the Obic Seagulls.
The West Division being made up of teams from the Kansai region, located further south on the island of Honshu. The defending champion Panasonic Impulse play in the West.
The teams are split into two groups of nine each, with the top nine ranking teams from the previous season (top three in each division) comprising the Super 9. The lower nine make up the Battle 9.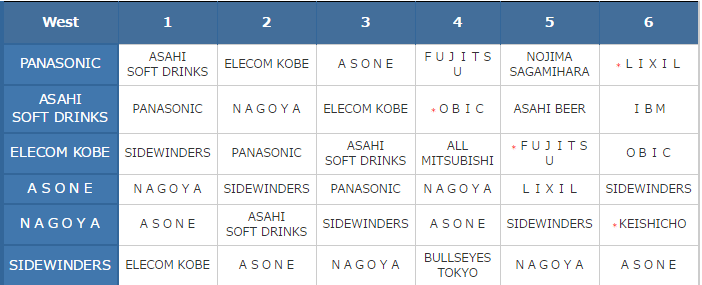 Teams will play interdivision games
The big difference this season is that instead of each team playing all the other five teams in their own division, the teams will play three games within their division, and another three against teams outside of their division, all of which are equal in strength. The relative strength has been determined by the previous season's standings.
This also allows teams from the Kanto and Kansai regions to play against each other before the postseason for the first time.
Japan X Bowl Tournament
The second stage and final stage (semifinals and final) that were introduced in 2009 have been replaced by an eight-team playoff – Japan X Bowl Tournament.
Following the regular season, the top six teams among the Super 9 will advance to the Japan X Bowl Tournament, where they will be seeded according to regular-season results.
The remaining two places will be filled by the winners of two wild-card playoffs to be played between the 7th and 8th ranked teams of the Super 9 and the top two teams from the Battle 9, respectively.
Road to the Japan Bowl
Source: X League website.