Juan Pablo Terán is the new head coach of the Valencia Firebats of Spain
"I want to contribute to the team and have a successful season," are the first words of the new head coach of Spain's Valencia Firebats, Juan Pablo Terán, who until recently served as offensive assistant coach for the Mexican college powerhouse UDLAP Aztecas.
As of January 1, 2017, Juan Pablo Terán assumed the position of head coach of the Spanish club for the coming season of Serie A of the Liga Nacional de Futbol Americano (LFNA). an opportunity he had been looking for as an offensive coordinator and quarterback for the Jaguares de Cancún and offensive assistant to the Mexican National collegiate American football champions (UDLAP).
"What I have learned in Aztecas has been very good and I would like to convey the culture of doing things right, team unity and checking the details," he said.
Terán has an interesting athletic background with 15 years of experience in the sport. As a player in 2010, Téran won the CONADEIP title, one of Mexico's college championships, with the UDLAP Aztecas. In 2013 changed sports altogether, achieving third place in the national university tournament for the Federación Mexicana de Rugby. The following year he participated in many Mexican rugby tournaments wearing the tri-colored Mexican jersey for the Denver Sevens, Serevi Seven, Texas Sevens and Saratoga Sevens, as well as a few international competitions including the 2014 Central American and Caribbean Games in Veracruz, Mexico.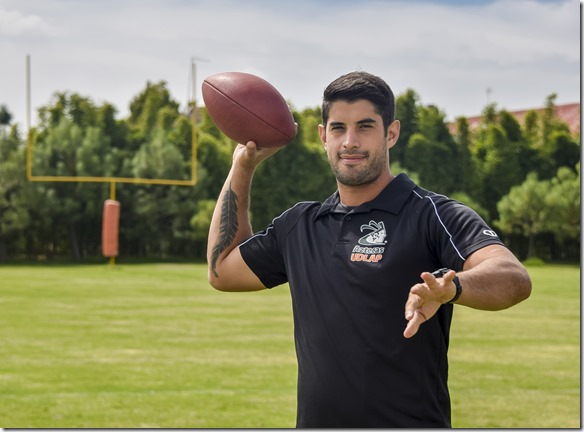 Terán returned to the Aztecas in March of this year as an assistant coach and from that moment has developed his offensive style of further and will look for to bring this to his new club in Spain.
"I have learned a lot from different coaches and disciplines, my challenge now is to be able to transmit that to the Valencia Firebats. A first step will be to install the game system, but this requires the work and development of the athletes, "said the UDLAP graduate.
Juan Pablo comes to one of the strongest teams of the Liga Nacional de Futbol Americano of Spain with a future quite promising and very anxious to contribute. His debut as commander of the Valencia Firebats was this past Sunday's loss to the 33-18 to the Reus Imperials.
"I see it as an opportunity to see another culture, to do what I love and know that there is talent here," said the new head coach of the Firebats.
Juan Pablo Terán and his Valencia Firebats look to avenge their loss in Week 1 when they face their crosstown Serie A rivlas the Valencia Giants next Sunday.
Source: udlap.mx