Las Rozas capture first ever Spanish Bowl with gritty win over Osos Rivas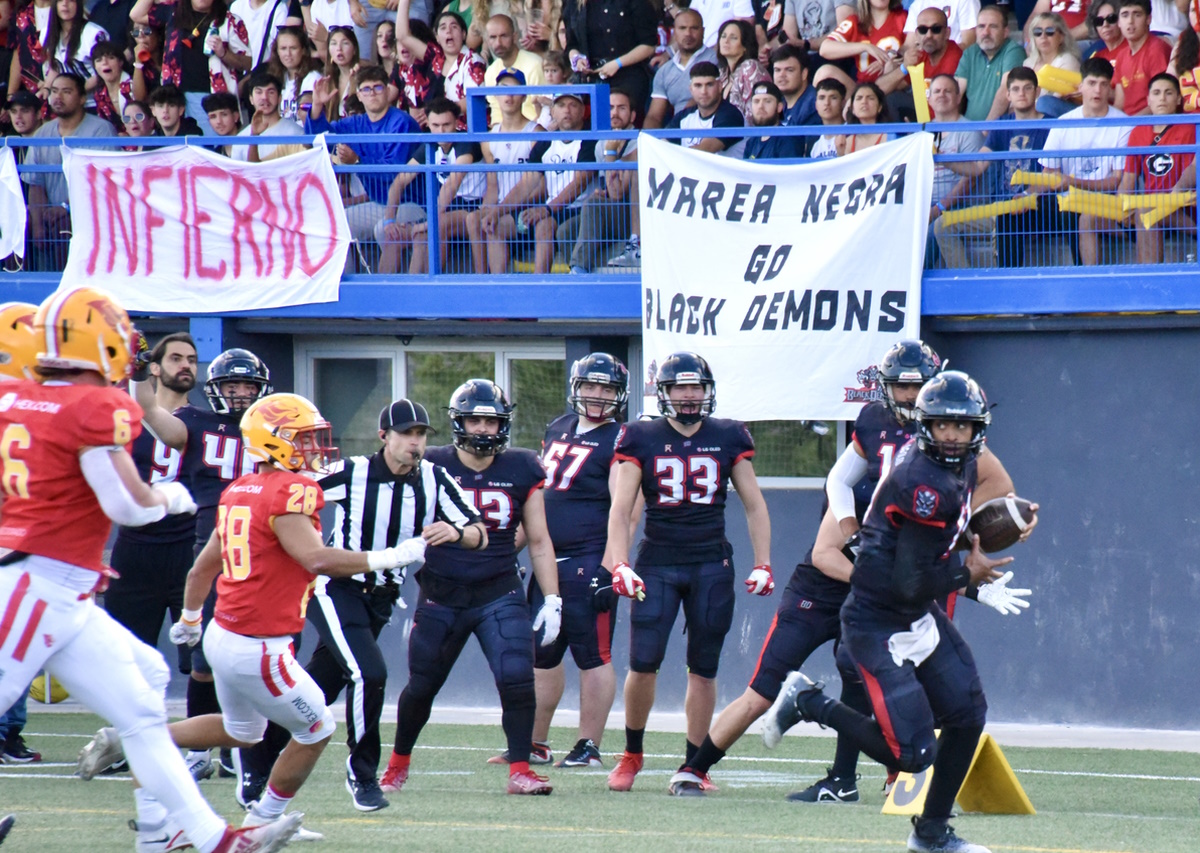 By Brad Duff
The LG OLED Las Rozas Black Demons claimed their first LNFA Serie A title with a hard-fought 22-13 victory over the Osos Rivas in the Spanish Bowl. The Black Demons completed a perfect season, winning the league championship without a loss and adding the Copa de España to their trophy case.
The game was an intense battle from start to finish. The Black Demons were the first to get on the scoreboard with a spectacular pass from quarterback Theo Landers to receiver Jorge García Vargas, but they failed to convert the extra point, leaving the score at 6-0. The Osos Rivas responded immediately with a deep pass from quarterback Sergio Barbero to Iván Iordanov, followed by a touchdown pass to David Girón. A successfully converted extra point gave them a 7-6 lead at the end of the first quarter.
In the second quarter, the Black Demons struck back with another Landers-to-García Vargas touchdown pass. They successfully converted the two-point conversion, making up for the prior missed PAT, taking the score to 14-7. Osos Rivas fought back once again with a touchdown pass from Barbero to Girón, bringing the score to 14-13. However, the Black Demons defense blocked the extra point attempt, keeping their lead intact at halftime.
The third quarter was a defensive battle, with neither team able to add to their score. The Osos Rivas had a chance to score after a great kickoff return by Andy Vera, but an interception by Julio Aguado ended their drive.
In the fourth quarter, the Black Demons finally managed to break through with a touchdown run by Daniel Romero, set up by Landers' success on the ground. Las Rozas successfully converted the two-point conversion, increasing their lead to 22-13 with just over three minutes remaining. Osos Rivas didn't give up, but a crucial interception by Hugo Mínguez sealed the game, and the Black Demons were able to run out the clock and finish the 2023 Spanish Bowl in victory formation.
Landers was the standout performer for the Black Demons, with his outstanding playmaking ability and leadership on the field. Las Rozas receiver Jorge García Vargas was named MVP.
Black Demons head coach Sam Eisenstadt:
Winning the Spanish championship was the cherry on top of an unforgettable season. The culture and environment created by the players, coaches, and every one involved was rare. The Black Demons have reached the final multiple times but I believe the great Team culture helped us get over the hump of winning the clubs first Spanish Championship.