LIVESTREAM CFL: Toronto Argonauts @ Montreal Alouettes, Sept. 16, 01:00 CET (1 am, 7 pm Sept. 15, EDT)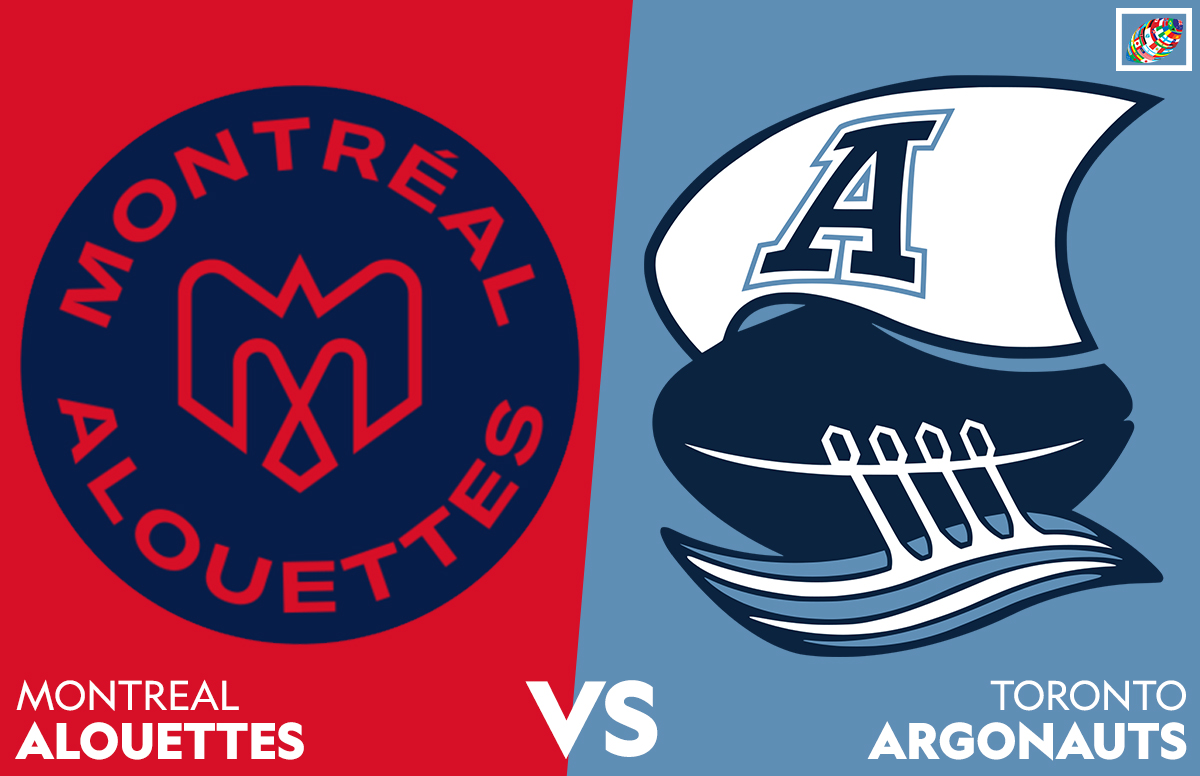 MONTREAL — The Toronto Argonauts can secure the East Division crown if they can beat the Montreal Alouettes for the second straight week on Friday night at Molson Stadium.
Quarterback Chad Kelly threw for 278 yards and running back AJ Ouellette rushed for 105 and two touchdowns as the Argonauts defeated the Alouettes 39-10 in Week 14. A repeat performance from the pair of top offensive players will go a long way in helping Toronto sweep the season series.
A big reason for the offensive success of the Argos playbook has been the play of their offensive line that's allowed a league-low 10 sacks. While not overly glamorous at times, the impact of Dejon Allen, Isiah Cage, Darius Ciraco, Ryan Hunter and Peter Nicastro can't be overstated.
The Alouettes defensive line led by Shawn Lemon, Almondo Sewell and Mustafa Johnson have to do a better job getting to Kelly and limiting Ouellette's time and space if they hope to give their offence a chance to keep them in the game.
» Depth Chart: TOR | MTL
The defensive front won't be the only ones that are going to have their hands full, as Kelly also has plenty of options downfield. Damonte Coxie and DaVaris Daniels lead the way in the absence of Kurleigh Gittens Jr., who's out with a hip injury.
Whenever a team wants to be a true contender, they typically need production from unexpected sources. Insert Tommy Nield, who caught six passes for 84 yards a week ago and gives Kelly another weapon in the pass game.
Nield loves how tight knit the Argos receiving corps is and believes each guy will step up when needed.
"We stick together, play as a family and that's what makes this group special," Nield told Argonauts.ca. "That's just what we do at the receiver position, make those plays when our name's called. These guys are my brothers, that's why this group's so special. Every week, going 1-0, it doesn't matter who's coming in here, focus on what we can control. If we do so and execute, they can't stop us."
Linebacker Reggie Stubblefield and defensive back Kabion Ento combined for 17 defensive tackles but the key this time around will be keeping Kelly and his talented group of receivers from making plays and moving the ball down the field.
The Als offence once again will run through the passing game after the Argos run defence held them to 24 rushing yards.
In the pocket, Cody Fajardo also has options after finding seven receivers for multiple receptions, including Chandler Worthy for 59 yards. Going up against a pass defence surrendering 304.2 yards per game, their success clearly falls on Fajardo and his receiving corps.
Despite their yardage issues, defensive back Jamal Peters had an interceptions in the win and Royce Metchie and Tarvarus McFadden certainly have the ability to keep tabs on the Als top playmakers.
On the ground, Walter Fletcher needs to be better if head coach Jason Maas hopes to provide different looks to the Argos defence. Maas won't have William Stanback this week as he's out with a hand injury, making the play of Fletcher and Jeshrun Antwi all the more important. Fletcher comes in with 25 carries for 106 yards on the season.
As they learned last week, it won't be easy. Defensive linemen Brandon Barlow and Robbie Smith, who both had a sack in the win, and linebacker Adarius Pickett form a formidable front holding opponents to 73.4 yards per game.
Maas knows how important this game is in determining the outcome of the division, especially given they're coming off a loss.
"We'll have to regroup," Maas told reporters. "It felt like a gut punch. We didn't get knocked out. We have to rebound and come right back. The best part is we get to play them again. Our guys in our locker room are very competitive and when we don't play a greatly competitive game for four quarters they're going to want to get it back. That'll be our mentality this week."
If the Alouettes hope to have any chance of running down a division title, it starts with this game.
For the Argos, they can put an early bow on a division title.