LIVESTREAM Grey Cup 2023: Winnipeg Blue Bombers vs Montreal Alouettes, Nov. 19, 24:00 CET (12 midnight, 6 pm ET)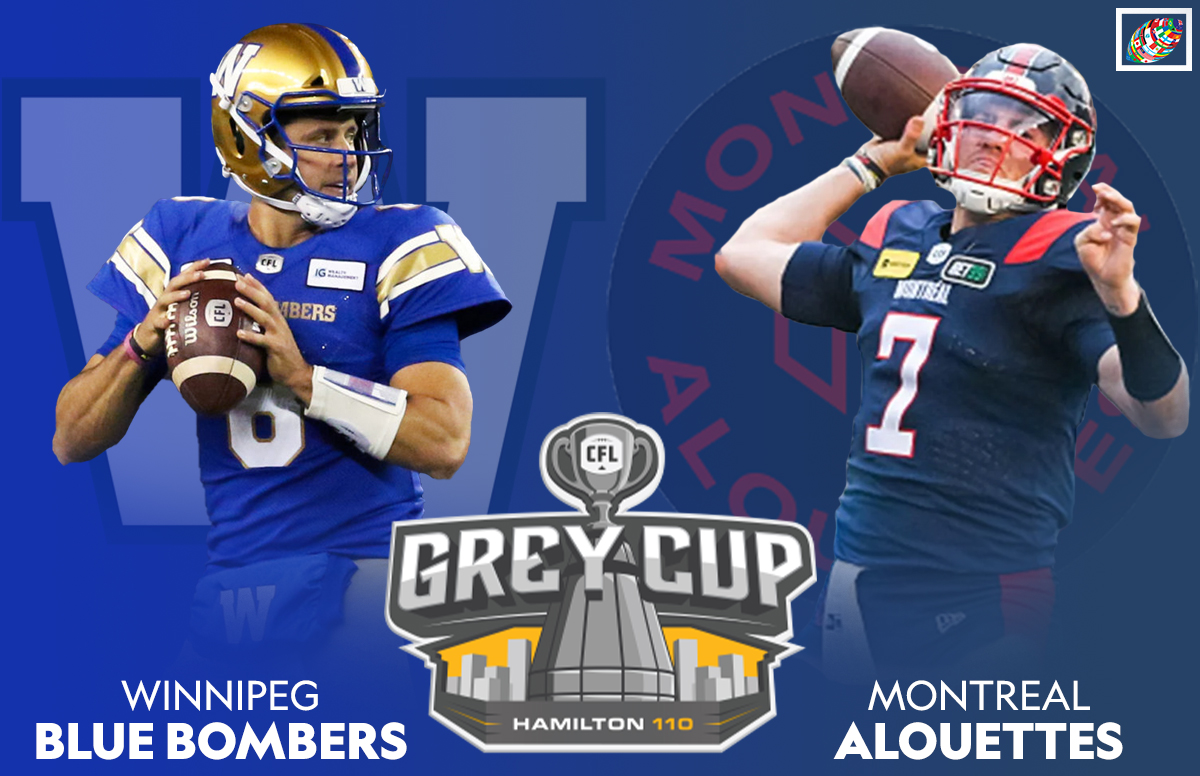 The Winnipeg Blue Bombers are out to prove a little something, even if they won't admit it, at least not outwardly. The Montreal Alouettes have already proven themselves, but they want their incredible story to have the perfect ending.
After last year's loss to the Toronto Argonauts, a lot of the talk was about a "dynasty denied." Now the Winnipeg Blue Bombers have a chance to change the channel on that angle for good. Win the 110th Grey Cup and they will cement a fourth straight title appearance with a third win in those four years. Then the talk is no longer "dynasty denied" but rather "dynasty merely interrupted." Or "dynasty resumed."
You look at the logo on the Montreal helmet and it signifies a link to a glorious airborne French-Canadian fighting force, nicknamed the Alouettes. But this year, you could just as easily look at that logo and see another kind of bird; a phoenix. How high can it ultimately fly after rising from the ashes?
110th GREY CUP
» Depth Charts: Winnipeg | Montreal
» Everything you need to know ahead of the 110th Grey Cup
» Four storylines to watch in the 110th Grey Cup 
» Steinberg: What the Bombers need to do to win the 110th Grey Cup
» Costabile: What the Als need to do to win the 110th Grey Cup
The Alouettes (11-7 during the regular season) meet the Blue Bombers (14-4) at Tim Hortons Field, in Hamilton, on Sunday night, and after a week of preparation and talking – and more preparation and more talking – there is just 60 minutes of football remaining to decide who is champion.
Both of these teams come in riding hot streaks. The Alouettes have won seven straight and haven't lost since September 15th. The Bombers are winners in five straight and haven't lost since September 16th. Two months since either of these teams has lost a game.
The Blue Bombers, who won both regular season tilts against Montreal by scores of 17-3 and 47-17, boast depth and balance and an ability to win in so many ways. They could run the ball hard with their marvellous running back, Winnipeg's own Brady Oliveira, who topped the 1,500 yard mark in 2023 on the way to winning the Most Outstanding Canadian Award.
Or, activate quarterback Zach Collaros to do his thing. At the age of 35, Collaros can still swashbuckle with the best of them, and with a fleet of receivers like the one Winnipeg boasts, a blue and gold air show is possible, although the Bombers have some question marks when it comes to the health of some of their receivers, like Dalton Schoen, who hauled in 71 passes for 1,222 yards during the regular season. And Nic Demski, who's been battling an ankle ailment and has been listed as "questionable" for Sunday's game.
Demski, another Winnipeg native has, at times, been impatient about the arrival of this game, thinking about last year's disappointing 24 23 loss to the Argos. Atonement has been on his mind, on occasion, but he is pragmatic about things.
"You can't just wake up one day and Grey Cup's here," he said after Saturday's walkthough. "You've gotta go through so much work. That's what makes this feeling so valuable to get here. The hills that you have to climb in order to get to your final goal."
"Obviously our final goal is winning the Grey Cup. It feels great to make it here but there's still so much work to get the result that you want. Of course, you wish you could fast forward a little bit (during the regular season) but it's a little bit more rewarding when you go through the grind."
Another question mark hangs over the Grey Cup game, from a Winnipeg standpoint. What about Biggie?
Hall-of-Fame bound linebacker Adam Bighill was injured in last week's 24-13 Western Final win over the BC Lions. He hasn't practiced all week, at least not in front of any prying eyes. Can he come off his injury and actually play in this game? Or does the Bombers defence need to rally without one of their top leaders on the field?
The Alouettes, almost everyone thinks, will need a huge effort on defence to have a chance in this game. Good thing for them they've been making a habit of just that kind of thing, and getting hotter and hotter as the season has unfolded, culminating in last Saturday's Eastern Final, in Toronto, when they bamboozled and muscled the Argos into nine turnovers, including two interceptions that were returned for touchdowns. Can the Montreal defence, keyed by speedy thief Marc-Antoine Dequoy do it again?
The Als' defence really took off with the mid-season additions of defensive lineman Shawn Lemon and middle linebacker Darnell Sankey. They will be relied upon again to be at their disruptive best in order to key the Montreal defence but make no mistake; as a whole the unit has been absolutely mind-blowing over the last few weeks. Maybe it's those Mike Tyson videos that defensive coordinator Noel Thorpe has been making them watch.
The Alouettes were a team without an owner last winter, prior to Pierre Karl Péladeau purchasing the franchise. In the meantime, they'd lost a number of star players to free agency due to the uncertain situation. Receiver Geno Lewis, quarterback Trevor Harris, SAM linebacker Adarius Pickett. All stars. All gone.
Replacement parts came in, personified by quarterback Cody Fajardo, who'd been discarded by the Saskatchewan Roughriders, as was his new head coach in Montreal, Jason Maas. Picked by practically no one but perhaps themselves to be competitive in 2023, the Alouettes rose from the ashes of a dreary winter and got to work.
To be in this game, under the circumstances, gives Maas reason to speak from the heart.
"It's beyond my imagination of what we could accomplish in one year, to be quite honest with you," said Maas on Grey Cup Eve. "Not (the) getting here but the coming together."
"I'm just so proud that all happened," he continued.
"The 2023 version of the Montreal Alouettes, at about 10 o'clock (Sunday) is going to cease to exist forever. And I just hope that they're on that Grey Cup so that other people will remember. Because I will never forget this team," said Maas.
The enormity, the beauty, the emotion and the pageantry of the day is not lost on anyone who'll play in this game, not even a veteran star like Willie Jefferson, Winnipeg's giant-sized, sensational defensive end, capable of swatting footballs to the moon or blocking out the sun as he closes in on opposing quarterbacks on almost every down.
"We have a little alarm in the locker room that goes off," said Jefferson just after the Bombers had finished their Saturday walkthrough. "That let's us know it's time to hit the field. When that alarm goes off (Jefferson snaps his fingers here) the butterflies come out."

"You see all these amazing fans, you get to see the other team for the first time on the other side of the field," he continued. "Eyes get wide. Blood gets to boiling. Boom. It's amazing. It's breathtaking. No better feeling in the world than to play in the Grey Cup."
Kristian Matte, the veteran offensive lineman who has seen some tough times as an Alouette after winning the Grey Cup with Montreal during his first season in 2010, is in a joyous mood after finally getting back to the big game. "There's a magic to being at Grey Cup Week," he said.
And after the drought conditions that have largely followed Matte's original appearance, it might be especially delicious to be in the Grey Cup after so many observers had written off the 2023 Alouettes just a few months ago.
"For us it's a sense of pride that we've managed to prove our doubters wrong," he said. This is what drives the Montreal Alouettes as we get set for the 110th Grey Cup. An urge to furnish us with an unlikely finish. What drives the Winnipeg Blue Bombers is a shot at changing the word "denied" to "resumed."
What colour will the confetti be?