LIVE STREAM/PREVIEW: Japan's X League Enters 2nd Weekend of Super 9 Action
This is a pivotal week in Japan's X league Super 9 playoff round robin series. Many of the races will be decided this weekend.
Elecom Kobe Finies (3-3) v Lixil Deers (4-1)
Sunday Nov. 8 2:30 PM (10:30 PM EST Nov. 7)
This is a critical game for both teams. The Finies dropped to 3-3 overall and need to win this game to have any kind of chance at all of making the semifinals.
Although Elecom quarterback Keijiro Kasuya played very well in the 28-7 loss to the Fujitsu Frontiers helping the team amass 374 yards in offense, much of it in the air, he needs to get some big plays out of his receivers. The Finies have a dangerous weapon in running back Inoke Funaki   who also doubles as a running quarterback when needed. Nevertheless, that loss was the third in a row for Elecom.
The Deers will be playing their first game of the Super 9 stage, coming off a final game win over IBM in the divisional round. Quarterback Shohei Kato and running back Shinichi Maekawa are the keys to Lixil's offense which is balanced. A win by the Deers makes next week's game against the Frontiers the key to the semifinals.
Nojima Sagamihara Rise (4-1) v Asahi Beer Silver Star (4-2)
Sunday Nov. 8 2:30 PM (10:30 PM EST Nov.7)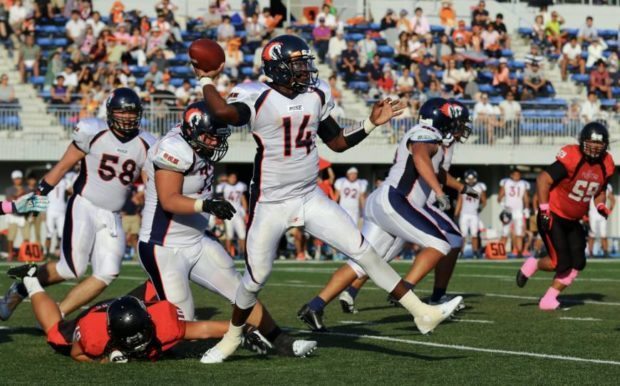 Nojima Sagamihara Rise quarterbacks Araki HiroshiIchiro and Ben Anderson combined for 227 yards passing in the final divisional game against the Pirates. However, Anderson, who has made an enormous difference for the Rise since arriving, did not see much playing time. He is expected to be back for this encounter though and with his mobility can cause problems for the Silver Star defense.
Asahi quarterback Mason Mills posted decent numbers in last weekend's loss to the Impulse but most of it was in the first half. One of the league's top three passers Mills has to get his team to play a full 60 minutes of football to pull this one out.
OBIC Seagulls (4-2) v Asahi Soft Drinks Club Challengers (4-1)
Saturday Nov. 7 2:30 PM (10:30 PM EST Nov. 6)
Two weeks ago, the Obic Seagulls looked lethargic in the final divisional 41-7 loss to the Frontiers, but rebounded with a convincing 34-26 win over IBM Big Blue in the Super 9. Quarterback Shun Sugawara had an outstanding game against IBM passing for 226 yards and a touchdown. If they can retain the form they had last week with their defense running on all cylinders they can give themselves a chance.
The Challengers enter this one after finishing second in the west. Quarterback Yusuke Kano has helped his team find ways to win with their only loss coming at the hands of Panasonic Impulse 14-7. Running back Yuki Shirakami is one of the leading rushers in Japan so Obic must find a way to contain him.