Long-time Detroit Lions coach Don Clemons putting 27 years of NFL experience to use in Switzerland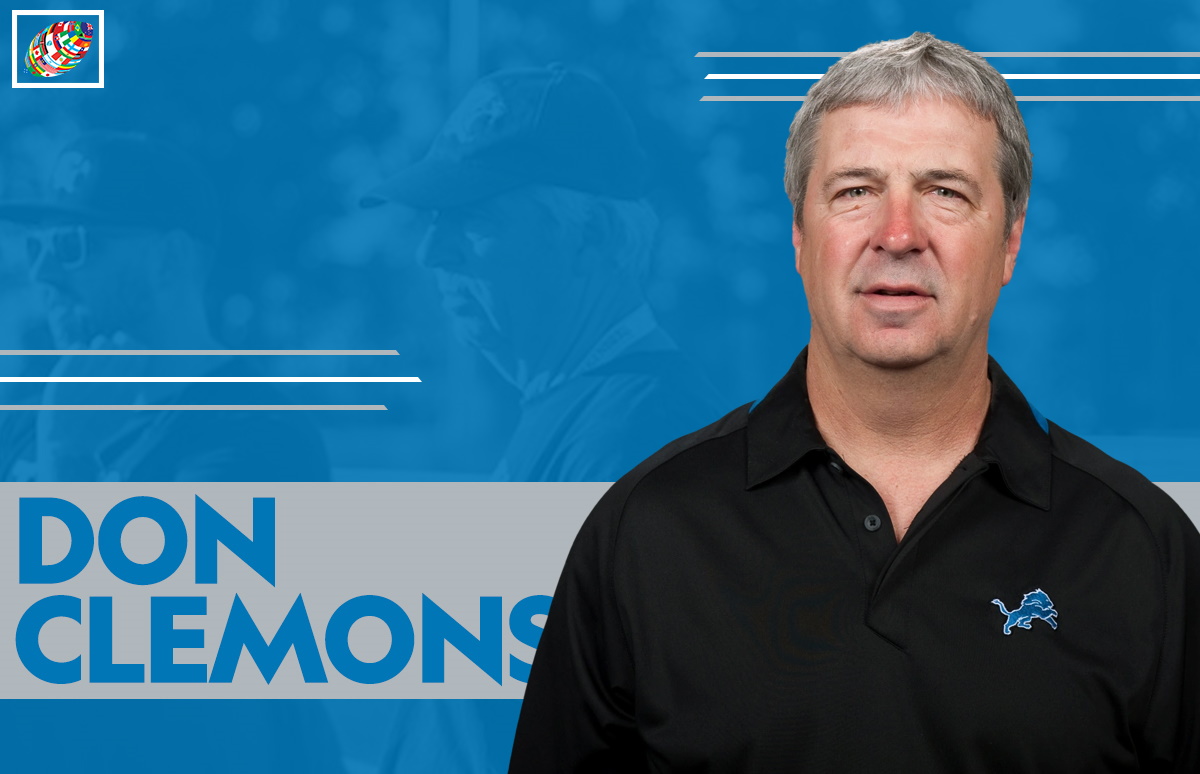 A coach's life is often defined by its transience. Those who put on the whistle grit their teeth through the pressures of job insecurity and enjoy a career living out of moving boxes.
Don Clemons was the rare exception to that rule. He swapped job titles a total of 10 times over the course of his remarkable 27-year tenure with the NFL's Detroit Lions, serving under nine different head coaches and 14 separate defensive coordinators before his retirement in 2012.
In an era where pro sports have become increasingly focused on short-term results, that type of longevity is tough to rival.
"It'll never happen again. Things move too fast in the NFL now," Clemons said, noting how the landscape had changed.

"For instance, when I first started coaching, we had eight coaches on a staff. Now some coaching staffs are over 24 or 25 people. It's really a lot different and so to survive it was a little easier because you really got to know more people throughout the NFL."
It may have been easier to put down roots when a new coaching staff could be expected to last at least four years, but it takes a unique individual to stick around for nearly three decades. For Clemons, relationships were always the key in a tight-knit NFL fraternity. Who your friends are — and sometimes even who their friends are — can determine your career path.
"What's interesting is the fact that I never really thought about ever coaching in the NFL," Clemons recalled. "I always wanted to coach in college and I wanted to coach at a big school."
The graduate of Muhlenberg College had already achieved that goal by 1985, working at Arizona State under head coach Darryl Rogers. When Rogers was hired away by the Lions, it simply made sense to follow him — after all, there was no guarantee of employment once the Sun Devils underwent their coaching transition.
That decision now seems somewhat ironic given how many coach firings Clemons' survived in the Motor City, but he proved his worth under every new administration by being versatile. As the team's defensive assistant, he organized the scout team defense every week and often helped with the scout offense as well, emulating the schemes of every NFL club that crossed the Lions' path.
"You get to study a lot of different teams and their approach to the game. That makes it a lot of fun," Clemons explained.

"It was really a great education. The thing that I miss the most about the NFL is the ability to learn. You have access to every team every single game, every video. It's just a great opportunity to learn a lot about football."
Detroit's coaching Swiss army knife has found a fitting way to put that information to good use since exiting the NFL a decade ago. For the past several years, Clemons has been a fixture on the football scene in Switzerland. Much like the NFL, it was relationships that got him there.
The journey started at a dinner party hosted by former Lions' linebacker Scott Kowalkowski, whose uncle had coached in Italy. Clemons was intrigued, which later sparked a conversation on the subject with long-time Lions' strength & conditioning coach Bert Hill — then coaching at Southern Methodist University.
Hill introduced Clemons to his colleague with the Mustangs Carlos Barocio-Leon, the Mexican-born former head coach of Spain's Badalona Dracs. Swiss National Team coach Giorgio Volpi had put out a call for assistance and Clemons was directed his way via this circuitous series of events, suddenly finding himself assisting with the country's U-19 national program.
You would be hard pressed to find a level of play more starkly different from the glitz and glamor of an NFL Sunday, but Clemons did not find the adjustment difficult.
"Obviously, the athletes are different, and these guys were under-19, so they're young too. You realize right away that they're not going to be the same type of football players, but it always comes down to fundamentals," he said. "As long as the athletes are receptive to instruction, it's the same. Coaching an NFL player is the same as coaching a U-19 player or even now when I help out with the U-16 team for Thun."
He's kept coming back to Switzerland ever since, coaching with the Thun Tigers and making a brief foray across the border to assist the Varese Gorillas of Italy. His most recent project is an entirely new venture, however.
The European League of Football has unveiled a new franchise based out of Zurich, the Helvetic Guards, will begin play in 2023. Co-athletic director Matt Hammer and J.C. Williams were familiar with Clemons from their own stints with the national team, bringing him on board as a consultant last month.
"My job basically is to supply ideas to the those guys and help in any way that I can," he explained.
It has been another new learning experience, as the Guards begin completely from scratch. Clemons and his extensive professional knowledge are the sounding board as the team sets up facilities, organizes combines and hunts for a head coach.
On that front, the Guards are close to a decision but whoever ends up in the top job will have access to a loaded staff. Clemons' rave reviews of his experience in Switzerland and the quality of football in Europe have peaked the interest of a number of old friends, several of whom are already committed to coming to Zurich.
"I've gotten a lot of my old coaching compadres interested. Hopefully, our staff in Switzerland this year with the Guards, we'll have five or six former NFL coaches hired," Clemons teased, noting that the staff will be partnered with a crew of local coaches who can learn from them and bring knowledge back to local clubs.

"That's our goal, to give back to Switzerland."
As for himself, Clemons won't commit to being on the sidelines with the ELF franchise.
"I don't know what role I'll have with the club. I imagine I'll have some role but I've always said if they need somebody to coach, I can. If they need somebody to work in personnel, I can work personnel. If they just need me to get out of the way, I'll get out of the way," he said. "I mean, I don't need to actually do anything. I can go back to Thun and be perfectly happy there too."
The 68-year-old coach is enjoying his state of semi-retirement, helping out on the projects he wants to without a great deal of added pressure. Looking back on his career, there is very little he would change.
"The one thing I probably regret is not getting Barry Sanders autograph," Clemons joked. "Of all the times I was with him, I never got his autograph."
Sanders, the legendary former Lions' running back who some consider to be the greatest of all-time, spent his entire ten-year career clashing with Clemons' scout team defenses every day in practice. With his in-depth understanding of the other team's scheme, the veteran coach often knew instantly when an opponent was in trouble on game-day.
The Hall of Famer left an indelible impression on all those who watched his unique playing style and Clemons vividly recalls one conversation he had with Sanders in the bleachers before practice.
"I said, how do you do it when you run? What do you see? And he said, 'I don't know how to explain it. I can't necessarily tell you what I see but I know where everybody is on the field,'" Clemons shared. "That was his explanation and he thought about it for a minute before he said anything. I remember saying to myself, well, that's the way he runs. I mean, he's all over the field, it's like he has radar."
Sanders was a cut above the rest when it came to his attitude and professionalism, but Clemons looks back fondly on his entire NFL experience. For all their flaws, coaching NFL players was never a struggle.
"A lot of people ask, was it hard to coach pro athletes? And I say no, it's actually really rewarding because they just want to be good," Clemons said. "They will take any kind of coaching as long as you're honest with them and they'll improve. They're happy with you as long as you can help them and it's not hard to do when you get people who really are motivated."