NFL: Predicting the NFC Divisional standings for the 2022 season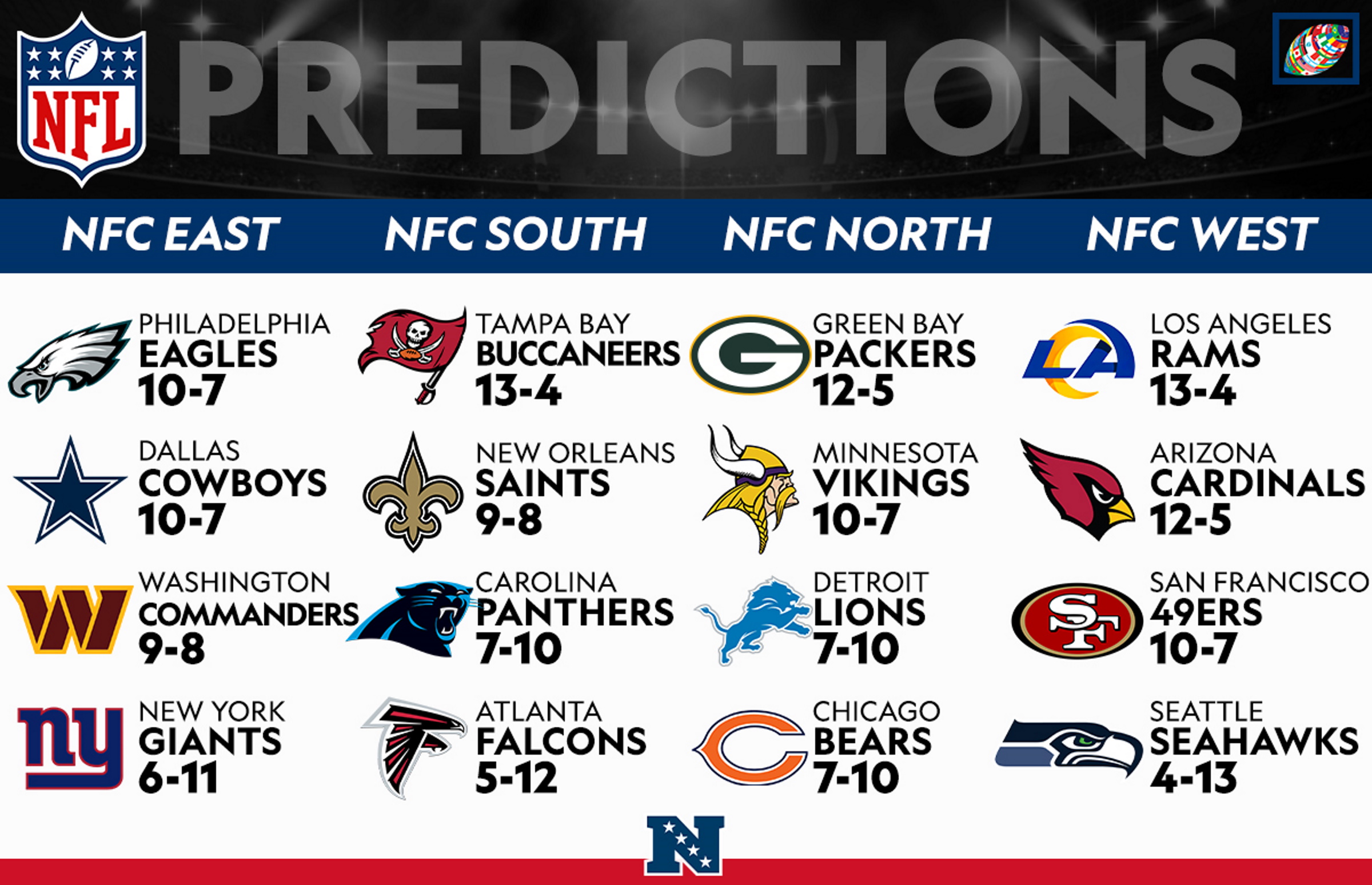 By Mason Mesbah
The NFC is packed with contenders this season, from the reigning champion Los Angeles Rams to the Tampa Bay Buccaneers and an ageless Tom Brady, from the uber talented Green Bay Packers to a plethora of dark-horse candidates, there are several teams in the National Football Conference that could be hoisting the Lombardi trophy come next February. Let's take a look and try and predict the NFC's divisions.
NFC East
Philadelphia Eagles 10-7
Dallas Cowboys 10-7
Washington Commanders 9-8
New York Giants 6-11
The most laughable division over the last few years, with some steady improvement, was somehow able to produce two playoff teams last season and may have an opportunity to do so again. Philadelphia, with the help of newly acquired AJ Brown, James Bradberry, Hassan Reddick, and more, has a chance to take over with a big growth season for Jalen Hurts. In what could be a make-or-break season for Dallas, this may be a sign to start something new. Although they finish with 10 wins, the past few years of playoff failures, along with failing to win the division could call for a fresh start. Washington took a shot with Carson Wentz, and see some improvement, but not enough to push for the division title. As for the Giants, it is time to move on from Daniel Jones. They have built a good team all around, but again, not enough to really compete.
.@dak had to teach the kids his iconic warm-up shuffle at his camp 🕺😂

(🎥: @ProCamps) pic.twitter.com/A5Tonxru3C

— ESPN (@espn) July 13, 2022
NFC South
Tampa Bay Buccaneers 13-4
New Orleans Saints 9-8
Carolina Panthers 7-10
Atlanta Falcons 5-12
Tom Brady is back… wait… yes, he is back. Brady's return gives the Bucs, who are head and shoulders above the rest, a clear path to the division title once again. The Saints have brought back Jameis Winston, as well as bringing in Jarvis Landy and Tyrann Mathieu to bring some leadership and bring the Saints back to the playoffs. Jameis went 5-2 last season before tearing his ACL, and the Saints were still able to be in the hunt till the last possible second. Getting some players back, as well as their new additions, can bring them right back to the hunt. The Panthers and Falcons both made changes at quarterback, with Baker Mayfield and Marcus Mariota/Desmond Ridder, but are in different phases. The Panthers are trying to compete now, while the Falcons are starting a rebuild around a new core. The Panthers have the pieces, but still flirt with mediocrity, while the Falcons start a new era, but end up on the bottom.
Season 23 🔜 pic.twitter.com/OxWUxPny4w

— Tampa Bay Buccaneers (@Buccaneers) July 11, 2022
NFC North
Green Bay Packers 12-5
Minnesota Vikings 10-7
Detroit Lions 7-10
Chicago Bears 7-10
The rest of the NFC North will have to live with Aaron Rodgers for four more years as he got a fresh new contract to continue to terrorize this division. Losing Davantae Adams will have an impact but will not yet alter the rankings. The Vikings are set up to give the Packers a fight. A loaded offense, and much improved defense are ready to make the jump to take over this division, but it won't be this year. The Bears and Lions are both starting their rebuilds, but in different ways. The Bears have their young QB, but not much else. The Lions have good players all around, but still have Jared Goff. Goff is not bad, but most likely is not the future for the Lions. He can get the job done, and with solid players all around, they will make strides and grow with some wins.  Both teams will take steps, but the lack of help for Justin Fields will leave the Bears in last place.
Green Bay @Packers RB A.J. Dillon activated the hit stick on this mascot. 😳

Luckily King Elvis tweeted out that he's alive.

(via @KenoshaKingfish) | #GoPackGo pic.twitter.com/5ZoFsd8DR8

— Sunday Night Football on NBC (@SNFonNBC) July 17, 2022
NFC West
Los Angeles Rams 13-4
Arizona Cardinals 12-5
San Francisco 49ers 10-7
Seattle Seahawks 4-13
Once again, the West is where the big competition lies. The NFC West is not as great as the past few years after the Seahawks lost Russell Wilson, but the other three teams, including the reigning Super Bowl champs, will be fun to watch. The loaded Rams team, who somehow got better with Allen Robinson and Bobby Wagner, remain on top. Kyler Murray is reunited with Marquise Brown, and must take that next step to be considered a top quarterback in the NFL who can win games. Giving 10 wins to Trey Lance may seem a bit much, but this 49ers team is set to win, and if Lance can limit the mistakes like Jimmy Garoppolo did, while using his mobility and big arm, this could be a big year for San Fran. Not much needs to be said about Seattle. They are starting a rebuild, with Drew Lock. They have let their cornerstones go and have not really gotten any young pieces to be excited about, outside of the offensive line. Just a few years too late to finally get a solid o-line.
RETWEET TO FLEX ON 'EM!

💪 @AaronDonald97 💪 pic.twitter.com/mY7HmYJvPE

— Los Angeles Rams (@RamsNFL) July 12, 2022