European players I'd like to see return to Europe
By Matt Bressington
With hundreds of Europeans in America playing in the various divisions and leagues, some are bound to return to the leagues in Europe after their time in the States. I wanted to wish into existence a few players I would love to see a return to make a big impact. I have limited it to one per division so that this list isn't a 12-hour read. Let's get straight into it.
Jasper Friis (Germany) – (Jackson State University – NCAA Division 1 FCS)
Jasper Friis is likely a target for the NFL IPP or CFL draft once he completes his senior year at Jackson State. The 6'6″, 330-pound offensive lineman who is technically English-born but German-raised would count as a homegrown for all of the Germany ELF team with his development starting at the Starnberg Argonauts, Munich Cowboys, and Fursty Razorbacks. He's versatile, finishes well, has strong hands, and has the size for either guard or tackle with his length. For him to go to the NFL or CFL his pad level and hand placement would need to improve; he can overpower in a weaker division
but too many times his hands are far too wide to utilize this athleticism in the next level. His frame affects his pad level negatively, particularly at guard, as he gives up leverage because of his height. I do not doubt that he can make these adjustments and appear in Europe or North America.
Jairo Faverus (Netherlands) – (West Virginia University – NCAA Division 1 FBS)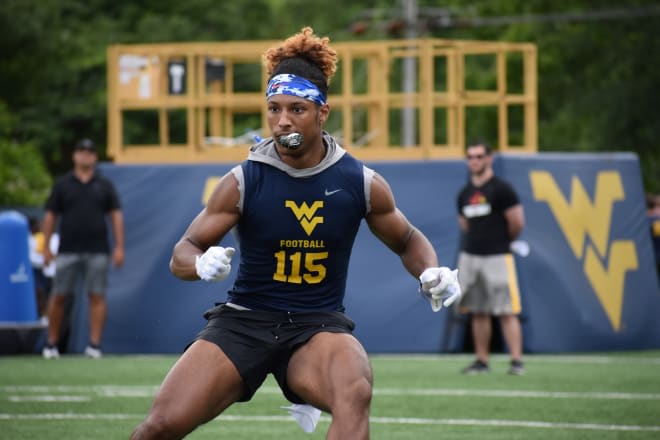 I've talked about Jairo a lot since the rumors of a European League of Football franchise in Holland. The West Virginia safety/linebacker won't be out of college for some time yet, but when he does it'll be immediately a local star to build a core around. His clear athletic versatility and excellent build for a European League of Football linebacker means he could be a serious All-Star potential player. For
example, Ludvig Myren with his movement and speed and more of a slimmer, DBcentric build has seen a lot of success in the ELF as well as getting him attention from the CFL Global and IPP trials. He has seen limited time at West Virginia with the positional change and the COVID season. However, he could gain more experience this year and give more insight into his game in 2023.
Thomas Ashworth (Denmark) – (University of Charleston – NCAA Division II)
Thomas' hometown is listed as Copenhagen, Denmark at the University of Charleston. The wide receiver saw reduced games from nine to three in his recent season. However, under those nine games in his freshman year, he amounted to 218 yards on 17 catches, although not mind-blowing numbers, he could certainly return to the Danish or other Scandinavian leagues to have a successful career. At 5'11
185lbs he has the size to play all over the receiving core and with experience in High School football, Team Nordic, and Division 2 football he has an instant leg up on many players in the northern leagues. He has burst off the line, has great hands in contests, is more than comfortable blocking and is a special team contributor too. I believe he's a premier option for homegrown talent for a possible Denmark ELF team or as previously mentioned, a position in the Maple league or Super Series.
Toby Naylor (Great Britain) – (Brevard College – NCAA Division III)
Toby has had a rather notable college career for a European player. From the 19/20 season until his most recent in 22/23, his tackles have increased every season. He's had a sack every year, and in the last two seasons, he had both a forced fumble and an interception. He was a member of both the All-Region and All-Conference teams during his time at Brevard. He's a solid tackler with a high motor and vision through the blocks, although he's not a lightning-fast sideline-to-sideline player, he has enough speed to cut off a RBs angles. I believe him to be a target for a possible London ELF team if it ever comes to volition, if not, teams in Germany have been recruiting younger, less European Experienced guys before they make the step to the ELF. Austria, Sweden, and Finland could also be avenues to his next football opportunities.
Petr Svoboda (Czech Republic) – (Texas Wesleyan – NAIA)
The Prague Lions are going to be on the hunt for homegrown talent wherever they can find it to compete with the German and Austrian teams they're going to play regularly. Svoboda is an All-Conference Centre at Texas Wesleyan who, in High school was All-State Offense, All-District Defense and also All-State academic. He's gradually had more playing time each season on the offensive line. He serves as a great anchor with good mobility from the snap, he finishes well with drive and shows strong hands with effective placement, and as a 6'3″, 305-pound player, he has a great build for all the
interior line positions. I think highly of his ability, and I think that any and every Czech team should be after his services. Alternatively, as a highly valued center, he could see attention from other ELF teams who've targeted European international offensive linemen, such as Rhein and Milano.
Yani Gouadfel (France) – (Bishop's University – USports)
Yani is a 6'3″, 200-pound DB who is also part of Bishop's University like many other young French prospects. He's actually been a bit of a "Do it all" player. Over his time between 21-23, he's been a starting punter, rushed, passed, returned, and played in the defense where he's had interceptions, tackles, and a sack. He's long and rangy with burst and clear vision for the ball. He should be a prime target for French Division teams and especially the Musketeers. Defensive backs with his build and versatility are incredibly hard to find, let alone ones with the same motor and finish as Yani. Usports has many French players who could be in Europe within the next few years, but I think as of now, Yani shows the most potential value