"The plane ride is long, but this is so cool," said the smiling 12-year-old from Gold Coast, Queensland, Australia, on Day 1 of the competition, which ran Feb. 3-4 as part of the Pro Bowl Games.
Annandale and her flag football team helped make history, representing one of a record eight countries to compete in the annual tournament. Australia, Canada, China, Germany, Ghana, Japan, Mexico and the United Kingdom combined to field 10 co-ed youth teams that faced off against each other in the International Division.
That level of participation illustrated the rising global profile of a sport that drew more than 585,000 youth athletes across the United States in 2022, according to NFL FLAG, which is the official flag football program of the NFL.
There are many drivers behind the growth of the game, including its safety and affordability in comparison to youth tackle football. And, as longtime Canadian coach Jamil Springer was quick to point out, flag football truly offers an opportunity for everyone to play.
"It's growing tremendously for the reason that it's a very inclusive sport, no matter the age, size, gender, weight; it's very inclusive," Singer said.
The journey taken by Annandale and the Australian squad shows just how quickly the sport can be implemented. It was only in October that Annandale's Varsity College school was given an NFL FLAG tutorial. Varsity and nine other schools followed by integrating NFL FLAG into their physical education curriculum. When Varsity prevailed in a November tournament including the other nine schools, Annandale and Co. were bound for the states.
"I just love the sport and got really into it and I was super excited when I made the cut," Annandale said in between posing for pictures with Rampage, the Los Angeles Rams' mascot.
Like many girls, Annandale has found a new sport where she can compete alongside and against boys with rarely a second thought.
"I do a lot of sports; sports is just my thing," she said. "I love it."
For an example of where a passion for sports could lead, one needed to look only at Diana Flores, the quarterback who drove Team Mexico to an upset over the United States at The World Games 2022 on July 14, 2022. Flores was serving as an assistant coach for the AFC in the flag football game that NFL players competed in at the Pro Bowl Games.
The dynamic QB is also a product of the NFL Tochito program, the local version of NFL FLAG in Mexico.
"The girls see Diana Flores as a hero," veteran Mexican coach Jesus Del Rio said. "They know this is one step to a Diana."
Del Rio has been with the program for more than a decade and has seen it flourish in Mexico.
"Now, it's growing a lot," he said. "Mexico is becoming a player."
Canada, also, is "catching on," Springer said. "We're not as big as the States yet, but I do foresee in the future we'll get there."
Of course, the spotlight shined beyond North America in the International Division. Germany and the UK represented Europe, while China and Japan represented Asia and Africa had its first team with Ghana. At one point, Ghanaian players could be spotted dancing with San Francisco 49ers mascot Sourdough Sam.
"I'm happy that they came to Ghana," said 12-year-old quarterback Samuella Teila.Results seemed to truly become secondary as new friendships were founded and memories were made.
"New friends," said 12-year-old receiver/safety Mubarack Mohammed Mammoud, also of Ghana, when asked what the best part of the tournament was. "I was happy to see them. I was happy to see people from all different countries."
Though Japan does not have an official NFL FLAG program in its market, the country offers flag football as an elective PE course throughout each level of school. Thus, NFL China worked with the Japan American Football Association, the sport's national governing body, to help to identify the Japanese squad that came to the tournament.
Yuze Ma, a 10-year-old member of the Team China squad, has been enamored with American football for a few years now.
"We get to compete and have fun," Ma said.
Ma watches the NFL as often as he can "when there's a game on that's not too early," he said. After all, China is 16 hours ahead of San Francisco, where his favorite player, Niners pass rusher Nick Bosa, plays his home games.
"I'm very happy that I'm at Las Vegas," Ma said.
The presence of some of the NFL's best added to the breadth and splendor of the tournament while providing first-hand examples of what football dreams may come. And it provided the pros with a glimpse at the ascendance of flag football.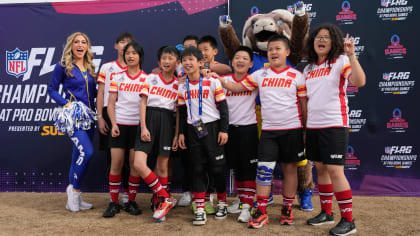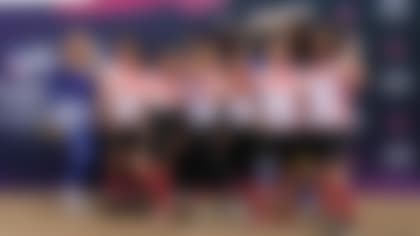 "I honestly didn't know how big flag football was until I went [there Friday]," New England Patriots Pro Bowler Matt Judon said.
Judon sees the appeal and promise within youth flag football.
"I just see how it's kind of taken over the youth game, making it easier on kids' bodies, but man, you know, we just gotta find something to do with the linemen," Judon, a pass rusher, joked.
Along with many of the NFL's finest talents, Judon, Barkley, Alexander and Tunsil played in Sunday's first-ever Pro Bowl Games at Allegiant Stadium. Each international flag football player was given the chance to attend the Pro Bowl Games, offering an opportunity to see the players many of them idolize.
"For our kids, because we have a lot of kids that we deal with from poverty-stricken areas, some of them don't have father figures," Springer said. "And growing up, if you don't have a father figure, your father figure is either music people or athletes. So, in some cases, these guys look to them as father figures, so the little bit of interaction they get, it's a memory that stays with them for a lifetime. And it's really life-changing in many ways."
It was Springer's Team Flight School out of Montreal that prevailed on Saturday in the 12U International Division final over Team Mexico, 21-14.
Though each team was striving for a championship, completing the journey to the tournament provided just as much reason for celebration. With flags flying, hopes soaring and the game growing, a collection of wide-eyed kids with grins curving their faces and dreams dancing through their minds made history.
The benefit to the kids he coaches, said Del Rio, is "why I believe in the program and will continue to support the program."