Reilly Hennessey and Schwäbisch Hall Unicorns hope to keep unbeaten season alive against Allgäu Comets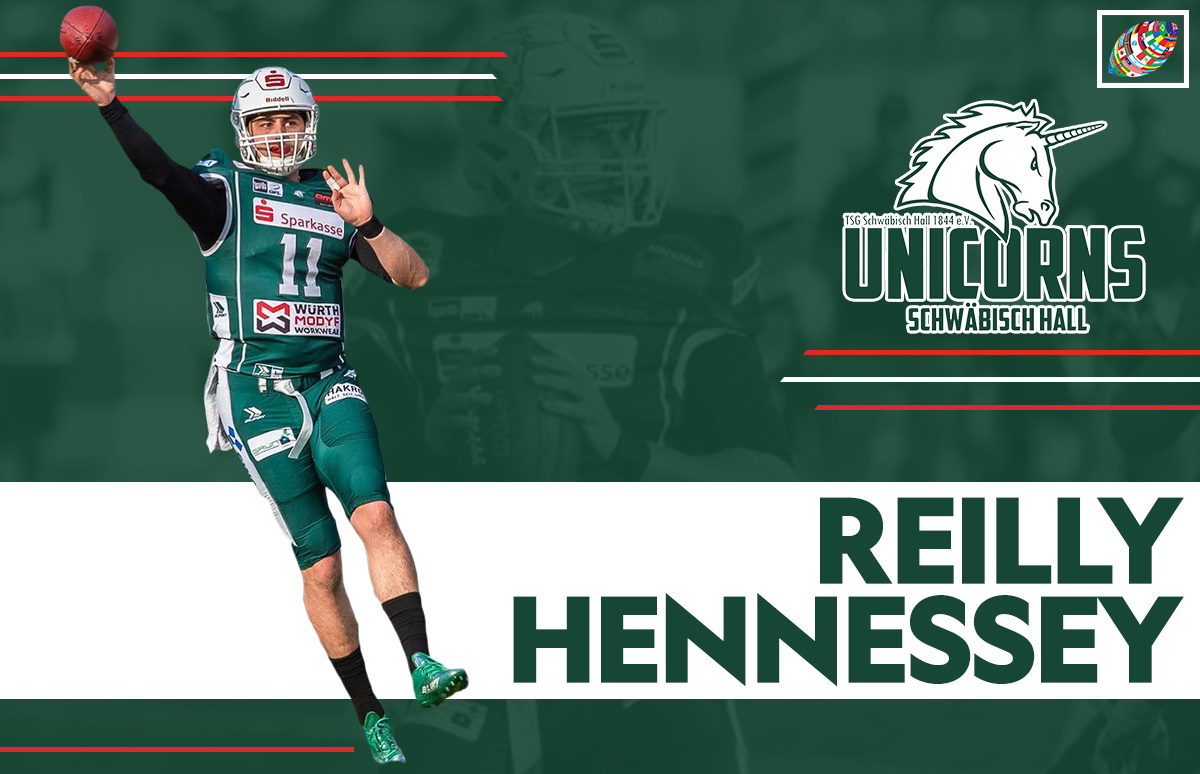 The Schwäbisch Hall Unicorns and quarterback Reilly Hennessey head into the German Football League semifinals against the Allgäu Comets Saturday, September 24 looking to stay undefeated and advance to the German Bowl for the eighth straight season.
The Unicorns defeated the Berlin Adler in the quarterfinals behind 13 of 18 passing from Hennessey for 262 yards and three touchdowns.
Hennessey will get the start again today although there has been a bit of a timeshare at the quarterback position for the Unicorns this season with Hennessey handing over to James Slack at times.
In fact, Hennessey didn't play a full season, only getting in nine games but has been the starting quarterback as of late for Schwäbisch Hall in the playoffs.
Before signing with the Unicorns in 2021, Hennessey spent time in the Italian Football League where he led the Parma Panthers to a 10-0 undefeated season in 2021. During that year he threw for 1,672 yards and 17 touchdowns, with two rushing scores. It's safe to say he has a knack for being at the helm of undefeated teams.
In his second year with the Unicorns, he has put up similar stats throwing for 1,786 yards and 21 touchdowns, with an additional four on the ground. Reilly was also able to produce a 73% completion percentage.
One issue that Hennessey will need to adjust is his turnovers. He was picked off twice by the Adler and had seven interceptions on the year so he will have to tread carefully against a ball hawking Comets secondary today.
The Unicorns' defense will have their hands full in this semifinal matchup with Allgäu signal caller Kenyatte Allen, so it is pivotal that Hennessey reduces his mistakes on the offensive side of the ball.
Watch the game live here. Allgäu Comets @Schwäbisch Hall Unicorns, Sept. 24, 16:00 CET (4 pm, 10 am ET)