Swiss Bowl XXX: Preview – Calanda Broncos v. Bern Grizzlies
Swiss Bowl XXX Preview with Coach Dwaine Wood, Basel Gladiators
Calanda Broncos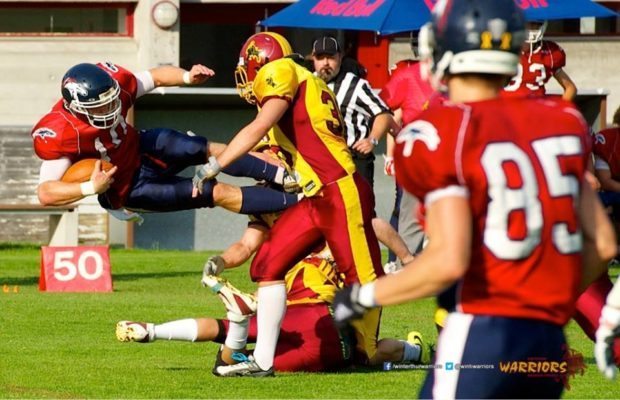 The Calanda Broncos dominated the league throughout the season except for one little slip against the Luzern Lions…a power running double wing team. They averaged 42 points a game while allowing only 18.
This is a very smart team, coached well from front to back, on and off the field. They are explosive and
quarterback Josh Dean has been the most dominant player in 2015. He has been a very positive influence both on and off the field.
Along with Dean, head coach Geoff Buffum can rely on some very explosive Swiss players: Receiver Adrian Suenderhauf is the most explosive player not named Dean. Lukas Lütscher is a tall, rangy receiver who catches well and uses his body to his advantage while running back Orlando Frehner has been solid but struggled with some nagging injuries.
The Broncos offensive line is anchored by two European imports – Andre Matthis from Germany and Bastien Pereira from France. Both are very good and have nasty streaks in them which is ideal for an offensive lineman.
Their offensive line coach has done a really good job with the new players on the line.
The Broncos defense has been protected by their super offense. Their defense is not as talented as the
Bronco offense, but they are very smart and they are aggressive. James Canetti (a dual passport
American/Italian) is the key to their defense. He makes enough plays in the middle to get the ball
back to Dean. Thomas Tribolet has played exceptionally well all year. He covers a lot of ground and plays
tough and smart.
Bern Grizzlies
Football can be complicated or really simple. At first glance, the Grizzlies don't have a chance and truth
be told, they need a several things to happen for them to win.
1. They need to score a lot because their defense is not going to keep the Broncos out of the endzone.
2. They need to own the ball with their running game. They proved they can do that against the Gladiators.
3. They need a turnover or two and to stop the Broncos more than once.
If those things happen and both head coaches and teams are well aware of that, they can win this game.
As a fan, keep your eye on Bern defense as they will sell their soul on stopping Josh Dean.
They will be putting hard hits on Dean. In the playoffs, the rules are a bit different. Players will take fair but hard shots on him and rightfully so as the this is playoff football. The Broncos go as far as Josh Dean carries them.
The Bern defense will be looking for turnovers. They will try to force fumbles and look for interceptions.
Without them, they don't stand a chance.
Since the arrival of head coach Rex Stapelton, they have had a singleness of mind and it is the smart way to approach games with his team. They will live and die by running the ball. With their offensive line and running back Darius Willis running angry, not even attempting to avoid would-be tacklers, who can blame Stapelton.
Add a healthy Fabian Schaller to the backfield and they are very very dangerous.
Head to Head
The Broncos and Grizzlies met twice during the regular season and the outcome was almost identical in both games. Calanda won easily 35-6 in the first contest and then 35-7 the second time out in early June.
Conclusion
The Broncos have the advantage going into the game because the Grizzlies are dependent on some good or bad luck depending on how you see it.
This will be a high scoring game and with a few turnovers, it will be very exciting to see who wins
Kickoff: Saturday July 11, 6PM. Follow the game on Twitter: @safv_official