NFL Academy announces three games against renowned U.S. high schools this fall
The NFL Academy, the NFL's elite player development program for talented international student-athletes based in the UK, has announced games against three renowned U.S. high schools this Fall.
The series of games will see the NFL Academy play Bonner & Prendie in Dublin in August to kick off the new academic year. The team will then face IMG Academy at the program's Loughborough headquarters followed by Erasmus Hall, to be played at Tottenham Hotspur Stadium, during the week of the NFL London Games in October.
The series marks the first competitive games for the NFL Academy since the appointment of new NFL Academy head Lamonte Winston and head coach Steve Hagen. Both bring a wealth of NFL and college football experience, as well as the shared ambition to create a world class elite environment for NFL Academy students to succeed both on and off the field.
Lamonte Winston:
"The NFL Academy is an important part of the League's long-term commitment to global football development efforts, helping create opportunities for talented young student athletes from around the world to play and thrive in the game. Playing games against high schools of this caliber is indicative of our vision for the program and we look forward to seeing some great football across these three games and the rest of our season."
Steve Hagen:
"Our current Academy players along with our incoming new players for this 2023-24 season are looking forward to these games. I'm personally looking forward to seeing how we compete against these well-established high schools. These games are fantastic opportunities to see our young men compete and grow."
CU Deion Sanders offers ascending International Prospect – DE Emmanuel Okoye https://t.co/2lAK9DEmML

— American Football International (@AFIReview) March 8, 2023
The NFL Academy will play three competitive fixtures against U.S. high schools:
August 25: Bonner & Prendie in Dublin at the Donnybrook Stadium

October 6: IMG Academy at Loughborough University

October 10: Erasmus Hall at Tottenham Hotspur Stadium, London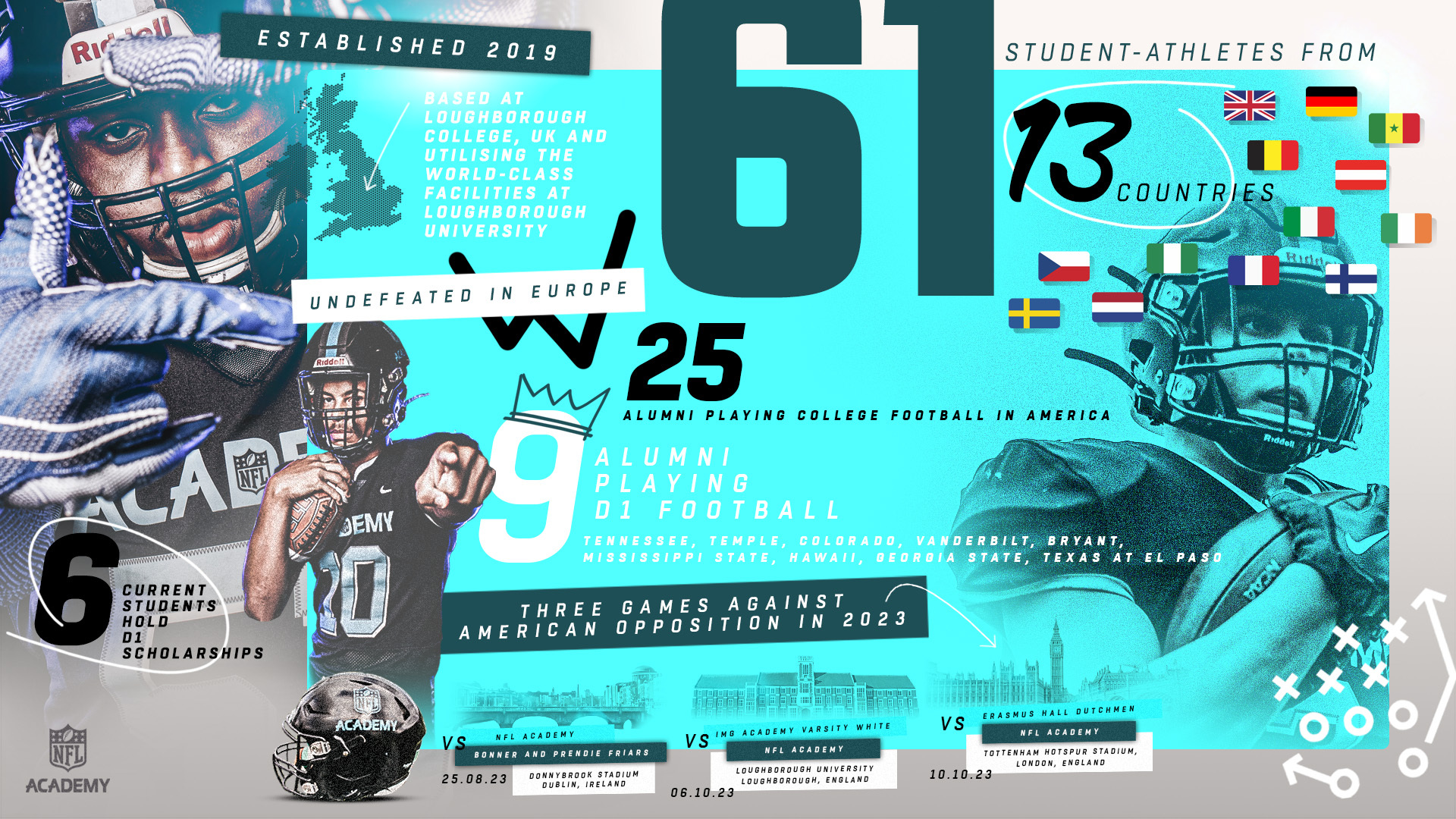 The game in August against Bonner & Prendie, a Pennsylvania high school who last year had one of their best seasons in program history capturing the regional school championship, will be hosted by G.I.F.T. and coincides with the Aer Lingus College Football Classic, where the Notre Dame Fighting Irish face the Navy Midshipmen in Dublin.
The second game, on October 6, sees a rematch against Florida's IMG Academy, who are regarded as one of the country's top high school football teams. Last year, at The Grove in Watford, UK, the pair met in an enticing back-and-forth affair which saw IMG Academy claim a 26-14 victory.
Four days later, on October 10, the NFL Academy will host Brooklyn based high school, Erasmus Hall, at the Tottenham Hotspur Stadium, in a game billed as the 'unofficial fourth London Game' this season. Erasmus Hall, a Nike sponsored high school side, recently won a 7-on-7 championship hosted by the New York Jets, a seven-aside full contact American football tournament, competing against the top high schools in the tristate area. Erasmus Hall is widely regarded as a hub for Division 1 NCAA football talent.
The NFL Academy, which opened in September 2019, is a major initiative by the NFL, which aims to use American football to create life-changing opportunities for young people all around the world. It offers talented student athletes aged 16–19 a pathway to combine their full-time education alongside a transformative life skills program and intensive training in the sport, under the guidance of a professional coaching team.
Based at Loughborough's world-renowned center of sporting excellence in the UK, and in partnership with Loughborough College and Loughborough University, the program promotes world class performance and the development of elite player pathways, supporting student athletes with NFL best practices and resources.
The NFL Academy will support 61 student athletes from 13 different countries during the 2023-24 academic year. Nine former NFL Academy alumni will play Division 1 NCAA college football in 2023 at top schools including Tennessee, Temple, Colorado, Vanderbilt, Bryant, Mississippi State and Hawaii. You can follow the NFL Academy's season and receive regular updates @nflacademy across Twitter, Instagram and TikTok. 
To find further information on NFL Academy, please visit, https://www.nflacademy.com/