NFL International Combine Invites: Pacific Region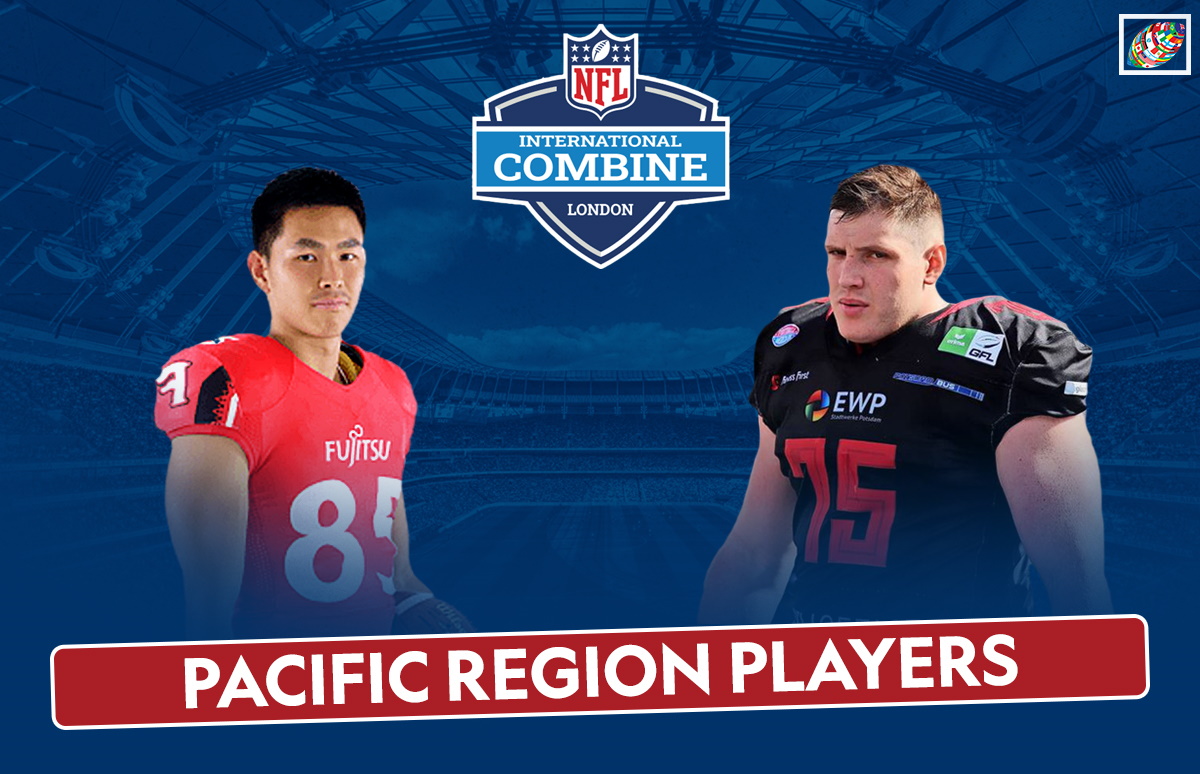 Seven players from the Pacific region of the world will travel to London's NFL International Combine and make their case for a shot at the NFL. The list features four New Zealanders, two Australians, and one Japanese athlete.

All three countries have a rich history of tough athletes as Rugby and Aussie Rules football produces some of the biggest and fastest athletes in the world, perfect for the gridiron. While Australian punters have made their impact on the NFL, Australian lineman Matt Leo, Adam Gotsis, and  Jordan Maillata have all carved out NFL careers, with Mailata and Leo benefiting from the NFL's International Player Pathway Program. Meanwhile, Japan's football structure and coaching has the potential to mold the country's talent well.

Let's take a look at the list of NFL hopefuls.

Ricki Matsui – WR – 6'2 215 – Japan
Matsui is coming off of a fantastic year in the X-League, where he made 28 catches for 439 yards and four touchdowns. The 25-year-old helped the Fujitsu Frontiers capture the league championship with a five-catch, 124-yard, and one-touchdown performance in the Rice Bowl, earning him MVP of the title game. He is the lone Japanese player on this year's list. 
NFL International Combine invite sleeper part 2:
WR Ricki Matsui
WR 6'2 215 Fujitsu Frontiers Japan

Quick Glance:
Pros: Size, Hands, IQ, Quickness
Cons: Straight line speed (4.8's in 2021 CFL Testing) pic.twitter.com/6DTIyfzHdg

— EuroballChow (@euroballchow) September 5, 2022
Jack Siaki Akiono – TE – 6'6 270 – New Zealand
Akiono is a former rugby player from Auckland. He spent the 2021 season playing for Allan Hancock College in California. There he played in five games making one tackle and five catches for 50 yards at the Junior College level. That was his first-ever experience with the sport.

See Akiono's combine training here: 

Etuale Junior Vinny Lui – OL/DL – New Zealand
An athletic big body who has played rugby for several years. In 2019 he was named to the junior national rugby team for New Zealand. He last suited up for the Parramatta Eels junior club, one of the top Rugby programs in the country.
Brendan Oswin – OL – 6'3 300 – Australia
Oswin is no stranger to international football having spent the past two seasons playing in the German Football League for the Rostock Griffins and this past summer with the Potsdam Royals. The 24-year-old is an aggressive run blocker with solid technique and upper body strength. 
Watch Oswin's 2021 highlights here
Talitiga Lachlan Amosa – DL – 6'4 270 – Australia
The second Aussie on this list is one of three players invited to London with NCAA experience. Amosa played for New Mexico Military Institute (Juco) East Los Angeles CC (Juco) and finally Texas A&M Commerce (NCAA DII). This past summer he was an impact player for the Berlin Rebels in the German Football League making 28 tackles, seven tackles for a loss, and two sacks.
Watch Amosa's Juco highlights here
Te Akau Gary Pumipi – OL  – New Zealand
The massive Kiwi is a part of New Zealand 7T5 Sports Academy which helps prepare athletes for college and pro football opportunities. Pumpipi is a bit of a mystery with limited football experience but his massive size could help catch the eyes of scouts.
Patrick Murtagh – TE – 6'5 220 – Australia

A late addition to the combine Murtagh is a former Aussie Rules player who played for the Gold Coast Suns for the past three seasons as a defender.The slender athlete is a Gold Coast Suns Academy graduate and state decathlon champion bringing a strong track background to his game, as the 22-year old transitions from AFL to American football.
Jaylen Raymond Chan Tung – OL – 6'8 350  – New Zealand
Chan Tung is a massive offensive lineman with experience playing at the junior college level with the Snow College Badgers (Utah). Before heading to the states he was an all-star for the Gold Coast Stingrays in Australia. At that size, he will turns heads, so a solid athletic performance in London could go a long way for his NFL hopes.
camp footage 💪🏽🙏🏽 @EndzoneAcademy pic.twitter.com/hrhEswanBO

— Jaylen Chan-Tung (@JaylenTung) November 11, 2021
The NFL's International Combine is scheduled for October 3-4 in London.