Usher's Super Bowl 2024 Halftime Performance Expectations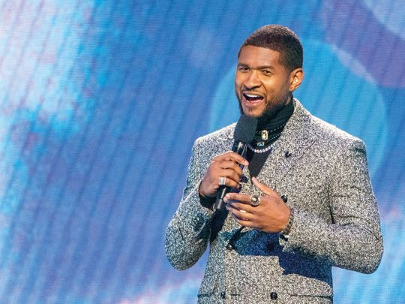 The Super Bowl is not only the biggest sporting event of the year but also a cultural phenomenon that attracts millions of viewers from around the world. One of the most anticipated aspects of the Super Bowl is the halftime show, which showcases some of the most popular and talented artists in the music industry.
In 2024, the Super Bowl LVIII halftime show will be headlined by none other than Usher, the R&B superstar who has sold over 80 million records worldwide and won eight Grammy Awards.
Usher's Star Power
Usher is no stranger to the Super Bowl stage, having performed as a special guest of the Black Eyed Peas in 2011. However, he will be the main attraction this time and has plenty of material to draw from.
Usher has been one of the most influential and successful artists in the music industry for over two decades, with hits spanning from You Make Me Wanna Yeah! to DJ Got Us Fallin' in Love. He has also collaborated with some of the biggest names in music, such as Alicia Keys, Nicki Minaj, Justin Bieber, and 21 Savage.
Usher's musical prowess is evident in his chart-topping songs and live performances. He is known for his smooth vocals, impressive dance moves, and charismatic stage presence.
He has performed at some of the world's most prestigious venues and events, such as Madison Square Garden, the Grammys, and the Olympics. He has also been recognized by numerous awards and accolades, such as being named one of the best-selling artists of all time by Billboard and one of the 100 most influential people in the world by Time.
Usher's selection for the halftime show generates buzz in the entertainment world, making it a must-watch event. He announced his upcoming gig on X (formerly known as Twitter) with the help of celebrities like Kim Kardashian, Deion Sanders, and Marshawn Lynch.
He also revealed that he will release a new album titled Coming Home on the day of the Super Bowl. This will be his tenth studio album and his first since 2016's Hard II Love. Fans are eager to hear his new music and see how he will incorporate it into his halftime show.
Prop Bets and the business of entertainment
Sports fans are waiting to place bets on the future winner and other types of bets, such as Usher's performance. It's not just about the music; it's about the business of entertainment and how different betting apps in regulated states, such as Kentucky Sports Betting Apps, are profiting.
Prop bets are not directly related to the game's outcome but to various aspects of the event, such as the coin toss, the national anthem, or the halftime show.
Prop bets are popular among casual bettors who want to have fun and add excitement to their viewing experience. Prop bets are also a way for betting apps to attract more customers and generate more revenue.
Spectacular Stage Design
Expect a visual spectacle as we examine the elaborate stage design and production set to accompany Usher's performance. The goal is to deliver a show that leaves audiences wowed and talking for weeks.
The Super Bowl LVIII will occur at Allegiant Stadium in Las Vegas, one of the newest and most advanced stadiums in the NFL. It has a capacity of 65,000 seats, a retractable roof, a transparent dome, and an 85-foot-tall torch that honors Al Davis, the late owner of the Las Vegas Raiders.
The halftime show will use the stadium's features and technology to create a stunning visual display. According to reports, Usher will perform on a circular stage surrounded by LED screens and pyrotechnics.
The stage will also have a rise and lower platform, allowing Usher to move between different levels and interact with dancers and musicians. The stadium's roof will also be opened during the show, creating a dramatic contrast between the dark sky and the bright lights.
The halftime show will also feature some innovative elements that have never been seen before at a Super Bowl. One of them is a holographic projection system that will create realistic images of Usher's past collaborators and mentors on stage.
This will allow Usher to pay tribute to some of his musical influences and friends, such as Michael Jackson, Prince, Whitney Houston, James Brown, and Luther Vandross. Another element is a virtual reality experience that will allow viewers at home to feel like they are part of the show. This will be done through a special app that will sync with Usher's performance and provide immersive audio and video.
Surprise Guests and Spectacular Moments
Super Bowl halftime shows are known for surprise guest appearances and jaw-dropping moments. We discuss the potential for Usher to share the stage with other big-name artists, creating unforgettable memories for viewers. Usher has hinted that he may bring special guests to join him during his performance.
He said he has collaborated with many incredible artists and wants to celebrate them. Some possible guests include Lil Jon and Ludacris, featured on Usher's smash hit Yeah!; Alicia Keys, who duetted with him on My Boo; and Justin Bieber, who was mentored by Usher early in his career.
Usher may also surprise viewers with unexpected guests, such as artists from different genres or generations. For example, he may invite Bruno Mars, who is also a fan of Usher and has expressed his admiration for him.
He may also invite Beyoncé, one of the world's most popular and respected artists, who has performed at the Super Bowl twice. He may also ask Drake, one of the decade's most successful and influential rappers, who has collaborated with Usher on several songs.
Usher may also create some spectacular moments that will go down in Super Bowl history. For example, he may perform a breathtaking stunt, such as flying over the stadium or jumping from the torch.
He may also perform a medley of his greatest hits, showcasing his versatility and longevity. He may also debut a new song from his upcoming album, giving fans a taste of his latest music. He may also make a statement, such as addressing a social issue or expressing his gratitude to his fans.
Summary
Usher's upcoming Super Bowl halftime performance is a historic event. With a career spanning over two decades, Usher's star power is unmatched, and his selection for the halftime show has generated immense excitement.
The cutting-edge stage design at Allegiant Stadium promises a visual spectacle with innovative elements like holographic projections and virtual reality experiences. The potential for surprise guest appearances and awe-inspiring moments adds an extra layer of anticipation. Usher's performance is poised to leave an indelible mark on Super Bowl history, promising a show that will be remembered for years.