AFCTA Spreading Gospel Of Football In China
For the past couple of weeks, Jim Criner and his American Football Coaching & Teaching Academy have been holding their second round of coaching clinics in China with the support of the Chinese government under the auspices of the China Rugby Football Association.
Following up on their visit to China in April, Criner and his highly impressive staff have continued their journey to teach the game of football to fledgling coaches in the "Middle Kingdom".
According to Criner there has been a 50% increase in the number of participants over the April tour.
"We will offer Level 2 clinics next year in addition to coaches who did not take the program this year being able to take Level 1. The players camps will offer fundamentals and techniques, but will start to develop special skills that the players demonstrate in the combines. We will also add 11 on 11 to our camps."
More than 200 coaches and  players from all over China attended the events, and both sessions were concluded with an exam .  The successful students will receive a government approved China Rugby Football Association Coaching Certificate .  
This year marks the first time American football coaching clinics have been held in China.  And this historic initiative has been highly successful with 30 or so coaches attending the initial April event in both Beijing and Shanghai where they learned the fundamentals of American football from an impressive roster of coaches involved in Criner's AFCTA which has toured Europe extensively.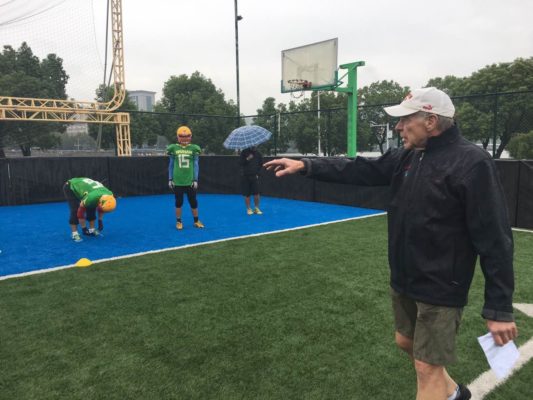 The AFCTA coaches in China
Philippe Gardent – weight, conditioning, and speed development expert. He is the conditioning expert for France's national rugby team, and played in NFL Europe (twice MVP on defense), played linebacker for the Washington Redskins and Carolina Panthers. He now coaches at the U19 level in France. Member of AFCTA.
Lynn Stiles – Defensive coordinator at UCLA , head coach at San Jose State, 30 years in the NFL (Philadelphia Eagles, San Francisco 49ers, Los Angeles Rams, Kansas City Chiefs – four Super Bowls) – Defensive front 7 and special teams.
 Rick Streiff – High school coach in Indianapolis who has won 11 state championships, last five in a row. Outstanding coach – Wide receivers/Running backs/leadership.
Lance Zeno – played for Criner in NFLE and the World League – each year he played for Criner(2) the team won the World Bowl. Offensive Center. Played for Green Bay Packers and Cleveland Browns in the NFL.
Matt Burgess – outstanding high school coach in Portland, Maine. Head coach at Bridgton Academy.
Wojciech Andrzejczak from Poland – defensive coordinator for Kozły Poznan in the Polish Topliga and an active leader in Poland who is helping that country develop the American football programs.
Lawrence Bowlby – Head coach at Korean University for a number of years. Played under legendary Canadian college coach Greg Marshall at Western University in Canada.