LIVESTREAM Finland Maple Bowl XLIII: Seinäjoki Crocodiles @ Kuopio Steelers, September 10th, 16:00 CET, (4 pm, 10:00 am ET)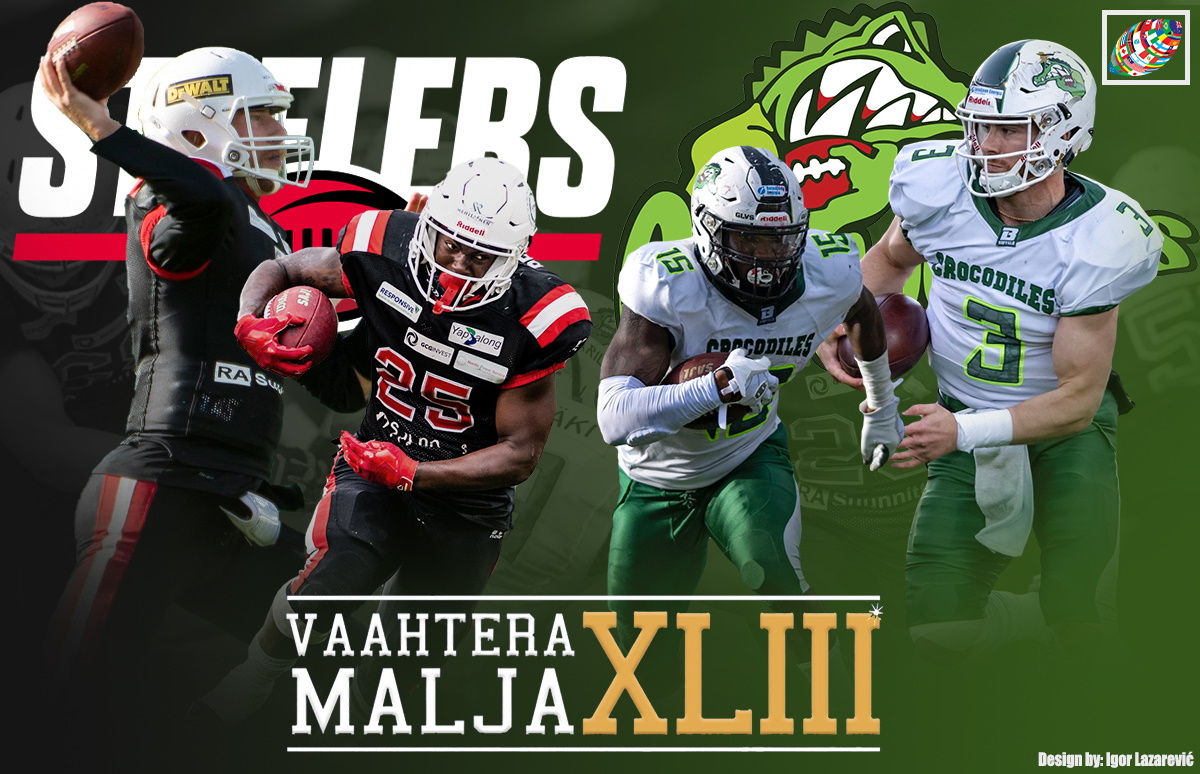 The Finnish football community will be tuned in to this one as the Seinäjoki Crocodiles and Kuopio Steelers battle it out for the Maple Bowl championship Saturday, September 10.
Two very different teams face each other with the title on the line as the Steelers hope to make history finishing off an undefeated season en route to a three-peat. The Crocodiles on the other hand hope to pull off the upset in their first title game appearance since 2016.
The Steelers have defeated Seinäjoki in both games between the two this season, 42-21 and 27-8, so the Crocodiles definitely have an uphill battle today.
LIVESTREAM Finland Maple Bowl XLIII: Seinäjoki Crocodiles @ Kuopio Steelers, September 10th, 16:00 CET, (4 pm, 10:00 am ET)
The Crocodiles are coming off an epic last-second win over Helsinki Wolverines in the semifinals. In that game the Crocodiles relied heavily on running back Christian Powell (Colorado NCAA D1 FBS) before a last-second touchdown catch from Anttoni Lampivuo. Powell should get plenty of touches today as he's rushed for 1,139 yards and 16 touchdowns on the season. Against a tough Steelers defense, quarterback Anthony Whitehead must step up if Seinäjoki wants to pull off the upset today. Whitehead has been able to find Joel Sarkela and Anttoni Lampivuo consistently his season but will need to create big plays to penetrate this Kuopio defense. 
Former "Last Chance U" star and University of Tennessee (NCAA DI) defensive lineman Emmit Gooden has stood out this season leading the league in tackles for a loss.  The former junior college All-American along with Arthur Pinheiro, Seth Zins, Fillip Zacok make for a fierce defensive line that needs to play well today. If Seinäjoki's defensive line can play well today, they give themselves a good chance of defeating this powerhouse Steelers team. Expect first-year coach Andy Bezaire to mix things up to give Kuopio different looks. 
The Steelers defense leads the league with 38 sacks on the season. Linebacker Colby Campbell (Duke NCAA D1 FBS), along with returning Steelers defenders Ikeem Allen (Miami OH NCAA D1 FBS), Jani Lindqvist, Roni Laine, and Iro Pekkarinen make for a tough unit to score against. This week, that same unit be keyed in on stopping one of the league's best-running backs in the Crocodiles' Christian Powell.
Offensively, the Steelers also have a great running back in Leanthony Reasnover, the league's top rusher. The second-year Steeler has put up 1,763 yards and an impressive 30 touchdowns this season leading this offense to the top of the league. The Steelers have the Maple League's best rushing attack averaging over 200 yards a game on the ground. When they do pass, the Maple Bowl champion quarterback Joey Bradley will target fullback Ville Lindsten, and receivers Isaac Marshall and Hannes Harju. Head coach Pekka Utriainen is eager to get his players going early in this one to force the Crocodiles into passing. 
Seinäjoki enters this game as massive underdogs against an undefeated Kuopio squad looking to make history. Fans can expect the Crocodiles to give the Steelers four great quarters as these two have produced entertaining matchups all season.