Matt Bressington's European Freak List
By Matt Bressington
Bruce Feldman of the Athletic has been writing "The Freak List" for two decades.
His intention was "to spotlight the players who generate buzz inside their programs by displaying the unique physical abilities that wow even those who observe gifted athletes every day". Initially, he started with 10 athletes and over the last 20 years he has expanded to 100.
As a 23-year-old scout and European American football fanatic, I wanted to do Bruce Feldman an honor and dedicate a European athlete special to the freak list.
Here are the ground rules about the players:
They have to be a European player, no American imports, just the Euro guys.
They have to be signed to a team in one of the various leagues in Europe.
I'm going off a lot less combine and Pro-Day numbers and information than Feldman, so there absolutely will be athletes missing. By no means does this suggest they aren't worthy of a place on this list, and I invite players to message me directly and I could make a part two.
Without further ado, let's begin:
1. Moritz Böhringer
In the most recent blockbuster move of this off-season, completely out of left field the Stuttgart Surge of the European League of Football have announced the former 6th round pick from the 2016 NFL Draft as their newest receiver. The 6'4 ½ homegrown German player who rejoins 'Surge head coach Jordan Neuman after playing for him with the Schwäbisch Hall Unicorns, runs a 4.43, has jumped 39 inches vertically and has a 10'11 broad jump. Combined with his 17 bench press reps and 4.09 shuttle, his versatility to go from receiver to tight end is notable as he was able to pack on a lot more muscle on his already big frame. The last we saw of him was in 2022 with the Unicorns where he played eight games catching 36 passes for 601 yards and 8 TDs. I expect to see another successful season this time out in his ELF debut.
2. Sandro Platzgummer
There's a reason Sandro has spent the last few years with the New York Giants. He's one of the best athletes that Europe has sent over to the States and signed back with his club team, the Tirol Raiders in the ELF. With his return to the Raiders, he is eligible for this list. A 4.53 40, 39.5 inch vertical and 10'6″ broad jump was what got him the attention of scouts at the international combine. After his time in New York with the best athletic trainers, facilities and teammates in Barkley and Freeman, I seriously doubt that his athletic ability has taken a hit while he was there.
3. Max Parkinson
Max has crept into the consciousness of European American football this season after a successful national championship season with the UWE Bullets. It wasn't enough though. The Dresden Monarchs have signed him for the 2023 GFL season. With Max being passed on during the CFL Global Draft, he will be expecting serious time in Germany. A 6'2 ½ 276lbs RUSH player who benches 29 reps (4th in the 2023 NFL Combine for EDGE and RUSH), ran a 4.74 and had a vertical of 31 inches (Tied with Lukas Van Ness, 1st round pick) has the makeup to be a problem. He's a raw pass rusher but with his measurables, he could thrive as an EDGE or OLB with the right system and coaching.
4. Lino Schröter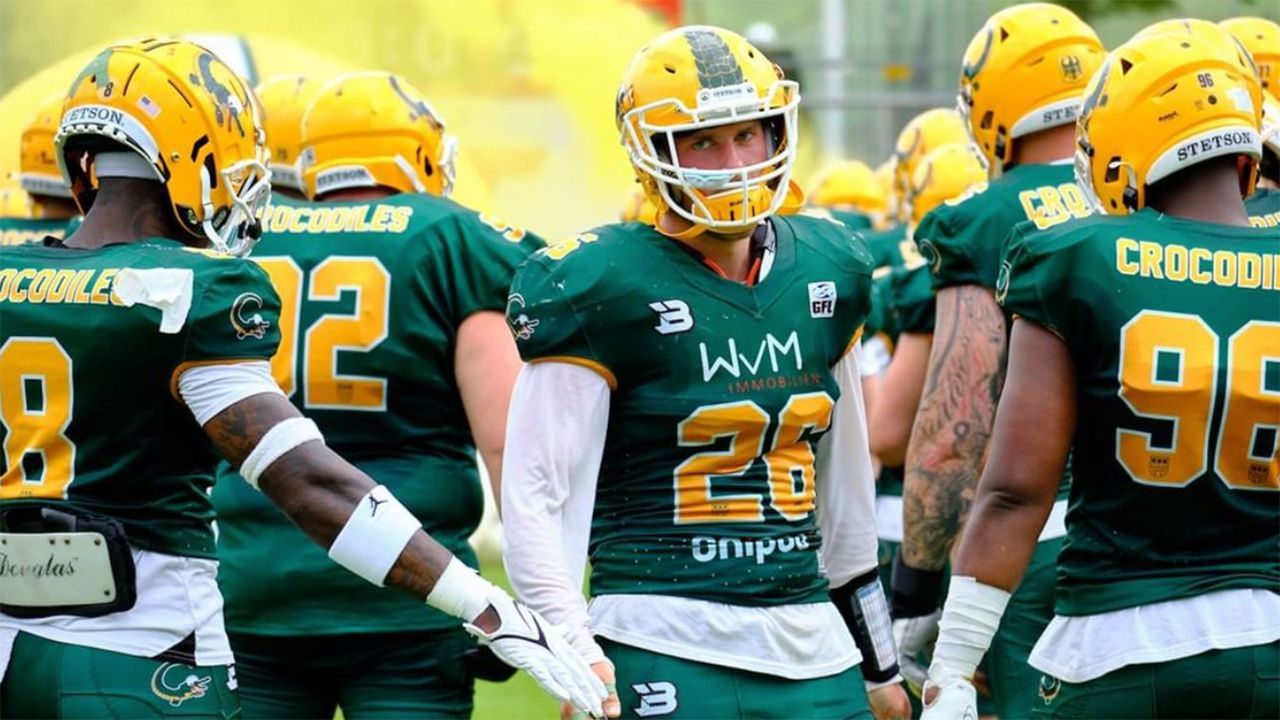 Yet another CFL Global pick (you'll see that a lot today) with the 15th overall pick in 2023. The former Cologne Crocodiles and now Rhein Fire linebacker did 23 reps on the bench press (6th in the 2023 NFL Draft for LBs) with a 4.71 40, 34.5 inch vertical (7th in the 2023 NFL Draft) and most impressively, a 4.34 in the shuttle (Tied 2nd in the 2023 NFL Draft). It's clear he's in the top echelon, with his size he fits the need for speed at the LB position in Europe. If he stays with Rhein or goes to the CFL, either way, he's going to have an opportunity to thrive.
5. Emmanuel Falola
Falola is a multiple-time NFL IPP and 2023 CFL Global 18th overall selection by Toronto Argonauts, however, he is currently still signed with the Prague Lions, so he is still eligible for this list. Although listed at 223 lbs, Falola is massive. With his 20 reps on the bench, the strength and bulk are tied. His 4.8 40 and 39.5- inch vertical in the CFL testing secured him the chance to flash his athletic ability in the CFL.
6. Tommy Wilson
The second Dresden Monarch on this list, and another UK talent, Tommy was first introduced to many, including myself, at the Milano Seamen tryouts in Italy. He put himself on the map during this event, a lasered 4.27 40, which even if it's 0.1 off would still be top 5 in the 2023 NFL Combine. Add 14 bench presses (Top 10 in the 23 NFL Combine) and a 6'9 L/3 Cone and finally, a 4.1 shuttle and you have a receiver who will be able to out-athlete 99% of the corners he will play against in the GFL this season. The UK theme of raw potential continues will Tommy but he's on pace to crack the elite receiver conversation.
7. Yasir Raji
The former Potsdam Royal followed some of his teammates to the Rhein Fire for this season and he may be the most freakish offensive lineman in the league. The speed that this 6'2 270 lb man moves is absurd and as a part of the 2019 International Combine, he shows he's in that top percentile. He's even lined up as a tight end and received the ball in his hands for rushes and catches over his time in the GFL.
8. Robin Wilzeck
Robin is held in high regard by every coach I've spoken to about him over the years. A 4.63 in the CFL Combine as well as a 38-inch vertical and a 10'3 1/8 broad jump show the versatility in his athletic ability. 13 reps on the bench further confirms this and his movement and ideal slot size have made him one of the young stars of the ELF. The Berlin Thunder receiver is a threat to ELF defenses going into his second season with the team.
9. Ludvig Myren
Ludvig, like Lino, suits the smaller speed linebacker prototype. He also ran a sub 4.8 with 16 bench press reps, 30-inch vertical and an excellent 4.26 shuttle which is better than any linebacker that was in the 2023 draft. This translates well to his versatility. He had an excellent year with the Berlin Thunder in 2022 finishing as the 7th leading tackler after recording 93 tackles including six sacks and 30 TFLs. I'm expecting him again to fulfil a multitude of roles with the Berlin Thunder in the ELF this season, further proving his validity on this list.
10. Tomiwa Oyewo
The lone Irish player in the ELF has been a difference-maker for the Allgäu Comets in the GFL but has now transitioned to the newly minted, Munich Ravens. He features all over the offense where he can flash his 4.48 speed and 36-inch vertical. I expect him to lead the Ravens as their best player and hopefully they can continue to unlock his high potential.
11. Asnnel Robo
Asnnel Robo is another former CFL Global player who put up numbers in his combine, a sub 4.6, 17 bench press reps (Would be top 7 in 2023 NFL Draft) and a 33.5 vertical (Tied with 1st round pick Jahmyr Gibbs). He also had stints (Calgary Stampeders, Toronto Argonauts) in the CFL after being drafted with the 3rd pick in 2019 Global Draft. He's fast, elusive, and has burst, he's going to be a big part of the Surge turning over their 0-12 season this year.
12.Nico Barrow
It's only a matter of time before Nico Barrow is in the ELF in my opinion. The young Team Finland running back is 5'11 ½ and 231 but moves like a slot receiver. He can hurdle, catch, and go through a defender. I don't have any official combine numbers for him but just turn on his Wasa Royals tape and it's evident that the Finnish talent is going to be a problem for defenses for years to come. I see him being cut from the same cloth as Glen Toonga in terms of his physical run style.
13.Destiny Idiahi
The 21 year old, 6'5 and 267 lb Idiahi is an absolute hunter in Austria. When I say that sky is the limit for him, it really is. He has the physical gifts to play at any level in Europe and possibly beyond when he polishes up his game. He's already raking up experience with the Vienna Dragons and Schwäbisch Hall Unicorns and I believe him to have one of the highest ceilings in Europe. His unknown combine
numbers have him lower on the list but expect to see him featured in All-Star and All-"Insert League Name Here" selections over the coming seasons.
14.Chris Andrukonis
One of the most low-key athletes outside the big leagues, Chris Andrukonis is the definition of a weight room monster. He's squatting so much weight the plates don't fit onto the bar anymore. That should be a sign of the force he is generating. As a receiver for the Mets in Poland he hasn't seen as much attention as deserved but credit to Coach Docal in Vienna for being able to recommend him and others featured on this list.
Matt Bressington can be reached on Instagram and Twitter.