ELF: 2023 Rhein Fire – A Complete Roster Breakdown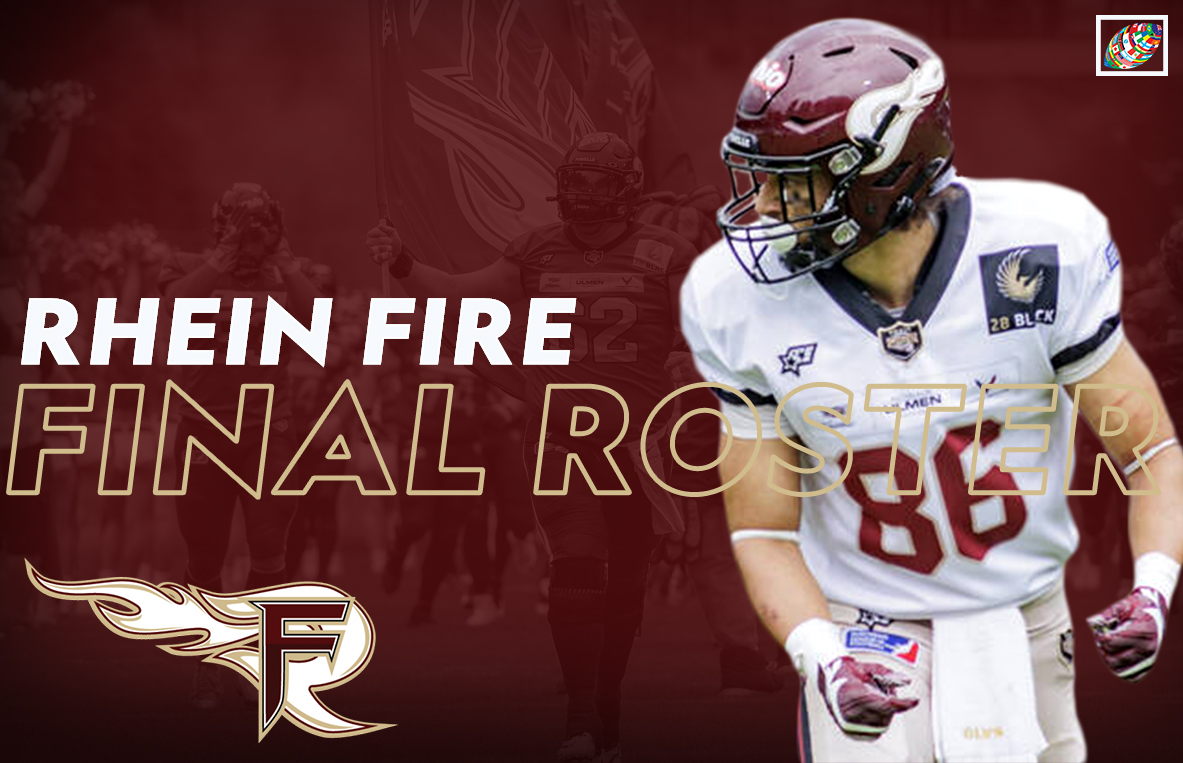 The Rhein Fire have all but finalized their roster for the 2023 European League of Football season.  Here is a breakdown of their talented squad.
The roster features a total of 62 players, including four Americans and a few players from various European countries outside of Germany.  Jim Tomsula, former 49ers head coach, will be leading the team into the new season.
The team's quarterback is Jadrian Clark, an American who has plenty of experience playing around Europe and in the ELF.  He spent the 2021 season with the Hamburg Sea Devils, who he led to an appearance in the championship game.  He signed with the Fire midway through the 2022 season and played well for them, which earned him another go-around with the team in 2023.
The Fire's big offseason addition was British running back Glen Toonga, who dominated the league with Hamburg last season with 1,468 rushing yards and 21 rushing touchdowns.  Receiving options include wideouts Nathaniel Robitaille, Harlan Kwofie, and new addition Anthony Mahoungou, as well as tight end Florian Eichorn.  Offensive line standouts include 2022 all stars Sven Breidenbach and Joachim Christensen, who came over from the Frankfurt Galaxy.
On defense, American Omari Williams returns at safety after being named to the league's all star team last season.  Another American import, TJ Morrison, joins Williams in the secondary this season.  Up front, the team made a huge splash in signing Spanish defensive lineman Alejandro Fernandez away from Barcelona Dragons.  Still very young at 22, he finished last season with 15.5 sacks and 7 forced fumbles in 12 games.
Quarterbacks
Jadrian Clark – USA

Rohat Dagdelen – Germany

Jan Leuker – Germany
Running Backs
Glen Toonga – UK

Sergej Kendus – Germany

Giacomo De Pauli – Germany

Daniel Rennich – Germany

TJ Alexander – Germany

Noah Kolling – Germany

Tobias Reglinski – Germany

Patrick Poetsch – France
Wide Receivers
Anthony Mahoungou – France

Justin Schlesinger – Germany

Harlan Kwofie – Germany

Jannik Lorcks – Germany

Achim Bah – Germany

Leon Holtker – Germany

Noah Gehring – Germany

Leon Kusterer – Germany

Nathaniel Robitaille – USA
Tight Ends
Laurin Wiegand – Germany

Florian Eichhorn – Germany

Marvin Pludra – Germany
Offensive Line
Marius Mohr – Germany

Arnoud Holierhoek – Netherlands

Nick Wiens – Germany

Leander Wiegand – Germany

Jan-Hendrik Koch – Germany

Joachim Christensen – Denmark

Jonathan Peppler – Germany

Sven Breidenbach – Germany

Yasir Raji – Denmark

Bemigho Eyimofe – Germany
Defensive Line
Alejandro Fernandez – Spain

Remy Feltes – Germany

Eric Adam – Germany

Julian Volker – Germany

Justus Sleiman – Germany

Samuel Kargel – Germany

Jason Chikere – Germany

Shamgar Owusu-Ankomah – Germany
Linebackers
Flamur Simon – Germany

Alexander Sobotta – Germany

Marius Kensy – Germany

Martin Pinter – Germany

Maximilian Schmidt – Germany

Jan Fiedler – Germany
Defensive Backs
Omari Williams – USA

Jannik Seibel – Germany

Benjamin Barnes – Germany

Till Janssen – Germany

Richard Grooten – Germany

Rene Hanssen – Germany

TJ Morrison – USA

Lasse Meyer – Germany

Max Richter – Germany
Kicker
Sebastian Van Santen – Germany
Punter
Maximilian Eisenhut – Germany
The Fire kick off their 2023 season when they host the Frankfurt Galaxy on June 4th.