ELF: European League of Football Week 1 recap & highlights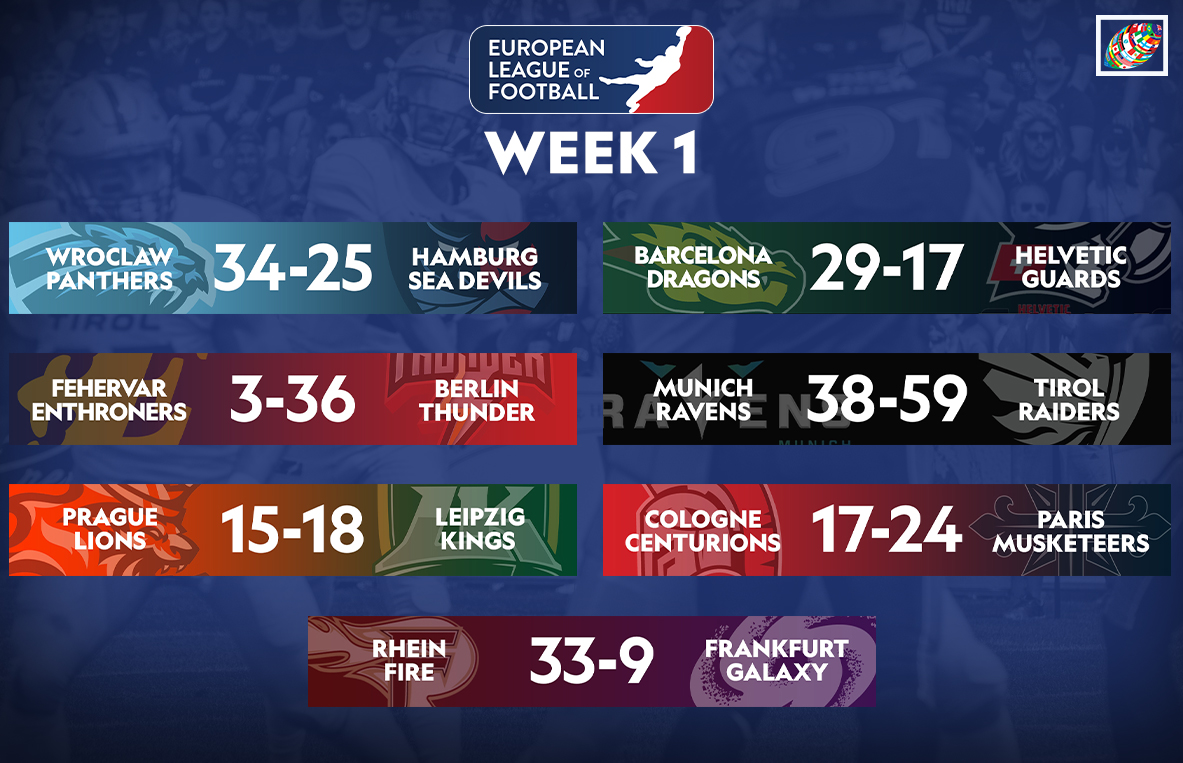 The European League of Football returned this weekend for season three as fans across Europe celebrated their favorite teams hitting the field to kick off a highly anticipated 2023 season. Fourteen the league's 17 teams played in week one with several notable storylines surrounding what looks to become a thrilling season in the ELF.
Let's take a quick look at week one's games

Wroclaw Panthers shock last year's runner ups
The Panther's newly signed duo of quarterback Matthew Vitale and receiver Tony Tate were the story of this game connecting for three long touchdowns giving the Panthers offensive firepower that the 2022 runner-up in Hamburg simply couldn't match. The back-and-forth affair saw two lead changes and three ties as both offenses were able to move the ball with consistency.
The @PanthersWroclaw take the lead 🙌

Is there a new dream-team in Poland? ⤵️ Matthew Vitale finds Tony Tate for the 2nd time.

📺 #HSDatWPA LIVE now via our Gamepass. Link in Bio. 📲 pic.twitter.com/6aTmQT2f4X

— European League of Football (@ELF_Official) June 3, 2023
The difference for the home underdogs ended up being a defensive pick six from Timi Nuikka and a fantastic passing debut from previously unknown quarterback Matthew Vitale signed only 10 days ago.
Raiders Tirol give the Munich Ravens a offensive show to remember

Ninety-Seven points and 1,022 yards were the entertainment for the 6,285 fans that packed the Alpenbauer Sportpark Arena for Munich's first ever game. After a back and forth first half that included three touchdowns (one receiving, one kick return, and one passing) from new receiver Jarvis McClam, the Raiders Tirol defense honed in on a Ravens unit that put up 28 points through two quarters.
Jarvis McClam has an impressive first half state line

1 TD catch
1 kick return TD
1 58-yard TD pass

— American Football International (@AFIReview) June 4, 2023
The scores simply kept rolling in for the Raiders and new quarterback Christian Strong who tossed five touchdown passes ending the game with a 59-38 win over former Raiders quarterback and current Munich Ravens GM Sean Shelton.
The Dragons defend their home den
After an off season that saw several big names leave the franchise the dragons responded to adversity with a resounding win in front of their ruckus fans. Quarterback Connor Miller threw four scores and 361 yards while the Dragons defense played sound football holding the Guards and their star Silas Nacita to 17 points despite 215 all purpose yards for the former GFL superstar.
This win was certainly needed for the Dragons and new coach Gabriel Sanchez as they look to keep their momentum going this season after a fanatic 2022.
Berlin dominate to spoil the Enthroners ELF debut
The Thunder came out of the gates hot in Hungary as newly added receiver Aaron Jackson scored the first touchdown of the ELF season. Thunder quarterback Donovan Isom ended the day with three touchdown passes and no turnovers finding Jackson and Robin Wilzek for scores.
Touchdown! @d_isom12 hits Aaron Jackson for the score. @ELF_Official @aroundtheelf pic.twitter.com/k7AqRUfylE

— Justin Aaron (@JustinAaronUH91) June 3, 2023
On the other side of the ball the Thunder defense took advantage of a sloppy Enthroners debut scoring two defensive touchdowns as Berlin Cruised to a victory, behind a strong performance from new comers such as Aaron Jackson and Donovan Isom as well as returning stars like Kyle Kitchens and Robin Wilzek.
Paris wins nail bitter in shaky debut
With expecting of the Rhein Fire no team enters the 2023 season under a bigger microscope than the newly formed Paris Musketeers. The cast of ELF and French league all stars visited the Cologne Centurions in their first ever game on Saturday. A sloppy offensive first half for both teams treated defensive lovers to a 0-0 halftime score.
Cologne cracked the score board open with a field goal to start the third quarter, but quickly gave up a safety on a bad punt snap gifting Paris two points. The Centurions responded as former Istanbul Ram star Terryon Robinson caught a beautiful fade pass from Dylan Jacobs giving them a 10-2 lead.
🚨 Touchdown Centurions !

Cologne avec le premier touchdown du match, une passe catch par le WR Terryon Robinson #PARatCCE #ELF #footus pic.twitter.com/zphP30sPd2

— Spring Football News (@SpringFBnews) June 3, 2023
The score seemed to wake up the Paris offense as Musketeers quarterback Zach Edwards led their first touchdown drive down the field finding french receiver Florian Larose to mark the franchises first ever touchdown. A successful two point try led to a 10 all tie in the fourth quarter.
Cologne has their crowd in the edge of their seat at quarterback Dylan Jacob's found Paul Kavadia Lenhardt for a circus catch to take a 17-16 lead over the Musketeers. With under two minutes to go Paris responded as Edwards completed two chunk passes down the field setting up the Musketeers in the red zone.
A defensive pass interference penalty then helped set up a short touchdown pass from Edwards to his 2022 teammate in Barcelona Kyle Sweet, giving them a six point, 22-6 lead. Edwards then ran a quarterback draw willing himself into the endzone for an additional two points.
🚨 TOooouuuuchdown PARIS MUSKETEERS !!!!!!!

La mangifique passe de Zach Edwards pour le WR américain Kyle Sweet #PARatCCE #ELF #footus pic.twitter.com/IGKEVtVrQE

— Spring Football News (@SpringFBnews) June 3, 2023
However, the fireworks were not over as a penalty and on a kick out of bounds set up Cologne with good field position with under 30 seconds to go. Jacobs on the last play of the game found his receiver Paul Kavadia Lenhardt just short of the endzone before time ran out for the Centurions.
Rhein Fire live up to the hype
In front of nearly 13k fans in Duisburg, the Rhein Fire and head coach Jim Tomsula blew out the Frankfurt Galaxy in a complete performance that saw 331 offensive yards and two defensive scores as from the Rhein Fire, proof that the Fire were clearly the more prepared team in all three phases yesterday.
WAS IST DENN HIER LOS?! @Rhein_Fire hat richtig Bock und das, was Omari Williams hier macht, ist ganz großer Football! 😍🏈 #ELF #ranELF

👉 Rhein Fire vs. @GalaxyFrankfurt in der @ELF_Official JETZT live auf @ProSiebenMAXX und im Livestream auf https://t.co/BNiIKinKOX! pic.twitter.com/NtPeLSAkqx

— ran (@ransport) June 4, 2023
Quarterback Jadrian Clark helped orchestrate the win with 232 passing yards, often finding French talent Anthony Mahounghou off of play action fakes. Clark avoided turnovers as the Rhein Fire seized an early lead and never looked back.
Adding to the defeat, former Frankfurt players now wearing Rhein Fire jerseys, Anthony Mahounghou  and Omari Williams, both scored as the party was on for the Rhein Fire and their fans.
Leipzig beat Prague on the road in a close defensive battle
The Leipzig Kings and the Prague Lions started off the game shaking off some rust as both teams committed two turnovers leading to a 3-3 game going into the second half.
The Prague Lions then notched their first ever ELF touchdown with a short run from Adam Zouzelka from giving them a 9-3 lead in the third quarter.
The 1st ELF touchdown for the Prague Lions pic.twitter.com/0UnOOCQjIY

— American Football International (@AFIReview) June 4, 2023
Leipzig Kings quarterback Kenyatte Allen, a star in last year's German Football League, then tied the game back up with a 51-yard bomb to fellow American Steve McShane.
Both quarterbacks then traded interceptions as the turnover continued in the third quarter. After snagging an interception in the endzone in the previous possession, Kings defensive back Devan Burrell then made the play of the game returning a punt 90-yards to finally give Leipzig a 16-9 lead.
However, Prague's quarterback Shazzon Mumphrey followed the special teams' score with a touchdown drive, finding receiver Aymeric Nicault in the endzone making the game 16-15. This is where things got interesting, as the Lions elected to go for two once again.
The decision may have cost them the game as Mumphrey's pass was intercepted by safety William James. James returned the ball to the 20-yard line before pitching it to his teammate just prior to being forced out of bounds. The Kings linebacker Lars Bardenhagen caught the ball from James and rumbled the rest of the way to give the Kings two additional points.
Can it get wilder than this 🫨

📺 #LKGatPRG Re-Live via our Gamepass. Link in Bio. 📲 pic.twitter.com/63MQC0pi3D

— European League of Football (@ELF_Official) June 4, 2023
The 18-15 lead ended up being the difference for the Leipzig Kings as they leave Prague with a 1-0 record following a wild 60 minutes of play.