CFL Combine 2023: Which Global Players stood out?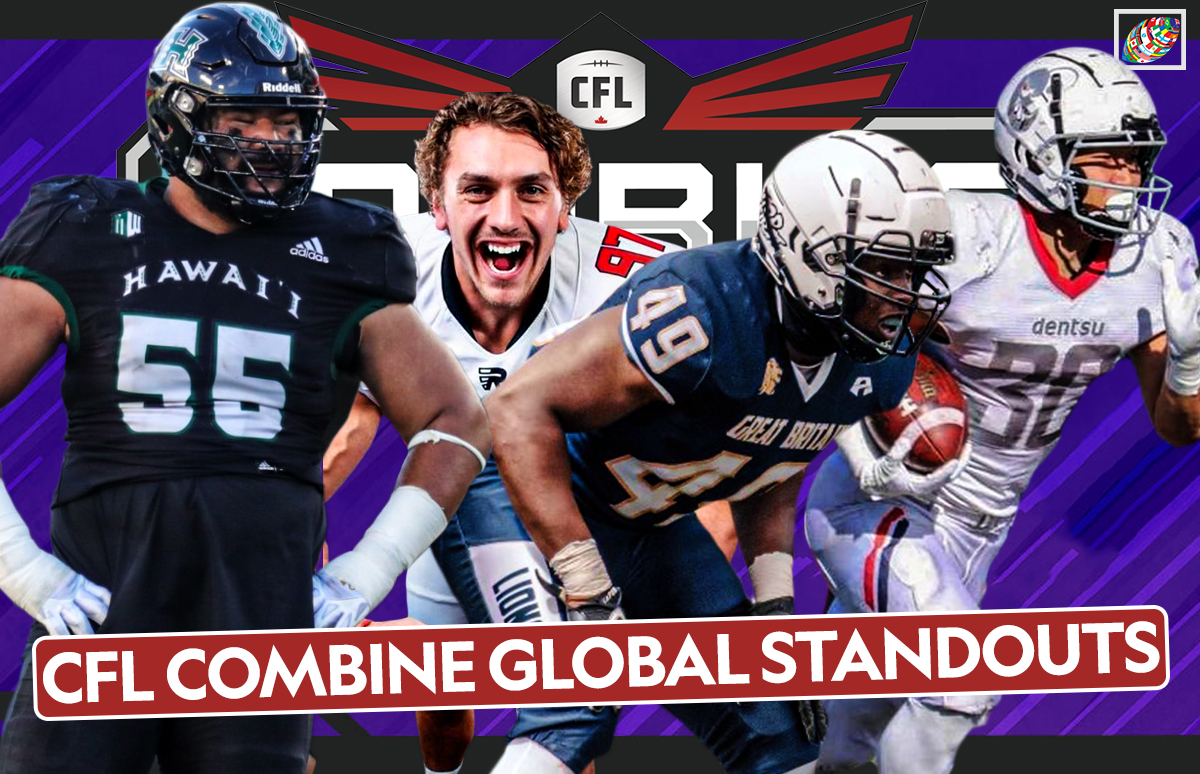 Edmonton, Canada played host to over 100 CFL prospects this past weekend all competing for a shot at their pro-football dreams hoping to catch the eyes of CFL scouts and improve their stock for the upcoming CFL Draft. Competing alongside the Canadian prep standouts with U Sports and NCAA experience, 21 global prospects made the long journey to the Edmonton Elks facility hungry for the same dream.
Let's take a look at some of the Global prospects that likely improved their draft stock after an impressive CFL Combine showing both in shorts during testing, and in pads during drills. These players could hear their names called on May 2nd as all CFL teams will look to pick up international talent in the CFL Global Draft.
DT Hidetora Hanada (Japan) – 6'1 280
The former Sumo wrestling champion put up 26 reps on the bench press while showing good explosiveness on the vertical leap. In 1-on-1's Hanada showed quick feet and excellent technique given his minimal football experience. He used his hands well and showed both power and quick twitch athleticism that certainly caught the eyes of scouts.
More footage of 🇯🇵 sumo wrestler Hidetora Hananda in 1-on-1's #CFLCombine

— American Football International (@AFIReview) March 25, 2023
LB Lino Schröter (Germany) 6'1 236
Schröter, a former member of the Cologne Crocodiles showed rare athleticism putting together a impressive day running a 4.71-40 yard dash, 4.34 shuttle, while jumping a 34.5 inch vertical and putting up 23 reps on the bench press. The NFL IPP prospect could be a late round sleeper in the CFL Global Draft this year being one of the younger prospects of the group. Below are Schröter's stats from the MPC combine held in Germany earlier this month.
Lino Schröter put together very good numbers at the CFL Combine. Here are his stats from the MPC combine held earlier this month. pic.twitter.com/0xEYxvDvcm

— EuroballChow (@euroballchow) March 27, 2023
WR Ryota Miyazawa (Japan) 5'9 177
The sure handed receiver was a standout for JF Oberlin University in Japan's established college football scene, so much so, he earned himself a Hula Bowl Invite in 2021. This past week, Miyazawa put together a solid performance catching the ball well while showing good speed running a global best, 4.60 40-yard dash, along with a strong 4.33 shuttle and 32 inch vertical.
【CFLコンバイン】合同練習2日目。桜美林大学WR宮澤稜選手のハイライト。#Xリーグ #CFLCombine #アメフト pic.twitter.com/IJiFE4H912

— xleague ( アメフト ) (@xl1996) March 26, 2023
DL Max Parkinson (UK) 6'3 276
Parkinson is coming off of a national championship with the University of West England Bullets in the UK's college football scene. The Brit was clearly the winner of the athletic testing portion of the combine running a blazing fast 4.74 40-yard dash. He coupled that speed with explosiveness logging a bouncy 31-inch vertical and 9'9 broad jump. Parkinson also ended up tied for first (with global DL Ta'ala Blessman) in the bench press notching 29 reps of 225.
🇬🇧 DE Max Parkinson's talks about his CFL Combine experience:pic.twitter.com/6HQLHWsWBr

— American Football International (@AFIReview) March 26, 2023
LB Emmanuel Falola (UK) 6'1 223
Falola recently signed with the Prague Lions of the European League of Football but his athletic traits could see him taking his talents to Canada this summer. The former Bristol Aztec had the top vertical leap at the combine jumping 39.50 as well as running a 4.80 40-yard dash, 4.53 shuttle, and putting up 20 reps on the bench press.
39.5" for LB Emmanuel Falola out of the @BristolAztecs 🇬🇧 😮#CFLCombine pic.twitter.com/AJP0X1juTh

— CFL (@CFL) March 23, 2023
DT Blessman Ta'ala (American Samoa) 6'1 291
The big man out of Hawaii brought his strength to Edmonton repping out 29-reps of 225 for the best number at the event. Ta'ala ran a solid shuttle at 4.69 and jumped a 30-inch vertical showing he has the athleticism to match his strength. In padded drills the college football vet looked savvy as he's racked up 64 games with the Rainbow Warriors finishing his long NCAA career with a eye popping numbers for a defensive tackle, notching 142 tackles, 20 tackles for a loss, four sacks, and two blocked kicks.
Hawaii DL Blessman Ta'ala vs. Saskatchewan OL Dayton Black #CFLCombine pic.twitter.com/MeifnDumcy

— Kristina Costabile (@kcostabile1) March 25, 2023
RB Atsumu Endo (Japan) 5'9 193
Endo showed elite quickness recording the fastest short shuttle at the 2023 CFL Combine with a time of 4.15 seconds. The speedy tail back is a recent X2 (D2 Japan) champion with the Dentsu Caterpillars of the Japanese X-League. He also recorded 13 reps of 225 pounds on the bench press, a 4.81 forty-yard dash, 34-inch vertical jump, 7.08-second three-cone, and nine-foot, seven-inch broad jump.
【CFLコンバイン】
電通キャタピラーズRB遠藤集選手のプロモ撮影。最後は加藤選手も加わって元チームメート同士のコラボが実現!#Xリーグ #CFLCombine #アメフト pic.twitter.com/CqLp2OCbij

— xleague ( アメフト ) (@xl1996) March 23, 2023
LB Julian Baldi (Italy) 6'0 227
The lone Italian tweaked his hamstring during the 40-yard dash putting a blemish on his numbers. Baldi did jump 32 inches on the vertical leap as well as record a 4.48 shuttle. However, the Valdosta State (NCAA D2) product looked best in drills showing pass rushing prowess and the technique you'd expect from a college football veteran.
Honorable Mentions
RB Daisuke Kato (Japan) 5'10 193
Japanese running back Daisuke Kato put together a solid performance leaping a 30.50 inch vertical as well as a 4.73 40-yard dash. Kato is a veteran of the X-League playing for the IBM Big Blue.
【CFLコンバイン】3月24日合同練習初日。IBM BIG BLUE RB加藤大資選手(19番)の1on1ハイライト。#Xリーグ #CFLCombine #アメフト pic.twitter.com/ft2OR0qOji

— xleague ( アメフト ) (@xl1996) March 25, 2023
DE Alejandro Fernandez (Spain) 6'1 233
Fernandez was probably hoping for better testing numbers, however the ELF-All Star looked good in drills, showing off a wicked spin move.
🇪🇸 DE Alejandro Fernández Hits a nasty spin move in one on one's #CFLCombine pic.twitter.com/kTL43mHNtw

— American Football International (@AFIReview) March 25, 2023
LB Ludvig Myren (Sweden) 6'0 208
The Swede ran a 4.79 40-yard dash as well as a 4.26 shuttle, one of the best linebacker times at the combine. Myren last played for the Berlin Thunder in the ELF putting up 93 tackles and 11 tackles for a loss.
@LudvigMyren this is great, looking like he should be in the @WWE with this slam! @BER_Thunder vs @pantherswroclaw of the @ELF_Official pic.twitter.com/LNFT0jORoE

— Nathaniel Morris (@Nate_Morris_) July 15, 2022
Full Global Results Here